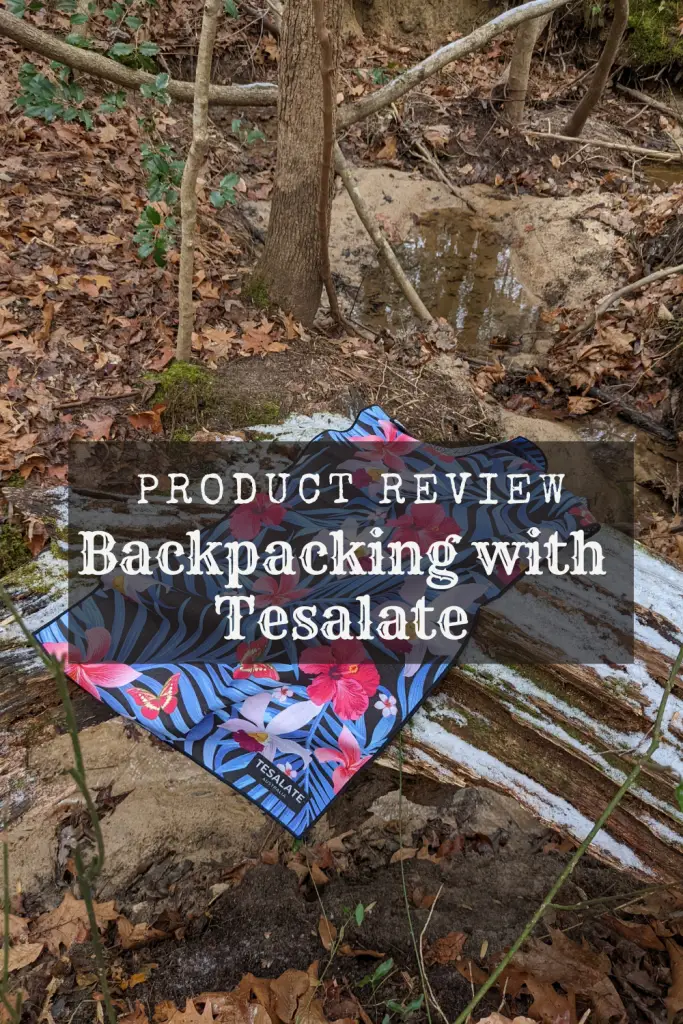 You may be wondering what Tesalate is and why you need to go backpacking with Tesalate. Well, let me set the stage for you a bit. I started backpacking in 2003. As I became more confident in my backpacking skills I started ranging farther and farther abroad. Most of these trips took place during the summer months when it was quite hot. I would find myself hiking to waterfalls or remote lakes in the Sierra Mountains. There is nothing like a cooling dip in a clear mountain lake to ease the dirt and grime off of your sore muscles.
There was a problem though. This meant I either needed to carry a bulky towel with me or feel ridiculous using a chamois cloth. I ended up settling in the middle by carrying a hand towel. It got the job done but I wasn't happy about it! This is where the Tesalate Towel comes in. Backpacking with Tesalate's rapid drying, odor-free workout towel has made backpacking to wet locations fun again!
---
Find the best hiking trail to use your Tesalate Towel!
---
Disclosure: Tesalate provided the workout towel free of charge for an honest and unbiased review. Outdoorgearweb has no affiliation or relationship with the supplier and tests each product thoroughly and gives high marks to only the very best.
Bottom Line Up Front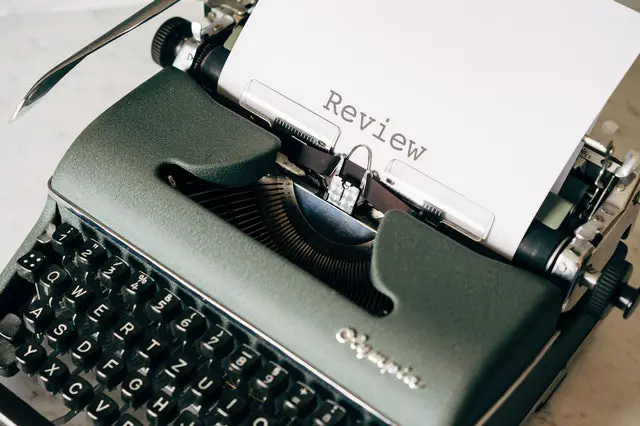 Are you looking for a clear-cut answer? The rest of my post is going to go into more detail about the towel but if you are in the market here is the bottom line! This towel is a fantastic companion on any backpacking trip. I have even started taking it in the RV with me so that I don't have a towel drying for hours in the bathroom. The combination of rapid drying and odor-free technology really sets the towel apart from others. It has given me confidence that I am not wiping bacteria that has been sitting on my towel for days all over me. Additionally, the night flower design is just flat-out adorable as are many of the other options Tesalate provides. Hands down, this is my new go-to towel for backpacking trips and it should be yours as well.
Now for the full review!
---
While this review is specific to the workout towel Tesalate has a selection of Beach Towels as well.
---
What is a Tesalate Towel?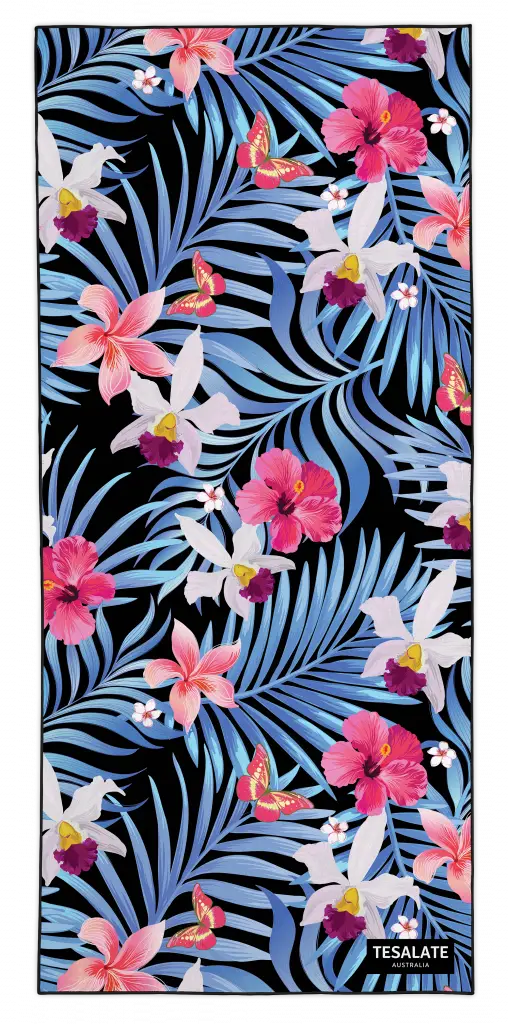 Tesalate Towels are an Australian company that started selling towels in the Bondi Beach Market. If you are familiar with the beach scene in Australia you will know that Bondi Beach is extremely popular. Their concept is that no one should have to lay on a towel that is covered in sand or that is heavy and wet. So they developed a beach towel that worked for the beach by providing a sand-free material that also dries rapidly. The towels performed so well that they are now sold worldwide!
The team at Tesalate didn't stop there though. They recognized that not every day was beach day. Many people enjoy workouts and also needed a way to stay dry or to wipe off machines. They knew that with sweat comes bacteria and odor. So they used the same technology to morph their towel into an odor-free and antibacterial shape for use in gyms. It just so happens that these same features are extremely desirable when hiking and that is why I tested backpacking with Tesalate.
Features of a Tesalate Workout Towel
Compact Size: ~39in x 17in (100cm x 45cm)
Folds up small:
Lightweight: 7oz
Ultra-absorbent
Rapid-Drying
Hook for hanging
Each of these items is critical when backpacking. Having something that takes up so little space and weighs seven ounces means that you can easily store your towel. Additionally, it means that you can pack other critical items with you. I will get into more detail about backpacking with Tesalate and that hook later!
Tesalate Materials and Design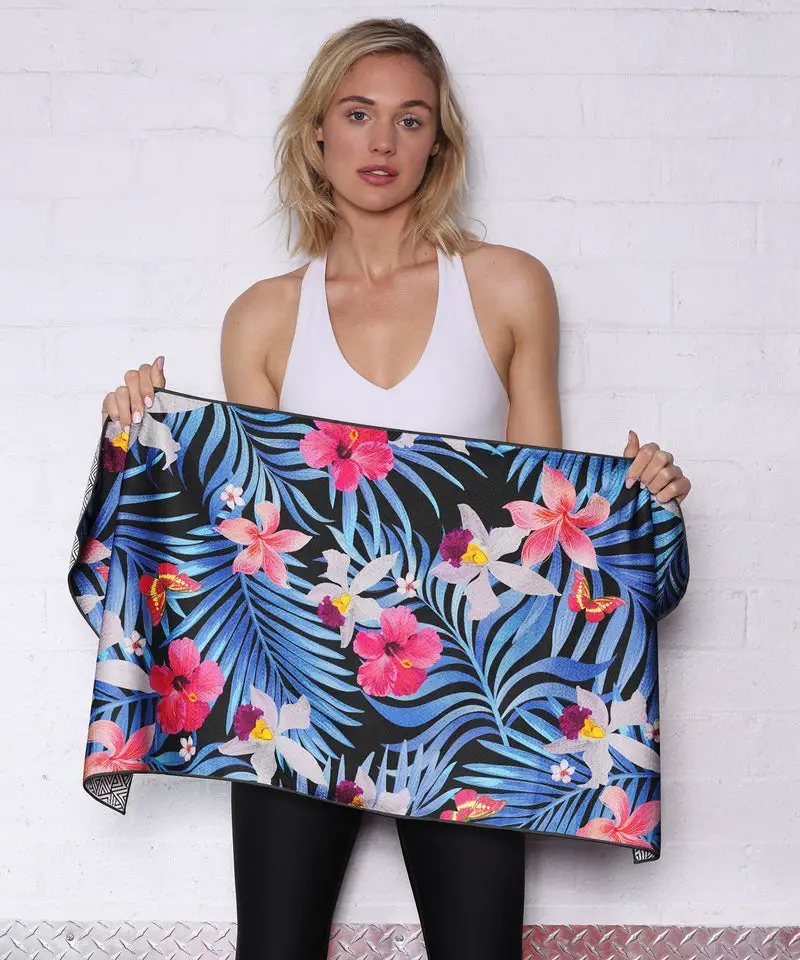 Tesalate uses a technology they refer to as AbsorbLite™. This innovative technology is made out of a polyester and polyamide blend which they weave very tightly together. This microfiber allows sand to slide off at the beach. It also absorbs up to a liter of water! Not only that, that liter of water can dry in less than half the time of a regular towel! The workout towel material also has the benefit of being odor-free and antibacterial. Both are impressive traits for backing on long trips. However, if you are looking for a fluffy towel you have to keep moving. While they are soft it is not a luxurious bath towel. Nor should it be for backpacking!
Now, I selected the Night Flower design when it came to the sample that was provided. The design was colorful and reminded me of a Hawaiian vacation. The dark background attracted me as it wouldn't stand out too much from my pack. There are numerous designs that Tesalate provides though. So you can really customize it with the rest of your pack.
100% Happiness Guarantee
While I was not aware of this when I ordered I quickly found out that the company stands behind their product 100%. They reached out shortly after I received it to make sure that I was completely satisfied and told me,
"We really want you to love your Tesalate, if you don't you can return it for free. We'll even pay for return shipping :)"
I love it when a company stands behind its product and communicates openly with its customers. It is the steps that really help to build loyalty. Now I just needed to test the towel to make sure backpacking with Tesalate would keep me coming back for more!
My Backpacking with Tesalate Experience
I would like to walk you step by step through my first backpacking experience. Since I received this towel for testing in January I have to be honest. I did not do a ton of swimming! However, it just so happened that it snowed during my hike so I got to do some testing in cold weather drying. I think by the end of this experience you are going to see why backpacking with a Tesalate Towel is something you are going to want to do!
---
Looking for low-cost gear for backpacking?
---
Delivery and Packaging
Every piece of gear has to find its way into my hands somehow. Most of the things that I order off of the internet are here within two or three days. Even with global shipping delays that are happening right now, I had my Tesalate towel within two days! The Tesalate team made the whole purchase and shipping process easy from design selection to receipt.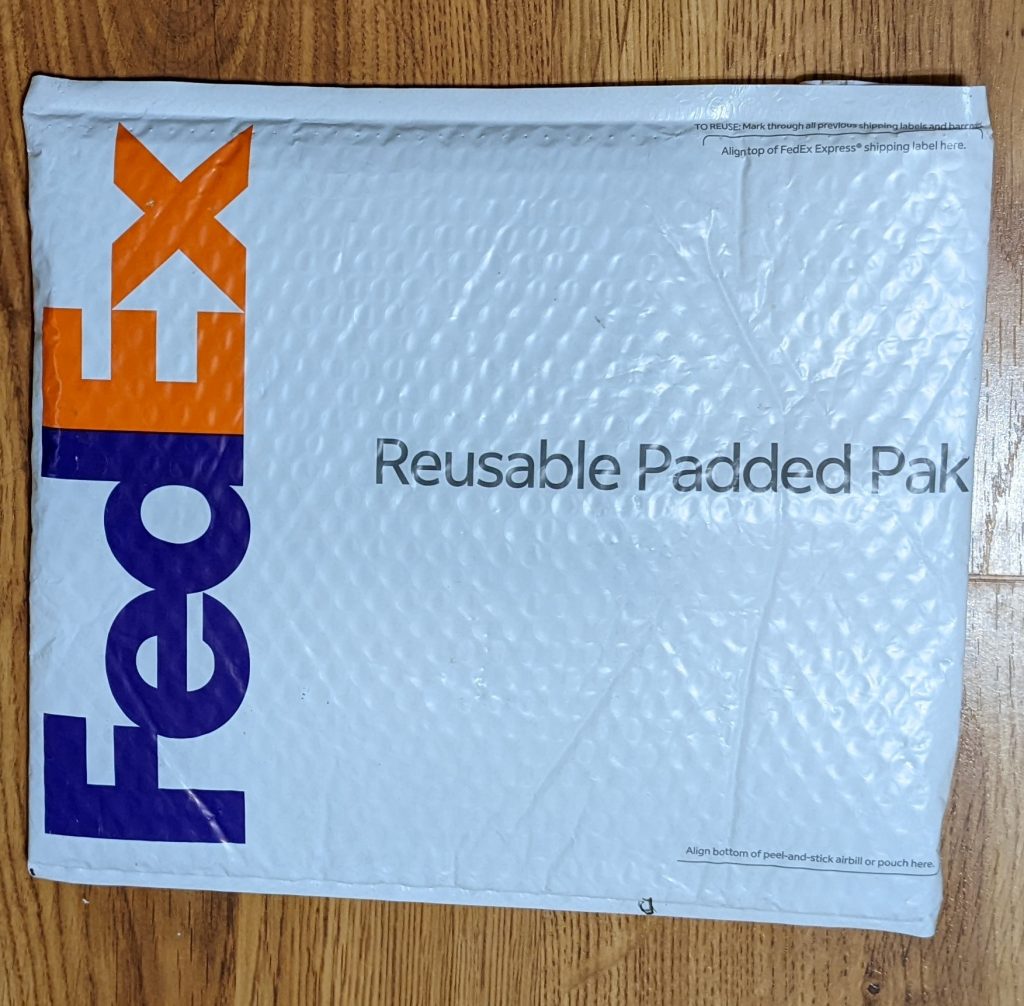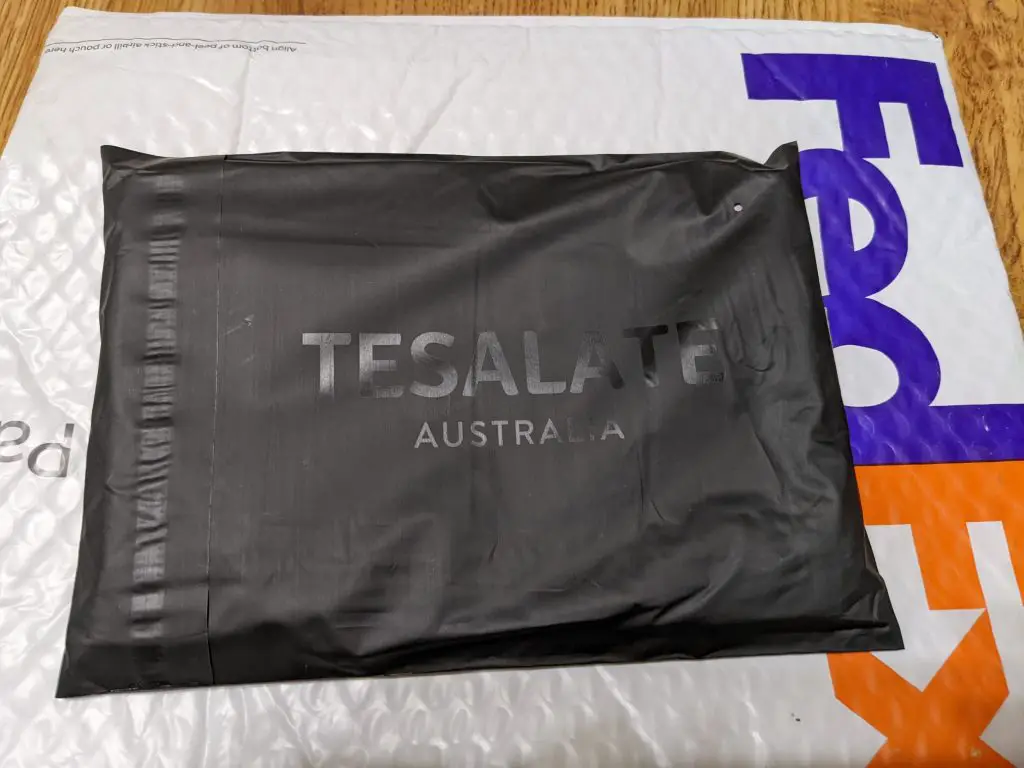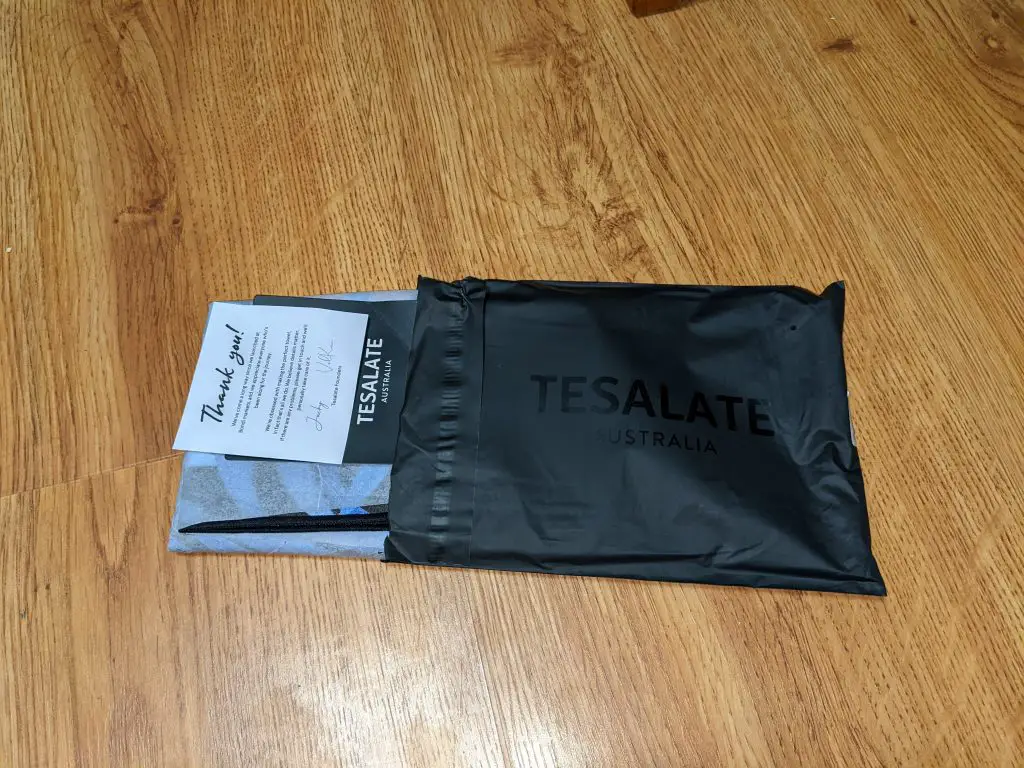 I do have to say that I was initially surprised that the towel did not come in a branded package. It was simply in a standard FedEx shipping envelope. That boded well for my size and weight concerns but a little disappointed there wasn't a little personal flair on the outside. However, the internal packaging was excellent at protecting during shipping. The towel came folded at approximately 8x5x1 inches. However, I was able to compress this down to 5x3x1.5 inches. That is pretty impressive for fitting into a pack.
The Night Flower Design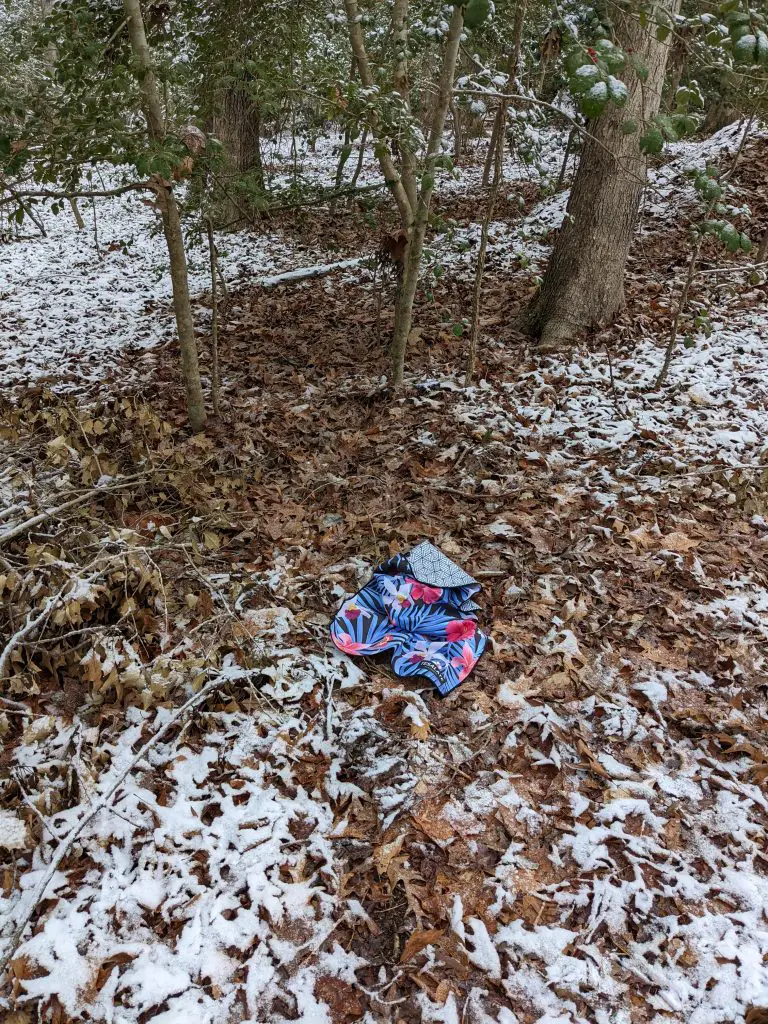 I chose the night flower design because I thought that it was quite attractive. I also believed that it would stand out if I inadvertently dropped the towel on the ground or left it laying on the side of a lake. My assumption was right in that it does accomplish this task. This towel is like having two towels in one when it comes to the design. While the front is this fabulous dark Hawaiian-themed "night flower" the back has a geometric design. So depending on how I am feeling I can flip it over and use the other side. Both stand out against natural settings. Some of the other designs on the website would stand out even better!
The First Trip Out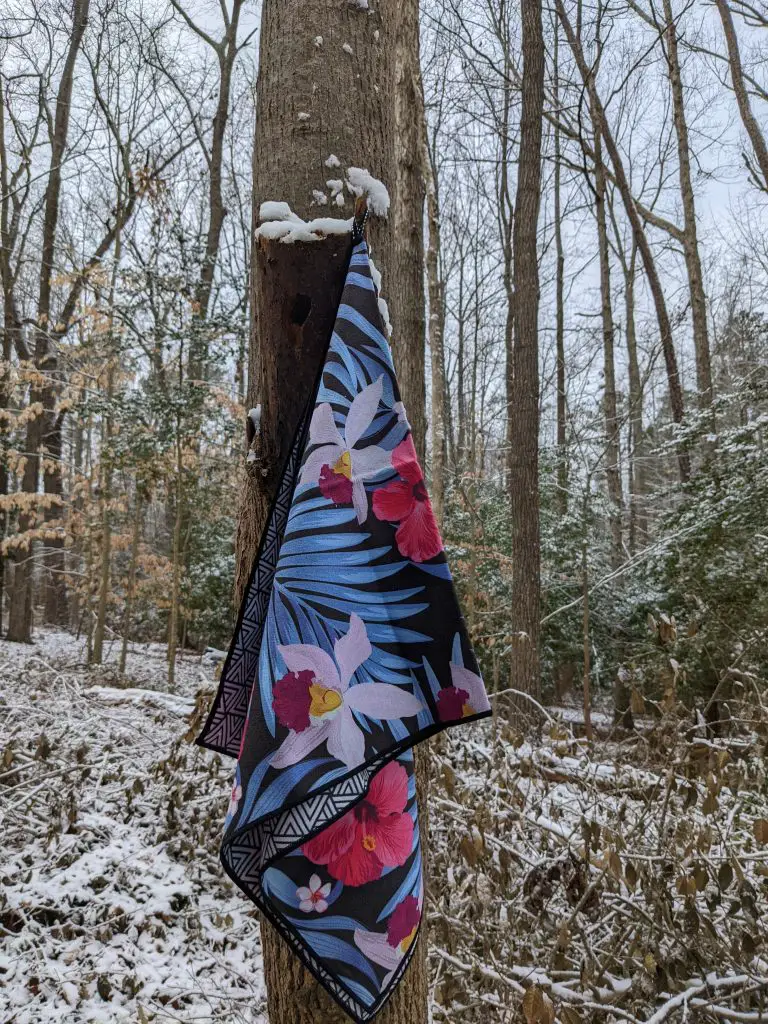 Again because it was winter time I did not complete a long backpacking trip. A simple overnight in Appalachia was all I completed. For this, I only carry a small pack. (Do you need to know which pack to take on your trip?) When completing an ultralight trip like this it is important that I conserve as much weight as possible. However, since my main goal was to test the towel I splurged on adding this additional 7oz overnight! I found that backpacking with Tesalate was easy. With its small folding size, I was able to get it on the outside portion of my pack. Having it within easy reach meant that I could quickly get to it to wipe off my face or dry my hands as I hiked.
I also cannot forget to mention this fantastic hook. While probably not intended for this purpose it easily fits a carabiner. Because of this I also had it clipped to the outside of my pack! I am thinking on longer multi-day trips with a bigger pack that hook is going to come in even handier as I will be able to save space inside my pack while having the towel in reach while I sweat on the trail.
The material also appears to be constructed quite well. It is woven tightly which is why it is so absorbent and rapid-drying. While I wouldn't say that it won't tear at all it does appear that it is pretty resistant to punctures. Now I didn't want to ruin this towel so early in testing but I did pull it taught across a couple of branches and rocks and found that it help up pretty well. I was pleased with its ability to withstand some level of trail punishment.
Testing the Rapid Dry Technology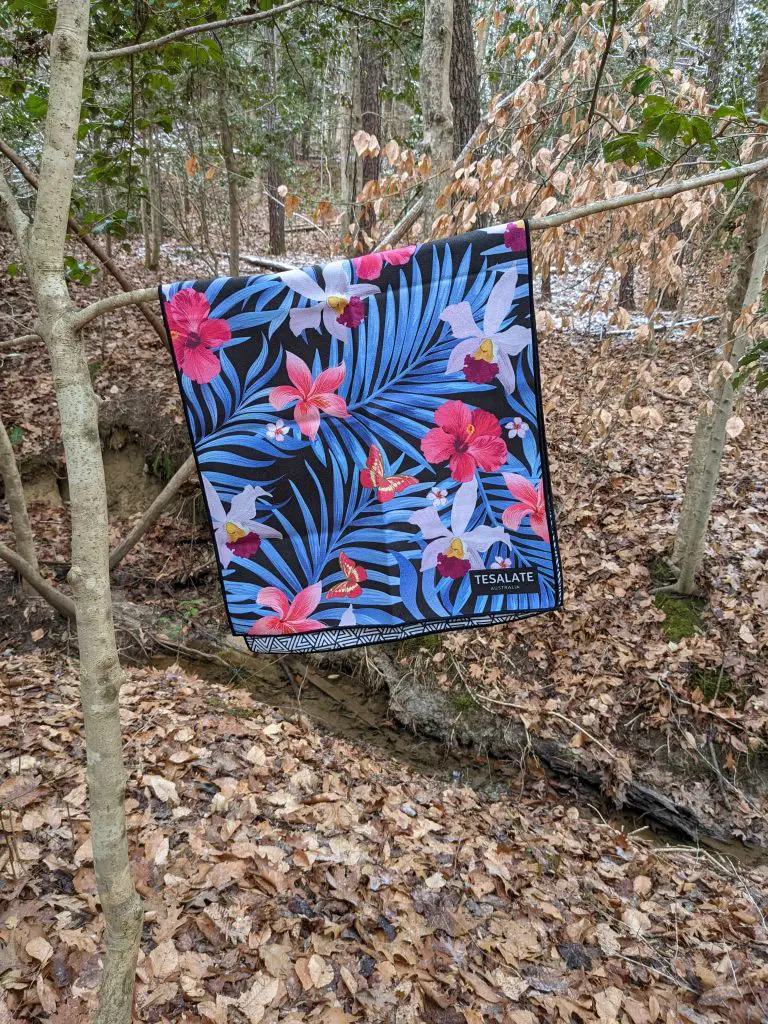 Obviously, in the cold, I was not trying to get myself drenched! However, in the morning I did freshen up a bit on the trail with a solid face wash and teeth brushing. The towel was damp after this when I hung it from my pack. With temperatures hovering in the low 40s, I was not expecting the towel to dry until I got home. However, after about an hour and a half, the towel was dry to the touch. I was surprised that even in cold air it managed to dry quickly.
At home, I also used it to dry off after my shower. I figured this could closely simulate coming out of a lake after a cooling swim in the summer. The towel absorbed all of the water like a standard bath towel even though it is slightly smaller in size. I hung it on my towel rack and a few hours later it was completely dry!
How About Odor-Free?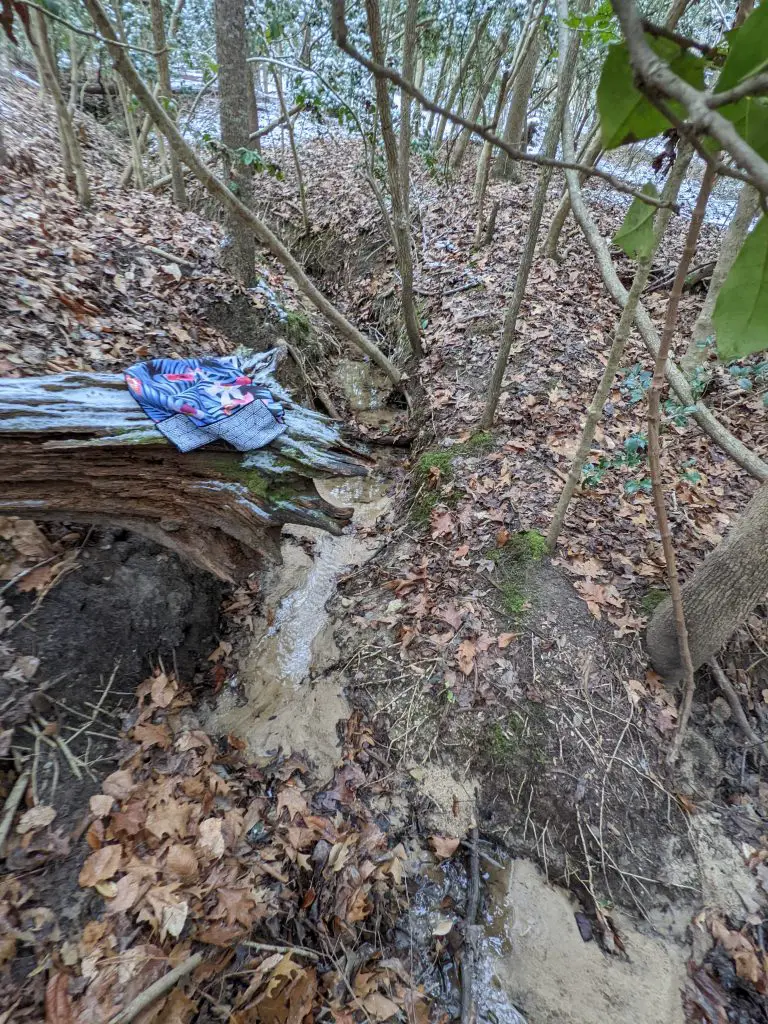 After the overnight backpacking with Tesalate and the shower, I didn't wash it. I let it hang on my bathroom towel rack for an entire week, much to the chagrin of my partner! I used it as a hand towel to dry my hands throughout that period. The towel never took on any bathroom odors or developed any of its own from having been used over the week. This gives me confidence that if I am constantly using it backpacking for a week it isn't going to get any trail funk. While I can't specifically test the antibacterial aspect, I do know that odors are generally caused by bacteria growth. I feel confident that most if not all bacterial growth were stopped. Overall I was impressed that it lived up to the odor-free nature. Because sometimes I simply do not smell as good as the flowers on this towel look!
I did eventually wash the towel! It is recommended to wash through a normal cycle and air dry. It held up through the first and subsequent washings. I imagine that after weeks and weeks of backpacking this summer I may see some wear and tear but honestly
Around the RV
The other use that I have found wonderful for the towel is as a bath towel in my RV. The thing is that this towel is small in size but is so absorbent. There is limited space in the RV bathroom and having a towel that is compact really helps. Not to mention that by the afternoon it is already ready to dry my body off again if I need a second hose down! Before I was lugging heavy bath towels with me into the trailer. Now I don't have to. I have a compact towel that is fashionable, dries quickly, and is odor-free. It is likely that I will consider having a few in the trailer as a trailer set.
Pros and Cons of Backpacking with Tesalate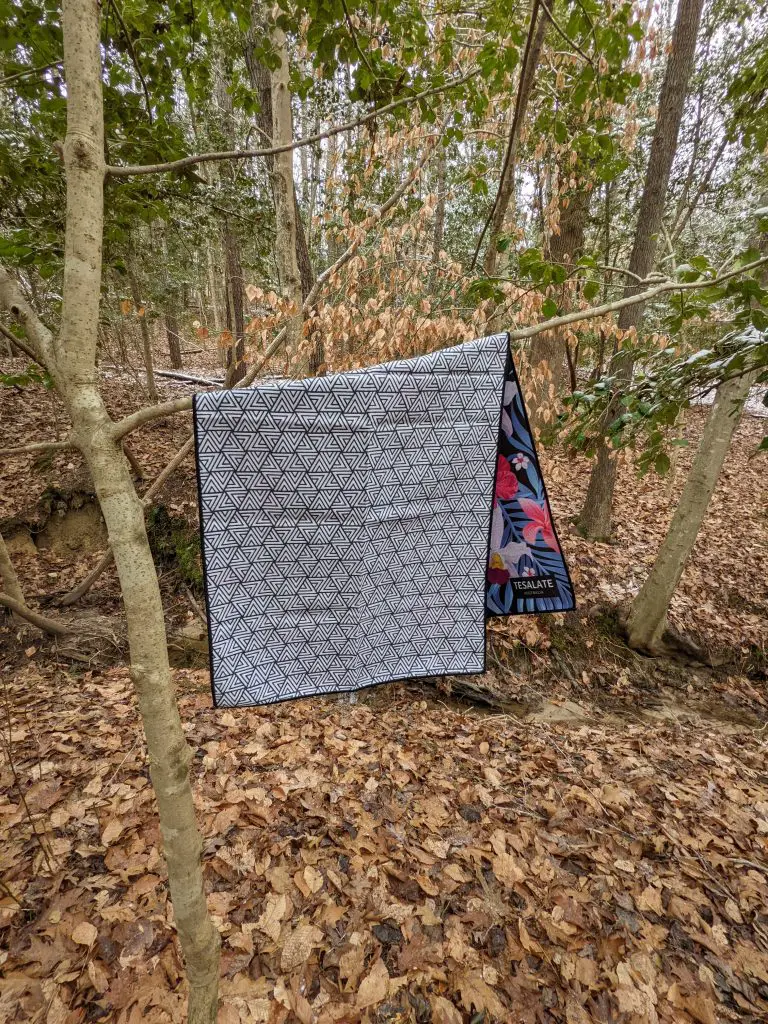 Pros:
The designs are unique and help me bring a bit of style to my rather utilitarian looking backpacking gear.
Materials that are used provide a soft to the touch, rapid drying, and odor free towel.
Having a towel that is small in size, foldable to an even smaller size, and less than 10oz is incredible.
Sturdy material that will stand up to a beating on the trail.
The hook for external connection to allow drying while hiking or easy reach to dry the sweat!
Washing was quick and easy.
The happiness guarantee and the support from the company.
Cons:
The price is a con. At $35 it may not be first on your list of backpacking towels. However, if you consider the cost of most ultralight backpacking gear it is fairly reasonable. Especially with the pros listed above.
That is it! The price is the only con here and honestly I could justify this time and time again for as often as I would use it!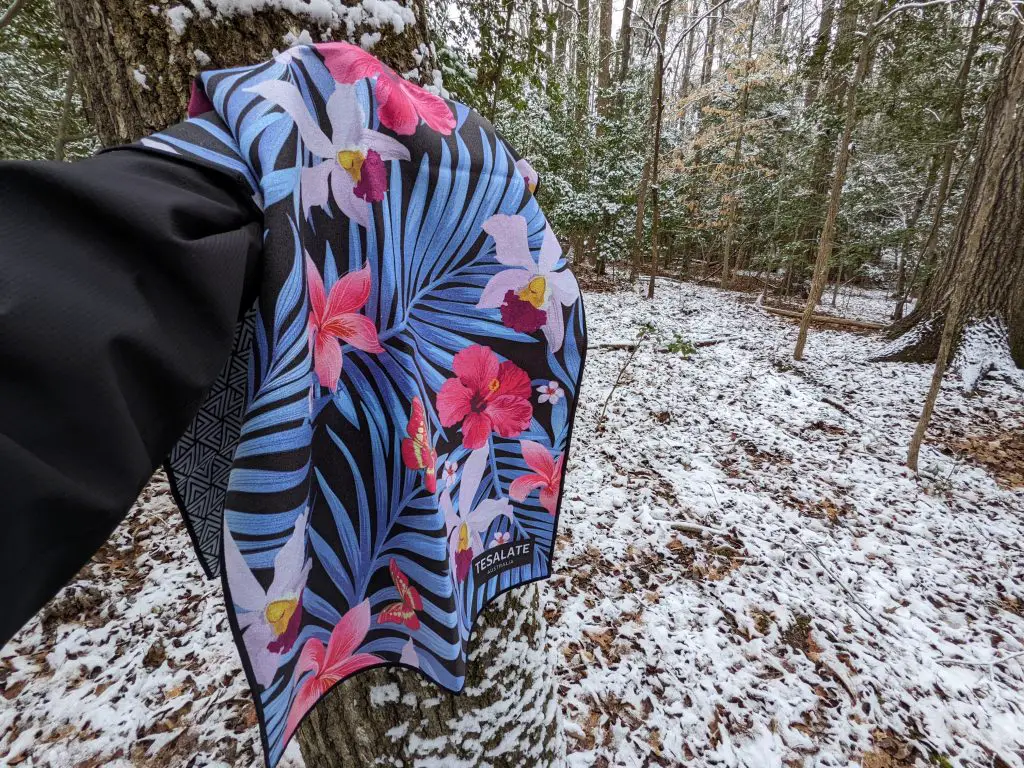 Backpacking with Tesalate Verdict
If you have made it this far through the review I am sure you know what this is going to say. The towel is a fantastic addition to your backpacking gear. I will be backpacking with Tesalate on all of my future backpacking trips. The fact is that it is a superb example of function and design driving requirements. The developers really understood the need of their customers and provided a product with innovative technology that could answer that call. I have complete confidence that this summer I am going to get to enjoy many more mountain lake excursions without having to lug bulky and heavy towels along in my pack. Aside from function the design really helps me to personalize my pack and add a bit of flair. I appreciate being able to express myself through my gear as I explore the natural world.
If you are looking for a fantastic addition to your ultralight or backpacking gear check out Tesalate's website for more designs of the workout towel. You may even want to check out some of their beach towels if you spend a lot of time near the coasts or summertime lakes.
Do you have your own Tesalate Experience that you would like to share? Share it in the comments below or on our Facebook, Twitter, or on Reddit!