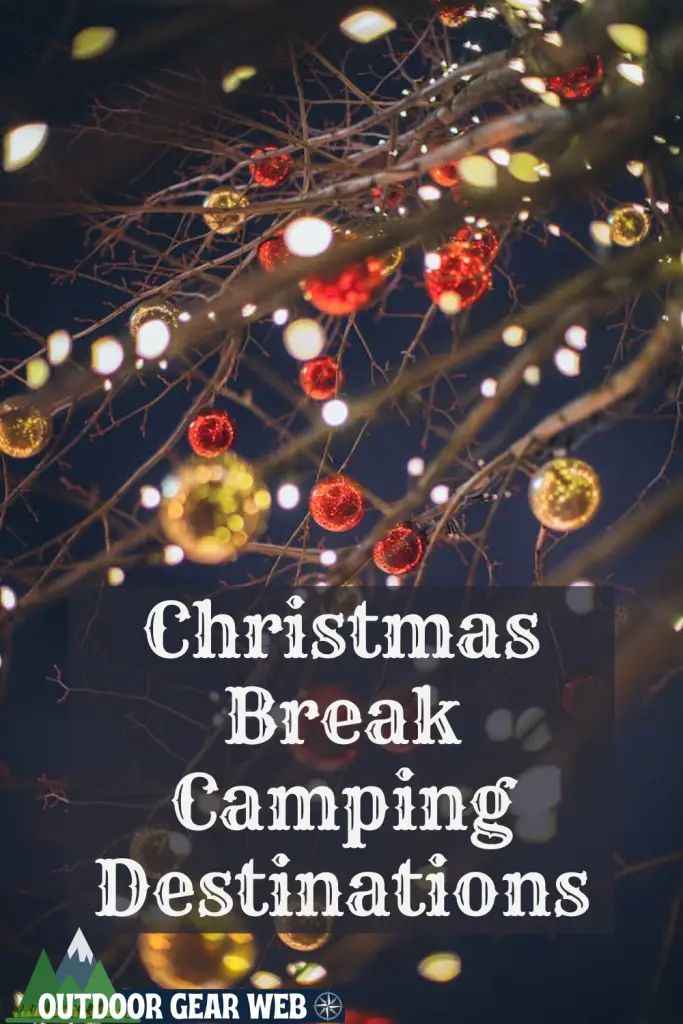 Camping over Christmas break doesn't have to break the bank and is a wonderful way to spend quality time with family and friends. There are some great Christmas break camping destinations. Better yet stay and ring in the New Year. Let's find six Christmas break camping destinations that will bring the joy of camping to every adventurer. Whether you are setting up your tent or breaking out your RV this season let's get camping!
---
Prepare yourself for winter camping with these tips.
---
Christmas RV Park, Christmas Florida
Time to celebrate the holidays in historic Christmas, Florida. The RV Park in Christmas, Florida is close to many destinations that you can visit during your stay at the campground. You can hit the Brevard Zoo, walk and picnic at Fort Christmas Historical Park, visit the Kennedy Space Center, or take a break and check out Lakeridge Winery & Vineyards.
Many of the roads in this small community are named after fun Christmas items. Try finding all of Santa's reindeer as you walk around taking in the giant alligator building! While at the building check out the jungle swamp cruise from Jungle Adventures, A Real Florida Animal Park. Nothing says Christmas like getting wild with the animals!
Orlando, Florida
Who wouldn't want to be in the most magical kingdom of all? Instead of glamming in a hotel, you can spend your Christmas break camping vacation in the heart of Orlando Florida. Another wonderful Christmas break camping destinations is the Orlando Southwest KOA. It is located 30 minutes from Legoland Florida Resort, 30 minutes from Disney World Resort, and 60 minutes from Universal Studios. This KOA site offers RV parking, and if you do not have an RV, there are deluxe cabins equipped with linens, towels, and kitchen supplies! If cabins are not for you at this Christmas break camping destination, then you can rent an RV onsite, or even set up your tent.
---
Want to stay in Flordia but away from crowds? Head to Gulf Islands National Seashore with our Guide.
---
On your Christmas camping trip, Disney has Mickey's Very Merry Christmas Party, a celebration full of Christmas lights, fireworks, live entertainment, and a parade. Along with Mickey's Very Merry Christmas Party, Disney World has Cinderalla's castle decorated in Christmas décor, and Main Street is decorated with holiday themes.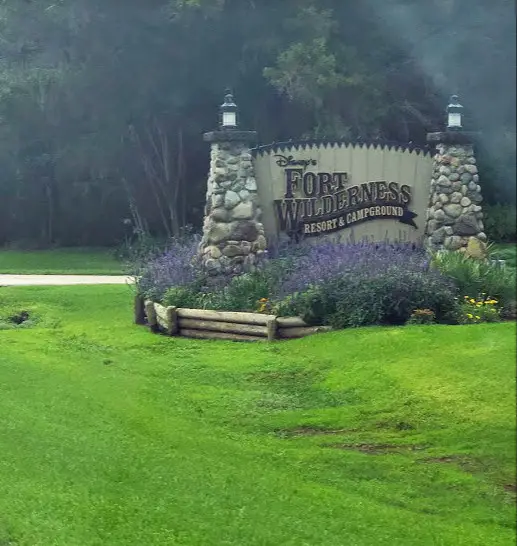 Camping right outside of Disney World is an excellent way to spend your Christmas camping vacation with your friends and family, it may even become a holiday tradition. However, get all of the benefits of the resorts by staying right at Fort Wilderness. The campsites are large and the amenities are amazing!
Wales West RV Park, Park & Light Railway, Silverhill, Alabama
Another great Christmas break camping destination is the Wales West RV Park in Silverhill, Alabama. This is an RV camping site located in Silverhill, Alabama, where the warm weather is all year round. There are over 75 RV sites, along with hookups and a heated pool. But the real reason to spend your Christmas Camping trip at Wales West is the light and train show.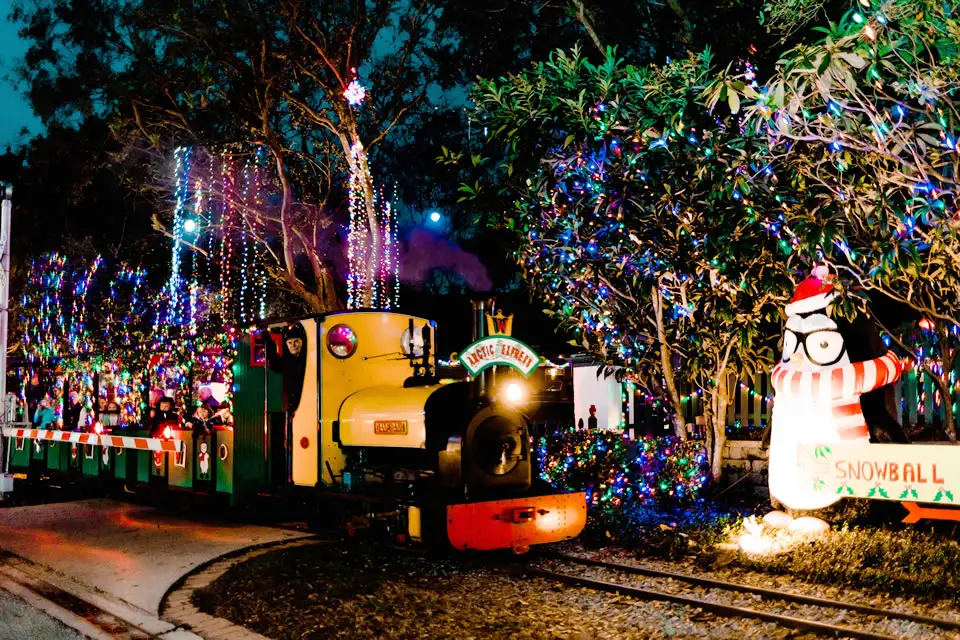 The Artic Express runs to the North Pole, where over one million lights, a visit with Santa, and your "Free" gift await your kids. The non-stop train ride takes you through a winter wonderland, to an area that you were unaware exists in Alabama.
Other Amenities include the following:
Restrooms
Showers
Spa
Heated Pool
Library
Laundry
And if the weather is warm, a beach, waterfall, large slide, and fishing lake.
Viewpoint RV & Golf Resort, Mesa Arizona
Golf, Golf, and more Golf! If you have a golfing family and want to still have your Christmas camping trip then Viewpoint RV & Golf Resort is for you. Viewpoint RV Resort has an 18-hole championship golf course as well as a 9-hole executive golf course. Close by there is hiking, biking, and walking in local parks and river beds. Just around the corner, there is shopping, dining, and entertainment.
Some on-site amenities include a swimming pool, fitness center, laundry, pickleball court, and dog park and the resort is pet friendly. The resort includes shuffleboard and basketball courts and is noted as very upscale. There is even a sports bar at the resort!
Christmas at Viewpoint RV & Golf Resort in Mesa, Arizona is a great place to enjoy the great outdoors, but not be super cold. This Christmas break camping destination is a golfer's delight!
Yosemite Lakes RV Resort, Groveland California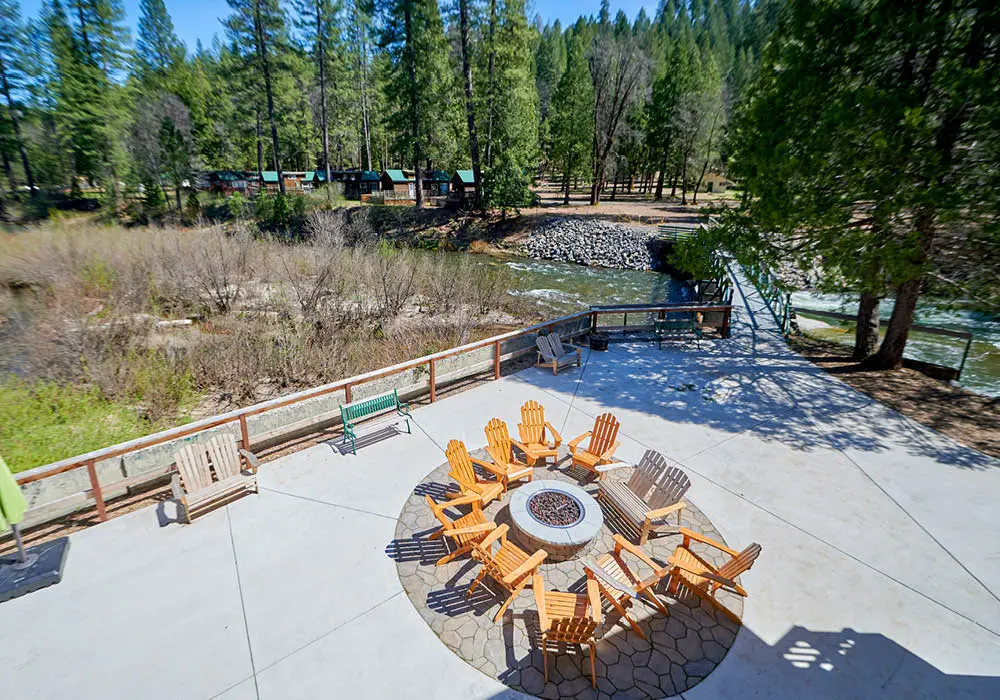 Yosemite Lakes RV Resort is open year-round with over 480 RV sites to choose from. The camping site is only five miles from Yosemite National Park. Within the campsite, the South Fork of the Tuolumne River runs through, which is great for swimming and fishing. There is also boating, water skiing, and more fishing on Lake Don Pedro.
---
Check out these other great family campgrounds in California for Christmas this year!
---
Let us talk about your Christmas Camping trip, close by are great areas for cross-country skiing, and several other snow areas are close to camp. Because this trip is during the winter, you may steer away from your RV and tent and stay in one of the Yurts, or cozy cabins. Some cabins include bathrooms, showers, and flat-screen TVs. The kitchens in these cabins are stocked with cooking and eating utensils. The Yurts are also equipped with everything you need and are heated.
McAdenville, North Carolina, Crowders Mountain State Park
Crowders Mountain State Park is located in King Mountain, North Carolina. The park is located in Gaston County, west of Charlotte. Within the campsite, there are different areas to set up your tent. There is Sparrow Springs, which offers hiking, paddling, fishing, and picnicking. There is also a visitor center and exhibits to check out while you are there.

The real reason to camp at Crowders Mountain State Park is McAdenville, North Carolina also known as Christmastown, NC. The tradition goes back to 1956 when they had the first "Christmastown". The lights are available for all site seekers, via car or on foot. There is no charge to go to Christmastown. For more information, check out their website at www.mcadenville-christmastown.com.
Crowders Mountain State Park is close by, and is an ideal location for a Christmas break camping trip and traveling to Christmastown during your Christmas camping vacation.
Camp Decorating for Christmas
No matter which Christmas break camping destination you choose, think about the decorations! The fact is that much like Halloween Camping there are so many ways that you can decorate your site. From simple lights to adding inflatables. Finding a campground that provides activities and decoration competitions make the season even brighter. Especially as you sip hot cocoa and walk around the campground viewing all the festive decorations.
Don't forget to pack the essentials on your holiday break!
Festive lights for your area outside of your RV.
A fake Christmas Tree prelit with lights. You can add ornaments when you get to the campsite
Festive kitchen wear, such as holiday plates, glasses
Holiday games and activities
Christmas Inflatables
Garland
---
Don't forget to bring presents for everyone on your list too!
---
Final Christmas Break Camping Destinations Thoughts
Do your research and talk with your family and friends before you pick your destination for your Christmas break camping trip. You will want to make sure that you are not heading into deep snow country. At the same time, don't be afraid of winter camping. There are lots of places that have mild winters. Take advantage of an extended camping season and share something special this year. Memories of camping during Christmas may be the best ones you ever make. It will harken your whole family back to simpler times.
What Christmas break camping destination are you heading to this year? We would like to hear about them in the comments, on our Facebook, or on Reddit!
Don't forget to share on your favorite social media so your friends know what to get you this year on your next hiking adventure!