The Gulf Islands National Seashore, which spans three Gulf Coast states, guards a section of the coastal areas between Gulfport, Mississippi, and Navarre Beach, Florida. Excitingly, the majority of the coastal regions in Mississippi's Gulf Islands National Seashore are only accessed by private boats and paddlers. This makes for exceptional backcountry camping opportunities. At least 5 million visitors to Florida each year visit the Gulf Islands National Seashore, which has white sand and a crystal-clear beach. 
---
Ocean life not your speed? Check out these other National Park Quick Guides and plan your trip now!
---
Activities at the Gulf Island National Seashore 
The activities in this park are quite inclusive. They are very family-friendly as well as suitable for individuals. Some of them are: 
Boating 
Hiking 
Horseback riding 
Wind sports 
Surfing 
Swimming 
Wildlife Viewing
Biking 
Gulf Island National Seashore's Most Important Sites to Visit 
With so much seashore to explore it is hard to settle on what is actually the most important. However, this quick list will help you to enjoy some of the best things Gulf Island National Seashore has to offer.
Naval Live Oaks Area 
A rich hardwood forest endures along the windswept shorelines between Santa Rosa Sound and Pensacola Bay. Because it is now a part of the Gulf Islands National Seashore, the Naval Live Oaks Area, which dates back to a presidential executive order issued by John Quincy Adams in 1828, is still protected by the federal government. Get a chance to explore this safe forest on a family trip. 
Fort Pickens 
There is a lot to discover in the Fort Pickens Division of the Gulf Islands National Seashore, whether you are there for the beach, the landscape, or the history. It also features a campground, which has more than 200 campsites and is a popular winter stopover for snowbirds traveling to Florida. 
Among the 420+ national parks and sites, Fort Pickens Campground is among the 10 busiest campgrounds. It offers year-round access to trails, including the Florida National Scenic Trail, and white sand beaches. 
Want to know more about Fort Pickens before traveling? Check out this video from the National Park Service!
Johnson Beach 
Johnson Beach in Perdido Key offers one of the best locations to experience a pristine seashore close to Pensacola along a slender and windswept peninsula. Additionally, it has access to kilometers of beaches, you may locate a private retreat for an unforgettable experience.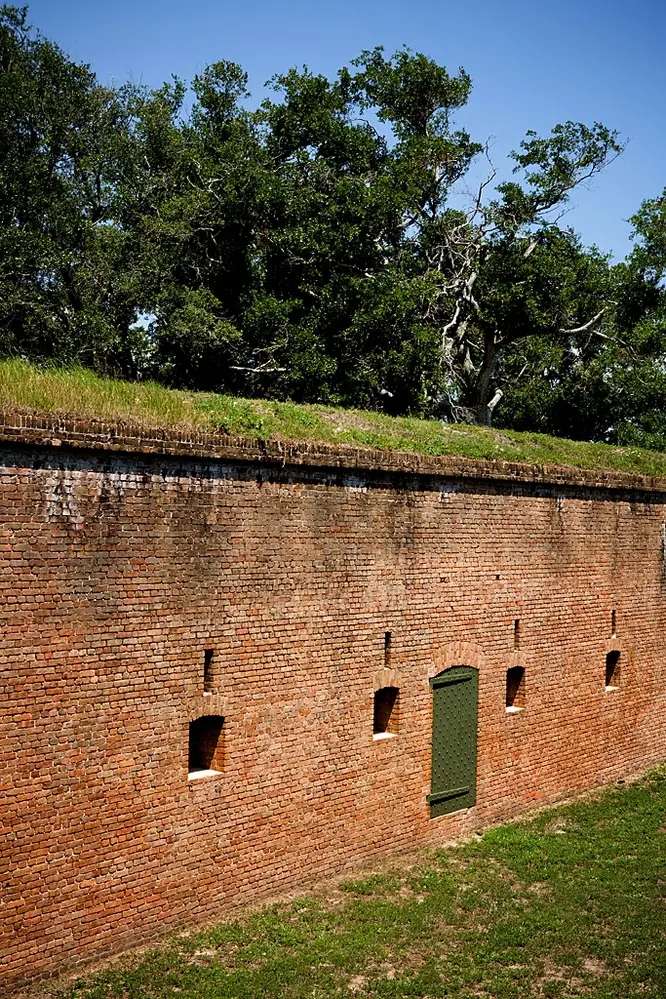 Fort Barrancas 
This fort was first constructed in 1763 as a wood fortress by the British Royal Navy. It is located on a hill overlooking Pensacola Bay's western side. Although it is a component of the Gulf Islands National Seashore, the fort and the nearby Advanced Redoubt are located at the heart of Pensacola Naval Air Station, and both require Government Issued Military Identification.
Advanced Redoubt 
The Advanced Redoubt was built between 1845 and 1859 to defend both Fort Barrancas and the Pensacola Naval Base. However, the Advanced Redoubt of the fort has never been used, so this is an opportunity to experience history. 
Note: Fort Barrancas and Advanced Redoubt are located on Naval Air Station (NAS) Pensacola, which is currently closed to the public.
Fort McRee 
The 128 guns of Fort McRee on Perdido Key, built in 1834, aim towards the Pensacola Bay entrance. However, over the years, wind and wave erosion took a toll. There is now just one 1942-era battery left. 
Fort McRee, in contrast to Fort Barrancas and the Advanced Redoubt, is no longer interpretable. Pensacola Bay's remaining contents are only visible to divers and boats. 
Fort Massachusetts
Fort Massachusetts, the most western of these coastal defenses, is located on West Ship Island in Mississippi. It was constructed during the War of 1812. This is a direct reaction to the British assault on New Orleans and was in use until 1903. 
Gulf Island National Seashore's Best Trails 
It is not just the history and sites that you will want to see along the seashore. You will also want to check out these hikes to get a little flavor of nature as you hear the waves crashing on the beach.
Perdido Key Discovery Trail. 
View this 4.5-mile (7.2-kilometer) out-and-back track that is close to Pensacola, Florida. This trip typically takes 1 hour and 17 minutes. It is a simple hike. Walking on this route is fantastic. The trail is beautiful to explore year-round and is available at all times. Dogs are not permitted on this route. So if you must visit it, leave them at home. 
Brackenridge Nature Trail and Fishing Trail 
Discover more about this 3.2-mile (5.1-kilometer) out-and-back path in the area of Gulf Breeze, Florida. It is an easy course and usually lasts just over 1 hour to finish. Even though this is a well-liked track for trail running, hiking, and birdwatching, you may still find some peace and quiet there at slower times of the day. The trail is available throughout the year and is excellent for exploring. You can bring your pup with you, but remember to keep them on a leash. 
The Florida Trail 
This 1,300-mile path extends from Fort Pickens to the Big Cypress National Preserve near the Everglades. Route access starts from Battery Langdon and the Fort Pickens Campground. Good news, if you are looking to ride your bike. You can ride on the final three kilometers of the trail that begins at Battery Langdon. Therefore, you can be sure to enjoy your cycling. 
Andrew Jackson Trail 
With a distance of 2.4 miles, the Andrew Jackson Trail is the longest within that vicinity. From one edge of the Naval Live Oaks section of the park to the next, it stretches east to west, so it is a good opportunity to enjoy a family walk. 
Best  Campgrounds at Gulf Island National Seashore 
Don't forget to bring these 10 camping items with you when you go camping!
Davis Bayou Campground
The Gulf Islands National Seashore claims the area around Davis Bayou Campground, which is located east of the center of Ocean Springs. The camp is next to a saltwater marsh. Additionally, it is tucked away among live oak and pine trees. 
La Ti' Bel Rue
This campsite accepts Class A, Class B, Class C, Toy Haulers, Pop-Up Campers, Travel Trailers, Fifth Wheels, Campervans, and Cars. So, no matter how you want to camp you will have an option here.
Naval Live Oaks Youth Group Campgrounds 
The Naval Live Oaks Youth Group Campsite is on the Pensacola Bay shore. It is a campground for structured youth organizations with participants under the age of 18 that only allows tents (Girl's Scouts, Boys Scouts, etc.). The building has enough space to accommodate about 40 people. So, if you have a larger group than that make sure you consider the space.
Fort Pickens Campground  
The Florida Gulf Islands National Seashore's Fort Pickens Campground is available all year round. 
Every night from March 1 through October 31, the Fort Pickens Area entry gate shuts at 8 PM. However, the rest of the year it closes at 6 PM. 
Sadly, after the gate is locked, you won't have access to the campsite if you show up without a reservation.  
Please note too that storms and extremely high tides have the potential to flood the park road or fully bury it in the sand. If this occurs, the campsite will be evacuated if the alert allows. 
Fort Pickens Group Campground  
At the Fort Pickens Campground, there is a tent-only campground nearby that can accommodate a party of 10 to 40 campers. The only way to reserve a campground is online. The Fort Pickens Group Campsite lacks power. However, there are contemporary toilets with cold showers, six picnic tables, a big grill, and a fire ring. Truly, who needs power while camping anyway? The sole difference between the main campground's amenities and those used by group campers is that the latter offer hot showers, among many others. 
Final Thoughts on the Gulf Islands National Seashore Quick Guide
While you might think that National Park Sites are only reserved for soaring mountains or remote valleys. You would be wrong. The National Park Service also maintains wonderful ocean sites and seashores for our and future generations' enjoyment. So don't be afraid to check out the Gulf Island National Seashore. For it will inspire you to connect with nature in a different way. Not to mention allow you to experience the history of the Gulf of Mexico. Who knows, maybe you will hear the sounds of the original settlers and soldiers who protected the coast from pirates of the Caribbean! Most importantly though, connect with your family and be comfortable finding yourself in the outdoors. Gear up yourself and your family and await the most enjoyable experience ahead.
What is your favorite part of visiting Gulf Islands National Seashore? Tell us in the comments below, on our Facebook, or on Reddit!