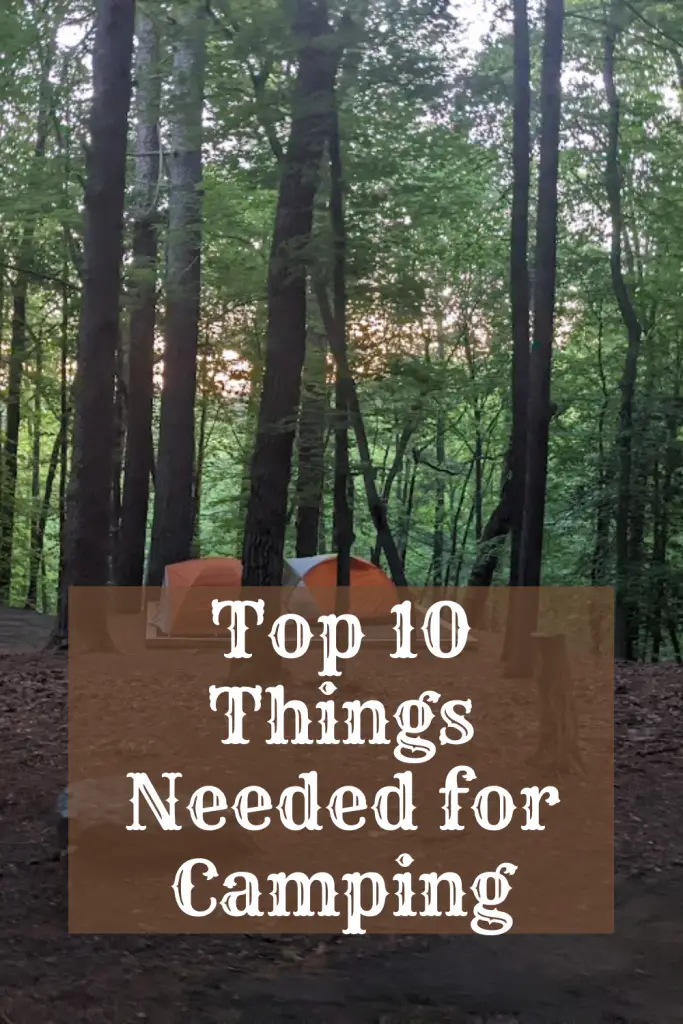 Camping can be such a great experience for everyone involved. You're getting out into nature, soaking up the sun, breathing in the fresh air, and making lots of fun memories. However, some preparation is required for this outdoor pastime. Even though it's good to get back to basics out in the wild, you still need to bring a few items. So we've compiled a list of the top 10 things needed for camping in order to have the best experience you can!
While this is not an exhaustive list of everything you may need while camping it is a good start to the critical ten items you will need.
---
Need some inexpensive camping gear? Check out these Dollar Store Camping Hacks!
---
#1 – Shelter
The number one item on our Top 10 things needed for camping is agreeably the most important. You need to have some sort of shelter when you venture out into the wild. This is because even if you prefer to sleep out under the stars, weather or other unforeseen circumstances could pop up. This may force you inside.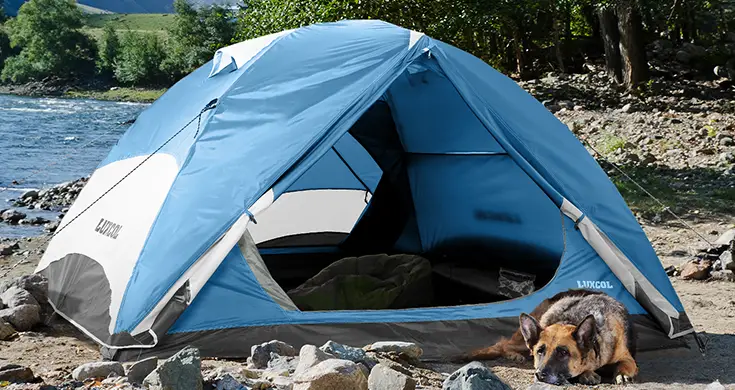 A shelter could be a camping tent. Preferably a sturdy and waterproof one like the one in the picture. An RV is another great option if you have one available. This depends on personal preference as many people enjoy camping the more traditional way with a tent. While others prefer the home-away-from-home comfort of an RV.
---
Find out how to pick a tent now! Looking for some family tent recommendations? Look no further!
---
#2 – A Place To Sleep
If you're staying in an RV then you probably have a bed in it that you'll use when it's time to get some shut-eye. For those that are sleeping in tents or out underneath the sky, you'll need a sleeping bag. Find out how to choose a sleeping bag now. If you're taking your kids camping then make sure to get them a kid's sleeping bag. This is because an adult one wouldn't work as well for keeping them comfortable.
A sleeping bag is helpful for several reasons. The first is that it keeps you warm when the temperatures drop. The second is that it may prevent different insects from having access to you when you're asleep. there is nothing worse than nighttime mosquito bites!
#3 – The Right Clothes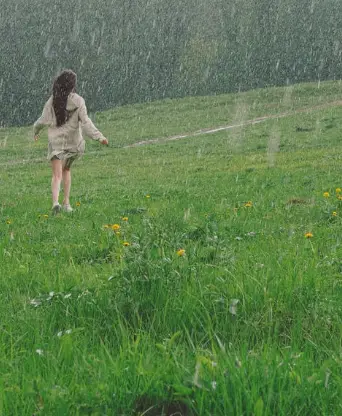 If temperatures are low then packing warm clothes is a must. If they're high then pack light-weight ones that still offer protection. Just be sure to check the weather and have the right clothes stored away for your trip.
---
Want to know how to layer up in cold weather? Check out our winter layering guide!
---
And also make sure to bring rain gear just in case. This includes a lightweight waterproof rain jacket, and possibly even a rain bag to carry your gear in if your current backpack won't fit under the rain jacket. Because wet gear and clothes has the potential to ruin your entire trip.
#4 – Tools To Start A Fire
What says camping like a warm campfire to roast marshmallows at? Nothing! This is exactly why you never forget to pack everything you need to start a fire. Learn how to become an expert at building campfires. This could be whichever type of fire starter you choose, options include things like flint and steel, matches (make sure they're waterproof), or a cigarette lighter.
This is a fantastic way to get your fire going quickly.
Additionally, pack some kindling for the fire as well because you don't want to leave it to chance and try to find all of it in the woods. Use a waterproof container and pack it with dry tree bark, strips of newspaper, or other types of kindling.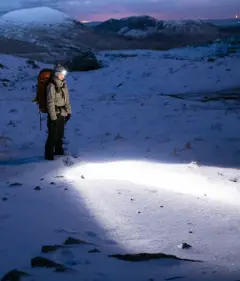 #5 – Other Types Of Lighting
The thing about campfires is that although they're charming, they're not exactly portable. So you'll also want to pack other types of lighting for your camping trip, to make sure you can get around at night safely.
Some people use flashlights, others use lanterns, and a popular option is headlamps as these allow you to move around and still be able to use both hands for other tasks instead of having one busy with the light.
#6 – A Source Of Clean Water
Even if your plan is to camp near a source of fresh water, that water could still be contaminated with countless dangerous bacteria in it. So it's always best to avoid those sources of water unless you have some way to filter and purify it.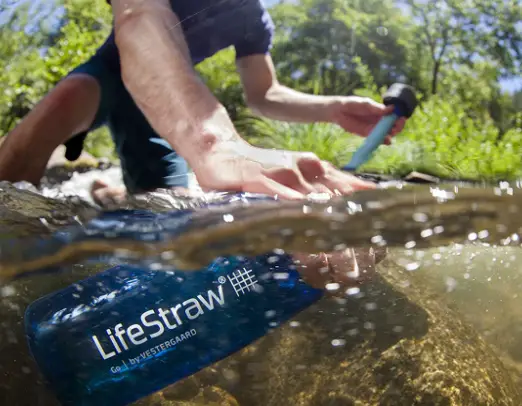 It's for this reason that you should always bring enough clean water with you to last you the duration of your trip. Bring packs of water, a large container full, etc. Whatever your method of water transportation, just be sure to have plenty on hand.
#7 – Basic Medical Supplies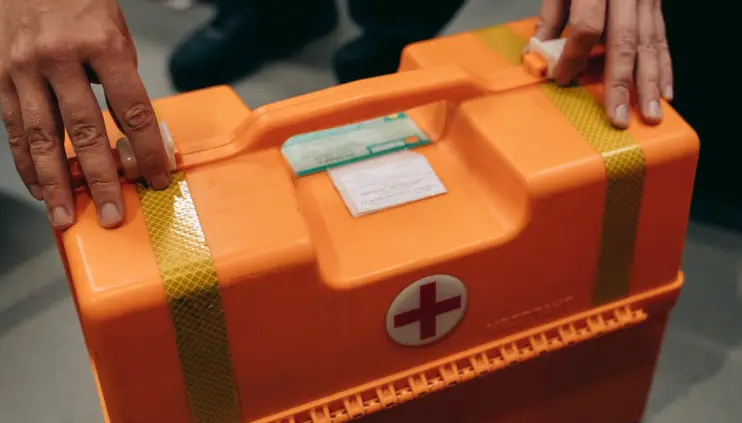 There are many small injuries that you could obtain while camping, especially if you're doing so as a family with small kids. In this case, you're going to need the supplies on hand to treat these injuries while they're still minor, you wouldn't want any infections forming while you're on your trip.
Things to put in your first aid kit would be bandages, antiseptic, scissors, adhesive, gauze, soap, and even things like an emergency whistle and CPR mouth barrier just to be safe. Check out these other top camp safety items to bring with you.
Extra Tip: Maybe even pack some insect repellent and sunscreen in the kit as well, nobody wants to be plagued by bug bites during their trip.
#8 – A Pocket Knife
Simply bringing a pocket knife could help you out in so many different situations. It's something that people often don't think about bringing, but its versatility in different situations might just surprise you! Go one step further and grab yourself a multi-tool. Need an idea of the best multi-tool for you? Check out these multi-tools under $25!
Opening packages, slicing up your food, cutting away at something in your way such as a vine, and other situations in which you might need this little tool spring to mind. So don't forget it!
#9 – Navigational Tools
We're used to having signs, dedicated roads, and people that know the area to help us get around. So in our day-to-day lives, it's easy to avoid getting lost and even easier to find our way back if we do. But that's all a bit different in the wilderness because we're in an environment that we're just not used to.
So before you go camping, make sure to add a map and compass to your gear. These will help you to stay on track, and make your way back to your campsite if you do get a bit turned around. If you can, even bring a charged GPS, as this will be even better! Don't forget extra batteries or a way to charge on the go for longer hikes!
#10 – Toiletries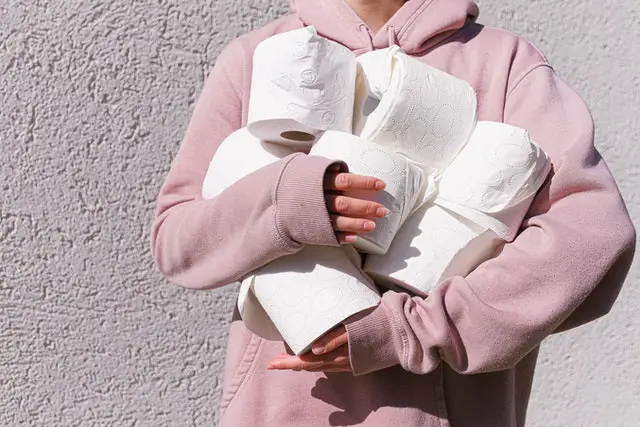 Our last item on this list is… toilet paper. Like it or not, we really can't live without going to the bathroom even in the woods. We as humans, like to have what we need to do our business comfortably. So bring some toilet paper.
Some people will use whatever is available to them in the woods, but this is far from hygienic and we wouldn't suggest it. Furthermore, even if you're going to be in a campground that has toilet facilities, don't count on them to always have what you need. It's better to be prepared on your own. Beyond toilet paper, do not forget to bring earth friendly soaps, sanitzers, toothpaste, and deodorant. Just make sure you store them properly to prevent animal intrusion!
Final Thoughts on the Top 10 Things Needed for Camping
These top 10 things needed for camping are sure to set you off on the right foot. You certainly will need more things when you go camping. However, these will make sure that you are comfortable and safe as you start your adventure. So while camping may not be for everyone. You may find you can convince those who are wary to join you with a little pre-planning. Gear up yourself and your family and await the most enjoyable camping experience ahead.
What were your first and most important camping items? Tell us in the comments below, on our Facebook, or on Reddit!