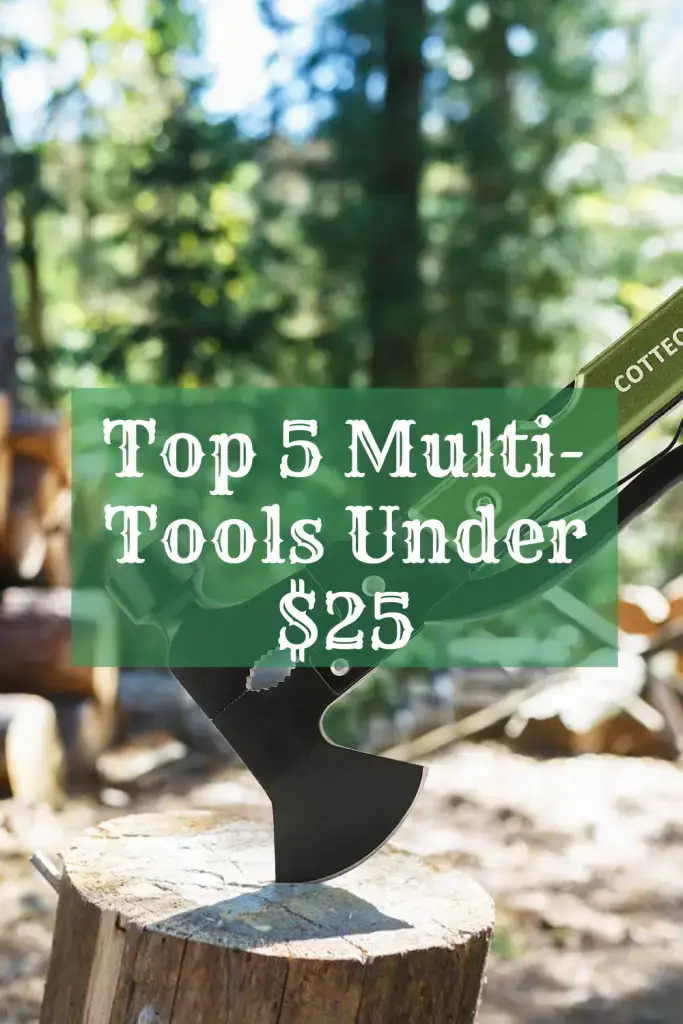 A camper is only as good as the tools that they bring with them. This means that you need to be prepared and ready for anything that may come your way. Like many things in life, preparation can be quite expensive. However, when you need a sharp edge (see what I did there) you don't have to break the bank. In fact, there are many multi-tools under $25 that you can keep handy in your camping bag. These will provide things like bottle openers, pliers, knives, files, or maybe even that trusty reusable toothpick! Having a multi-tool like that at your fingertips can get you out of some binds. Especially when trying to quickly set up or tear down camp.
Where should you start on your hunt for multi-tools under $25 though? Let's face it, a search through Amazon or Google is going to provide thousands of results. Ain't nobody got time for that! Your time is as valuable as the recommendations that I am going to provide below. So grab your wet stone and let's get into the top five multi-tools under $25!
---
Take Care of your multi-tool expertly!
---
The COTTEOX is a unique multi-tool in that it is also marketed as a survival tool. At first glance, this seems like it is a tool that would not necessarily be something to consider as one of the multi-tools under $25 due to the hatchet and hammer combination. At least it is not something that you could easily fit into your pocket or pack. However, with 15 tools it may be something to strap onto your pack to head out into the woods. The hatchet blade is quite sharp and can handle those tasks making firewood smaller. Not to mention as an RVer it is always nice to have some house tools along with you. The hammer finds itself useful with small tasks like driving tents or awning stakes. Due to the constantly exposed blade, this may not be the best multi-tool for a new user or someone without proper blade care training.
COTTEOX Multi-Tool Summary
Price: $22.98*
Number of Functions: 15
Functions: Axe / Hammer / Saw / File / Knife / Wire Cutter / Flat Jaw Pliers / Regular Pliers / Bottle Opener / Fish Descaler / Assorted Hex Wrenches / Philips Screwdriver / Slotted Screwdriver / Large Slotted Screwdriver / Stripper
Material: Stainless Steel
Height: 0.9 in
Length: 6.9 in.
Weight: 15 oz
Our Take: This is a sturdy and well-built multi-tool. It provides the user with ample choices for completing any task around the campsite. It comes with a sheath for protection as the blade for the axe does come quite sharp. Additionally, the blades do not have a reliable locking mechanism. Due to the sharp hatchet/axe blade and the knife blade, we would not recommend this for novice or young users. This coupled with the weight leads us to place this at number five on our list. As a survival or backpacking tool, it combines a few necessary tools into one which can save overall weight.
---
The Ultimate Camping Gear Guide for Students
---
Number four on our list of multi-tools under $25 is the BIBURY Multi-tool. This is another off-brand tool that may not necessarily breed confidence. As the old saying goes you want to buy once cry once! However, with solid reviews online for quality that is not something that you necessarily need to worry about. Additionally, this multi-tool has some unique features that may come in handy for campers and RVers alike. Mainly the multi-screwdriver attachment will be useful when needing to do some minor repairs around your campsite. Additionally, the other 20 tools made from 420 stainless steel will ensure a tool that lasts. The tool also has safety baked in with its locking mechanism meaning that younger first-time multi-tool owners will be safe with this tool. Overall this is a great value for the price.
BIBURY Multi-tool Summary
Price: $23.99*
Number of Functions: 21
Functions:  Needle nose pliers / End Cutting Pliers / Combination Pliers / Hexagon Sleeve / Scale / Sickle / Wire cutter / Rope Cutter / Saw / Screwdriver / 8 in 1-bit driver / Fine edge blade / Bottle opener / Trowel / File
Material: 407 Stainless Steel
Height: 1.7 in
Length: 4.8 in.
Weight: 12.2 oz
Our Take: Having so many options in a single tool is a fantastic way to get prepared for the outdoors. In fact, with 21 tools you will be hard-pressed to find more options per dollar than this one. Having multiple-bit drivers provided expands the capability for fixing things around the RV. The tool also comes with safety in mind for newer users. The tool is quite heavy and can be awkward for some smaller hands when trying to use the tool. If the size doesn't matter, …, then this is a great option to add to your pack. If the size does matter then we have some additional options to help control the weight and size requirements in your camp pack!
---
Must-Have Camping Gear Under $50 – Top 10
---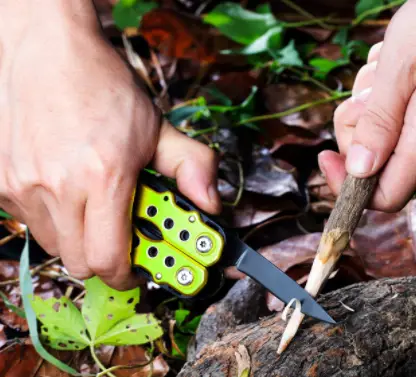 We are almost halfway through our list of multi-tools under $25. For number three we have the RoverTac Multi-tool, it is highly capable. It provides twelve functions in a convenient package that is easily held by any user. Additionally, the tools are protected by a lifetime warranty that the manufacturer stands behind. While all of the multi-tools included here are stainless steel the added black oxidation on this tool will help the overall corrosion protection. This is especially important for those of us who live in a wet and humid climate. Luckily, since the tool is reliable and the blades are sharp it is very easy for new users to pick up this affordable multi-tool and get busy on their camp chores.
RoverTac Multi-Tool Summary
Price: $23.99*
Number of Functions: 12
Functions:  Long nose pliers / Standard Pliers / Wire cutter / Saw / Slotted Screwdriver short / Slotted Screwdriver Long / Phillips Screwdriver / Bottle Opener / Can Opener / Fine edge blade / File / Awl
Material: Coated Stainless Steel
Height: 1 in
Length: 6.3 in.
Weight: 10.7 oz
Our Take: As one of the heavier tools the RoverTAC Multi-tool does provide some fantastic options. The coated steel also helps protect against oxidation. The offering of tools will also set you upright in the campsite as it will give you flexibility in your tasks. There are some concerns about the quality of the steel that is used in both the tools and the rivets. Making sure to properly maintain the tool and use it in the proper settings could prevent early wear and tear. Luckily the tool comes with a lifetime warranty in case something ever does happen. This tool may also be awkward in smaller hands but with a reduced weight should be fairly easy to take along in your outdoor adventures.
---
---
This tool may seem like the best on our list of multi-tools under $25 dollars but you may be surprised that it comes in at number two. The fact is the Gerber Dime this very capable tool is fairly small and pretty heavy in comparison. Its minuscule size is great for helping it blend right into your key chain. It will always be within reach, and you will always have access to its ten tools. While the functionality is great the tool may not help with the bigger tasks that you need to complete out on the trail. Applying too much force in the use of any of the tools will likely result in breakage. However, for being a quick-reach tool with many functions you can't go wrong with having this on your key chain!
Gerber Dime Summary
Price: $25.00*
Number of Functions: 10
Functions:  Needle nose spring-loaded pliers / Wire cutter / Fine edge blade / Retail package opener / Scissors / Medium flat driver / Crosshead driver / Bottle opener / Tweezers / File
Material: Coated Stainless Steel
Height: 0.6 in
Length: 6 in.
Weight: 4.1 oz
Our Take: This is a capable tool that you will easily be able to add to your camp kits. It is small enough to go anywhere and provides you with some unique tools in the price range. For instance, you will be hard-pressed to find other reliable multi-tools with pliers. Gerber also provides a lifetime warranty on the Dime. However, due to its size and thin metal construction, over-torquing can cause issues with the tool. It may break easily during use. If you are looking to wow a young camper with their very own multi-tool this may be your best option! For long-term resiliency and trustworthiness keep reading.
---
---
Our number one of the multi-tools under $25 is the Victorinox Swiss Army Knife Spartan. This should come as no surprise. There is a reason that many people around the world refer to multi-tools generally as Swiss army knives. They are the standard to beat! You probably have seen something similar if you were ever in scouts or helped out in the garage. This is a pretty standard little multi-tool that you have probably received after asking to borrow something. The tool has been trusted for over 100 years to provide sharp knives and utility in a compact form. It is made with lightweight Swiss stainless steel which will help it to last for generations with proper care.
This multi-tool includes twelve functions. With twelve functions you can go from whittling your creation to pulling splinters out with the tweezers without skipping a beat! Additionally, this multi-tool is compact in size and you can easily store it anywhere within reach. So get prepared for the outdoors by putting this in your pack or pocket!
Victorinox Swiss Army Knife Summary
Price: $24.97*
Number of Functions: 12
Functions:  Large blade / Small blade / Can opener / Screwdriver – 3 mm / Bottle opener / Screwdriver – 6 mm / Wire stripper / Reamer/punch and sewing awl / Corkscrew / Toothpick / Tweezers / Key ring
Material: Swiss Stainless Steel
Height: 0.6 in
Length: 3.6 in.
Weight: 2.1 oz
Our Take: A fantastic little multi-tool that is compact, lightweight, and reliable. It's highly functional and extremely useful. This would fit easily anywhere you need to go out in the wilderness and provide you with a force multiplier in emergency activities. Since it is inexpensive it would make for a wonderful gift for a first-time camper. While this multi-tool is not filled with tacti-cool equipment like seen in some of the other options it more than makes up for it in build quality, reliability, and long-term use.
---
First Time Fishing Gear – Must-Haves for Beginner Fishing
---
Final Multi-Tools Under $25 Thoughts
This list of multi-tools under $25 dollars is a fantastic starting point for finding the right tool for you. Taking any one of these out on your first or next camping trip will make life a little more comfortable. In fact, most of these can come off the trail and help in normal daily life as well. The best part is that you are not breaking the bank just to have a tool that will provide you flexibility. With so many options and price ranges to look at start small and inexpensive and as you become more capable your tool can evolve with you.
What multi-tool do you always keep in your pocket? In the comments below, on our Facebook, or on Reddit we would love to hear what your most trusted tool is!
*Prices shown are at the time of writing to be used for reference only. The manufacturers reserve the right to adjust the price as they see fit.