With the big 5 National Parks, it is no wonder you can find 10 of the best epic hikes and trails in Utah. 
It is a state filled with adventure and has an incredible variety of natural wonders, from mountains to red rock canyons to desert landscapes. There is no shortage of incredible hiking tails, but there are those that stand out from the rest. 
We've done all the research for you, and these are our top 10 epic hikes and trails in Utah: 
---
Learn how to pick your perfect hiking trail now!
---
1. Emerald Pools Trail (Zion National Park) 
Emerald Pools, located just outside of Springdale, Utah, is one of the most popular hikes in the state. It's a family-friendly hike that's well-maintained, and there are plenty of shady spots for when you need a break from the sun. 
Emerald Pools offers several hiking options, all leading to sparkling waterfalls and glistening pools. 
The Lower and Middle Emerald Pools are set below two waterfalls that come from the Middle Pool above. Additionally, hiking along the river bed offers hikers spectacular views of towering rock formations. 
Now, the Upper Pool is harder to reach than other hikes because it has more elevation gain, but it comes with breathtaking views of Zion Canyon. 
Majestic sights can be seen along all 3 trails, no matter which path you choose. 
Difficulty: Moderate 
Length: 3 mi (4.8 km)  
No Dogs Allowed  
Family-friendly  
2. Queens Garden Loop 
The Queens Garden Loop Trail is a popular trail and hike in Utah that takes an average of 1 hour and 35 minutes to complete. The trail weaves in and out of red rock formations through Bryce Canyon, which has been described as otherworldly scenery by previous visitors. 
The Wall Street portion of the trail is often closed throughout the year due to freezing overnight temperatures. However, this route can be modified by cutting through the Navajo loop segment when Wall Street is closed. 
However, this is an excellent choice for families with older children who want an adventurous hike full of spectacular sights! 
Difficulty: Moderate 
Length: 3.2 mi (5.1 km)  
No Dogs Allowed 
3. Cecret Lake Trail: Best Utah Hike for Beginners  
If you're looking for a great hike in Utah that's easy enough for beginners, then the Cecret Lake Trail is the one for you. It takes an average of 1 hour and 1 minute to complete, but with its popularity comes a lot of people, so make sure to arrive early!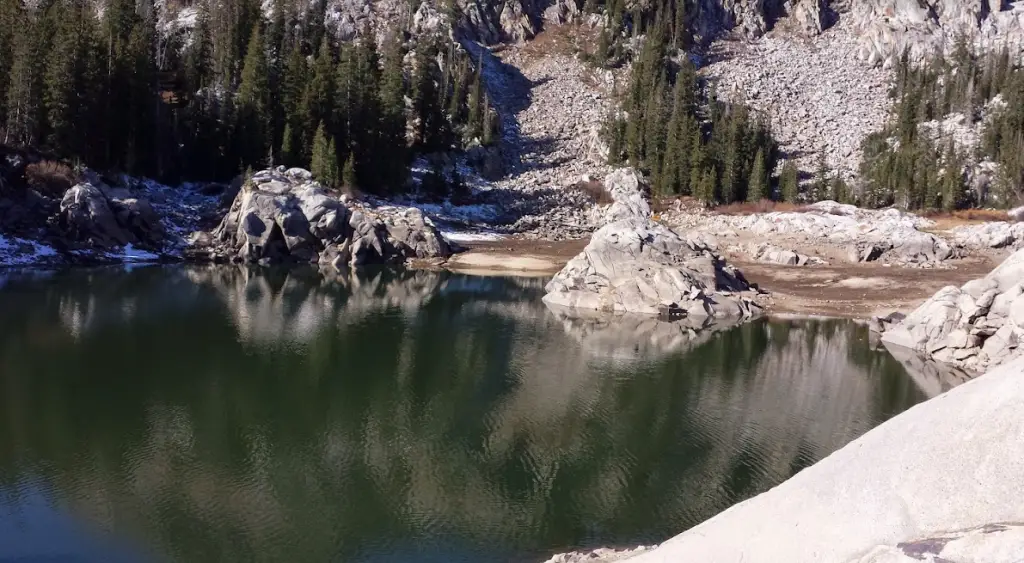 The Cecret Lake Trail is great for families because it's a short hike that leads to a beautiful alpine lake. It's known for being home to lots of tiger salamanders, and if you're lucky, you might even spot a moose too, so keep your eyes open! 
After your hike, you can take the time to relax at the lake and take lots of photos with the mountains as a backdrop! 
Difficulty: Easy  
Length: 1.8 mi (2.9 km)  
Family friendly  
No Dogs Allowed 
4. Angel's Landing (Zion National Park): Most Famous 
The Angel's Landing hike is not for the faint of heart, you'll need to have some level of fitness before attempting it! But if you're looking for an unforgettable adventure that will test your limits and leave you feeling like a rockstar, this could be just what you're seeking! 
The Angel's Landing hike is 2 hours and 57 minutes long on average. It's also pretty steep: switchbacks will have you huffing and puffing so bring enough water. And don't forget your camera! The views from Angels Landing are absolutely stunning, previous visitors have described them as "spectacular." 
However, it should be noted that this hike is not for those who suffer from vertigo or fear of heights. The steep drop-offs and narrow sections make it important to proceed with caution and not to hike when wet or storming conditions exist. 
Difficulty: Hard 
Length: 4.3 mi (7 km) 
5. Mill Creek Trail: Best Utah Trail for Swimming  
Utah's Mill Creek Trail is a beautiful place to explore, especially if you're looking for a hike that combines waterfalls and swimming holes. 
Mill Creek Falls Trail is one of the most popular trails in the canyon, taking hikers on a 35-minute journey through lush landscape. The trail winds through the canyon eventually reaching several small waterfalls with swimming areas. 
---
Even for shorter hikes like this you should learn how to find the best footware with our hiking boot 101.
---
It is a great place to jump in the water, and relax in the cool shade of the canyon. 
The trail itself is dog friendly and for most of it you'll be able to hear the sound of rushing water from nearby creeks. 
Difficulty: Moderate  
Length: 1.8 mi (2.9 km) 
Best for: Swimming  
Dog Friendly   
6. Zion Canyon Overlook Trail  
Another epic Utah trail to make our best epic hikes and trails in Utah list: The Zion Canyon Overlook Trail at Zion National Park. Seasoned hikers will know it's rare for a Utah trail to be accessible all year round, but this one is and is beautiful to visit anytime. 
The hike requires some walking along unprotected edges with steep drop-offs, so if you are afraid of heights this is something to consider. However, the worst parts of the trail are protected by handrails. 
The Canyon Overlook Trail is worth the trek to the end where you will come across some of the most breathtaking views of Zion Canyon. 
The caves along the way will give you a chance to see some cool rock formations and take in some amazing views of Zion Canyon. You might even get lucky and see bighorn sheep grazing nearby! 
Difficulty: Moderate 
Length: 1 mi (1.6 km) 
No Dogs Allowed  
---
Traveling between the Utah big 5 takes time. Keep your family engaged with these road trip activites
---
7. Goblin Valley Trail: Freeform Hiking at its Finest 
Goblin Valley Trail is one of the best trails in Utah for beginners who love to explore. The trail is free form hiking at its finest. 
The best part about Goblin Valley Trail is how unique it is! You'll feel like you're on another planet! Kids especially love climbing on the goblins and exploring this strange landscape. 
This trail is open year-round, so no matter what time of year you visit Utah, you can enjoy this epic hike, and it isn't just great for hiking—it's also a perfect place to camp!  
Difficulty: Easy to moderate 
Length: 3.5 (5.6 km) 
Best for: Camping  
Family-friendly 
8. Boulder Mail Trail  
If you're looking for one of the best hikes in Utah, the Boulder Mail Trail is definitely a contender. 
The Boulder Mail Trail takes you through three canyons, Sand Creek, Death Hollow, and Mamie Creek. 
The views are spectacular and the landscape changes throughout the hike to keep things interesting. 
Most of the hike is in the open desert over rock and beach-like sand, so be prepared with good shoes. You do have to cross rivers a couple of times so previous visitors say to be prepared with hiking poles for balance across the rocks. 
This dog-friendly Utah hike offers beautiful views of the canyon walls and all of their natural beauty. 
So pack your gear and get ready for an unforgettable adventure! 
Difficulty: Hard 
Length: 15.4 mi (24.8 km)  
Best for: Backpacking & Camping 
9. Navajo Loop Trail (Bryce Canyon National Park) 
Bryce Canyon National Park is a world-renowned destination for hikers, and the Navajo Loop Trail is one of its most popular trails. You see, Bryce Canyon has so many wonderful sites and this hike is sure to give a great view of many of them.
This easy-to-navigate trail takes about an hour to complete and you will find that it offers stunning views of Thor's Hammer (a tall, narrow pinnacle with a narrow neck that supports a large hammerhead-like rock) and the "Silent City" (a region of towering rock structures that resemble towers and buildings). 
Visitors all seem to say the same thing about this trail: "BEST VIEWS EVER". So, what are you waiting for?
Difficulty: Moderate  
Length: 1.5 mi (2.4 km)  
No Dogs Allowed  
10. Wall Lake Trail: Best Family-friendly Hike 
If you're looking for an epic Utah hike with swimming available on the trail, this is it! 
The Wall Lake Trail is a short, mellow hike that takes around an hour to complete. It's great for people of all ages and skill levels, and it offers beautiful views of the Wasatch Mountains. 
The trail is also dog friendly so your furry friends can explore this beautiful area with you! 
For those seeking more adventure, there's also the option to swim in the lake or cliff-jump into it! Perfect for hot summer days when you want to cool down after some exercise. Paddleboarding and fishing are also popular activities here.  
Difficulty: Easy  
Length: 2.5 mi (4 km) 
Best for: Swimming & Camping  
Family-friendly  
Dog friendly  
We hope you've enjoyed reading about the top 10 epic hikes and trails in Utah. Now that you've read about the 10 best epic hikes and trails in Utah, we want to know: Which is YOUR favorite? Are there any on this list that we missed? Let us know by commenting below, on our Facebook, or on Reddit!