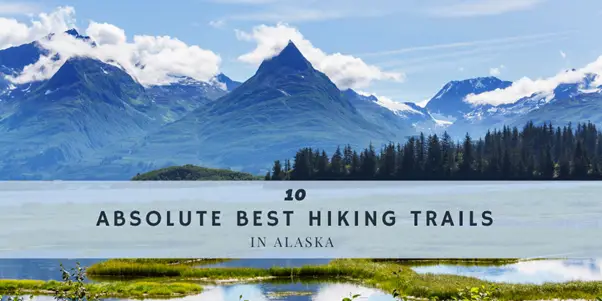 Alaska is THE hiking state. With mountains, forests, glaciers, lakes, and wildlife, not to mention some of the most intense trails around, it's got everything you need to get your blood pumping. With so many options though how will you experience the absolute best hiking trails in Alaska?
The only problem? People often worry about whether the trails in Alaska are safe. 
But worry not! There are plenty of trails out there that are well-marked and maintained by local organizations and we've done the hard work for you. 
So, if you're thinking about visiting Alaska and exploring its natural beauty, here are the 10 absolute best hiking trails in Alaska. Trust us, these are guaranteed to leave you breathless. 
 All you have to do is pick which trail sounds best for your experience level and start packing! 
---
Check out our Top 5 family campgrounds in Alaska to explore these trails from?
---
1. Lost Lake Trail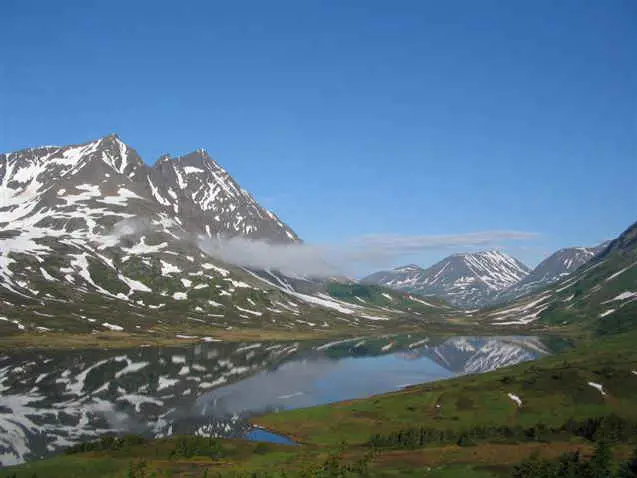 We kick off our list of the absolute best hikes in Alaska with an easy hike perfect for beginners or families; a short trail with mild elevation gain. 
Lost Lake is a beautiful lake, offering hikers some phenomenal scenery. The journey to get there is as beautiful as the destination, meandering through a relatively flat stretch of woodland with wildflowers and towering trees. In calm, clear weather, the lake's surface becomes glassy enough to see mountains reflected in the water. 
If you do visit this lake, make sure you go to the opposite side for some awesome mountain views! It's the perfect spot to go on a picnic, make memories with family and friends, and enjoy nature. 
Difficulty: Easy  
Length: 11.3 km  
Family-friendly 
2. Flattop Mountain Trail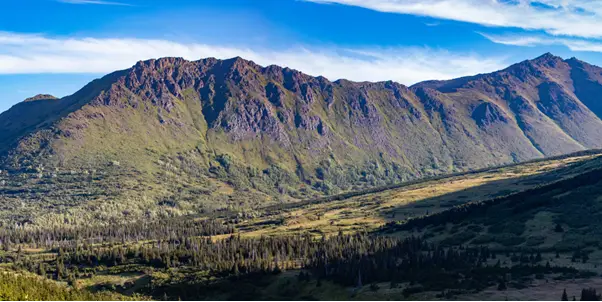 Flattop Mountain is a popular trail near Anchorage, with incredible views the whole way up. 
The hike takes an average of 2 and a half hours to complete and is a well-maintained, moderate trail until the very steep final climb to the summit. The final ascent feels like you're actually climbing a mountain, not just walking up it! 
There are guides on the rocks to help you find the easiest and safest route to the top, where you will have amazing views of the Cook Inlet and the Chugach valleys. The hard climb is worth it! 
Moose and bears are common sightings on this route, so keep an eye out for them as you hike. 
If it has rained recently or if there is snow on the ground, this trail can be treacherous and should be avoided by novice hikers. You should also ensure that you have to proper foot ware for hiking.
Previous hikers encourage bringing gloves for the rocky parts of this trail. 
Difficulty: Hard 
Length: 5.3 km 
Dogs Allowed  
3. Harding Icefield Trail  
The Harding Icefield Trail is one of the best-rated day hikes in Alaska and takes an average of six and a half hours to complete. 
The trail rises from the valley floor to take you to a breathtaking view of the largest existing icefield in the United States.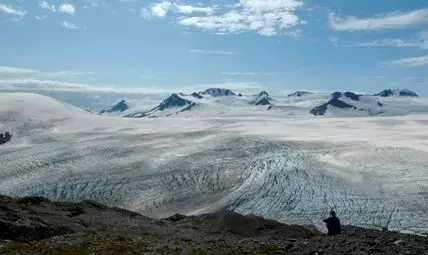 The trail is well constructed and easy to follow, leading you through beautiful meadows with amazing displays of wildflowers, to an area well above the tree line where you'll find stunning views of the national park, waterfalls in all directions, and great views of several high glaciers. 
Even in the summer months, you should be prepared for snow and temperature changes. Depending on when you hit the trail, it can be there until early July. Check with the ranger station before heading out to make sure there aren't any dangerous conditions that could cause an avalanche. 
Difficulty: Hard 
Length: 14.8 km 
Best for: Backpacking 
4. Chilkoot Pass Trail 
Previous visitors of this trail all seem to agree that it is the best backpacking trip they've ever taken, with an average journey time of 14 hours and 12 minutes. 
It is one of the best-maintained and most interesting trails in Alaska, with gorgeous scenery and lots of intriguing history. 
Hiking this trail over 4-5 nights is a great way to experience the incredible sights it has to offer! It will take you through a lush mossy rainforest, to rocky alpine conditions, through shrubby forests with countless lakes & waterfalls, and then into the beautiful boreal forest surrounded by mountains! 
---
Learn these backpacking food storage tips before you adventure out.
---
The Chilkoot Pass, usually day 3 of this hike, is the most challenging part of the trail. It is very rocky with a huge incline that tests your endurance. 
The campsites on this route are considered some of the nicest, cleanest, and safest that backpackers have been to in the backcountry. Every campsite has an outhouse, a picnic table, rain shelters, and a platformed area for tents. There are also bear boxes provided. 
Hiking the Chilkoot Trail is a quintessential Alaska experience that shouldn't be missed! 
Difficulty: Hard 
Length: 50.5 km 
Best for: Camping & Backpacking 
Dogs Allowed 
5. Byron Glacier Trail  
We're halfway through our epic countdown of the absolute best hiking trails in Alaska! Our next entry is an incredible family-friendly hike that makes a good day outing close to Anchorage. 
The trail takes an average of 1 hour and 44 minutes to complete, and it's a fun hike for all ages.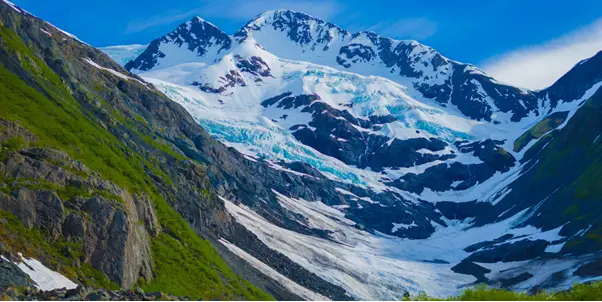 It is a beautiful hike, mostly flat, along a glacial creek through an alpine meadow. Emerging from the trees at the foot of Byron Glacier, the sheer size of this massive glacier will take your breath away. 
You can get a very close-up view of a glacier with rugged, snow-covered mountains surrounding it. You can even walk on the glacier, although you might need to use poles for balance. 
Difficulty: Easy 
Length: 5.1 km  
Family-friendly 
Dogs Allowed 
6. Carter Lake Trail  
This popular out-and-back hike takes an average of 2 hours and 14 minutes to complete. 
It is a short but steep climb through a spruce and hemlock forest to a wide subalpine valley of meadows surrounded by mountains. The hike has many wildflowers and a few minor stream crossings that add to the fun. 
The lake is breathtakingly beautiful and pictures don't do it justice; you have to see it in person! 
The area is also home to a variety of wildlife including bears, moose, and loons. 
Hikers are advised to continue on to Crescent Lake for more stunning scenery. 
If you plan to travel to this region in spring, keep in mind that snow can linger in this area until June. 
Difficulty: Moderate  
Length: 6.0 km  
Dogs Allowed  
7. Kenai River Trail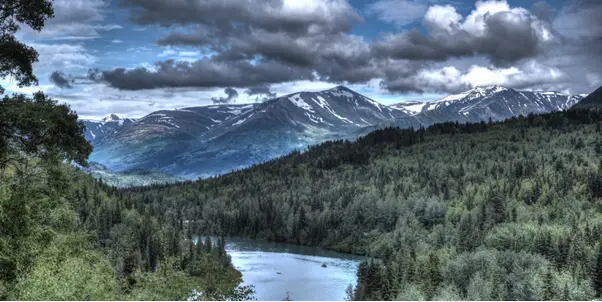 If you're up for an authentic Alaskan experience, this out-and-back trail is sure to excite the whole family. 
The hike is on the easy side of moderate and takes around 4 and a half hours to complete. 
At just a half mile in, the trail offers beautiful views of the Kenai River and Skilak Lake in the distance. 
At points along the trail, you can get right down on the banks of the river and walk along it. 
It's not heavily trafficked, and there are plenty of spots to pause, sit, and absorb the amazing views. You may even see a few fishing row boats go by. 
This hike is a popular spot for bear sightings—visitors report seeing or at least spotting fresh bear tracks lining the trail, so be wary and pack bear spray. 
It can get cold in the fall and stay cold in the spring. So wear proper clothing as well.
---
Since you will need layers, you should probably review our guide to layering!
---
Difficulty: Moderate  
Length: 16.4 km  
Best for: Backpacking  
Family-friendly 
No Dogs Allowed  
8. Kesugi Ridge (Curry Ridge) Trail  
As we near the end of this list, here's one more of the best overnight camping trails in Alaska. 
This trail offers incredible views, beautiful mountain flowers, and alpine terrain. 
This is an easy-to-navigate hike just outside Denali National Park. Many consider it one of the most beautiful trails in America. 
Visitors are treated to a breathtaking view of the Alaska Range, Denali, and the Talkeetna Mountains. 
Creek crossings offer a chance to challenge your balance and dip your feet into cold water. 
It's a very quiet trail year-round and a nice escape from civilization. 
Previous visitors say that the bears are not to be feared, so much as the caterpillars. If you have a bug spray that deters caterpillars, bring it. 
Check out this short video from Andrea Kuuipo Abroadto experience more of the trail firsthand.
Difficulty: Hard  
Length: 47.0 km  
Best for: Backpacking and Camping 
9. Deer Mountain Trail  
This trail is another one of the best day hikes in Alaska and takes an average of four hours and fifty-two minutes to complete. 
It is a very beautiful hike up to an amazing view of Ketchikan. The trail meanders through a forested area, crossing several small creeks and offering hikers a chance to stop and rest at several scenic lookouts. Make sure you bring your binoculars along with you. These look outs are great places to take in all of the scenery.
The route is a varied one, with sections of gravel, wooden bridges, and natural rock formations. 
Hiking through a rainforest means getting wet, and since it can be a slippery trail, visitors are advised to use hiking poles for stability. 
Loose rocks are the greatest safety challenge on this hard-rated trail so if you attempt it, stay on the trail, and watch out for steep drop-offs along the way. 
Difficulty: Hard 
Length: 10.8 km 
Dogs Allowed  
10. Indian River Trail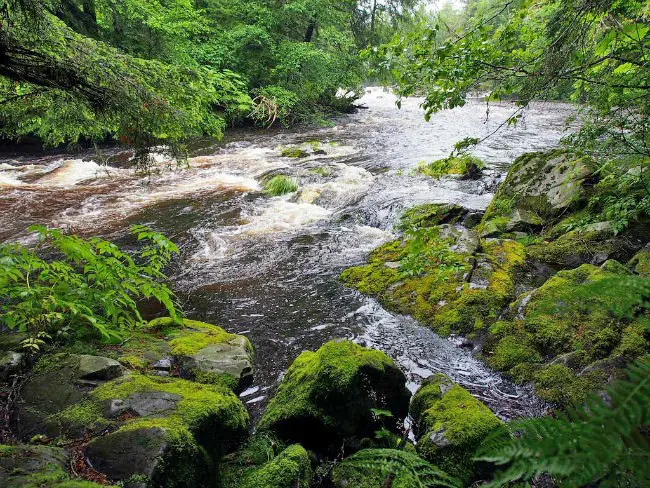 Our final entry in our countdown of the absolute best hikes and trails in Alaska is this out-and-back trail near Sitka. 
This trail along the crystal-clear Indian River will surely please hikers seeking to see waterfalls, it leads hikers to some of the clearest, bluest, purest water ever seen, teeming with life. 
The trail starts off flat and well-groomed, giving you a chance to experience the vastness of the Sitka rainforest; bridges made of huge logs with a rail on one side are an epic feature of this hike. 
As you get closer to the waterfall you begin hiking on increasingly steep terrain, but the view of the spectacular cascading waterfall is worth every moment of effort you put in to get there! 
Hikers often stop for a picnic at this spot and just bask in its beauty! There is even a swimming hole about 1.5 mile in with a rope swing. 
As a rule of thumb in the Alaskan wilderness, be wary of bears, but also watch out for other amazing wildlife such as deer. 
---
Consider bringing along some of these camping items under $50 when you head to Alaska.
---
Difficulty: Moderate  
Length: 13.5 km  
Dogs Allowed  
Final Thoughts on the 10 Absolute Best Hiking Trails in Alaska
So there you have it, our list of The Top 10 Absolute Best Hikes and Trails Alaska.  
We've reached the end of the 10 absolute best hiking trails in Alaska. We hope you've found some to add to your bucket list! While they range from easy to hard there is something for everyone. From the glacial lakes to the soaring mountains, you should explore them all. In fact, why not make a tour through Alaska on just these 10 hikes?! It may take some time as Alaska is a giant state. However, give yourself the time to really enjoy everything each hike has to offer. Just don't forget to be bear-aware!
We hope you enjoyed our list, and that you'll use it to find your next great adventure. 
Now that you've read about these hikes, we want to know: Which is YOUR favorite? Are there any on this list that we missed? Let us know by commenting below, on our Facebook, or on Reddit!