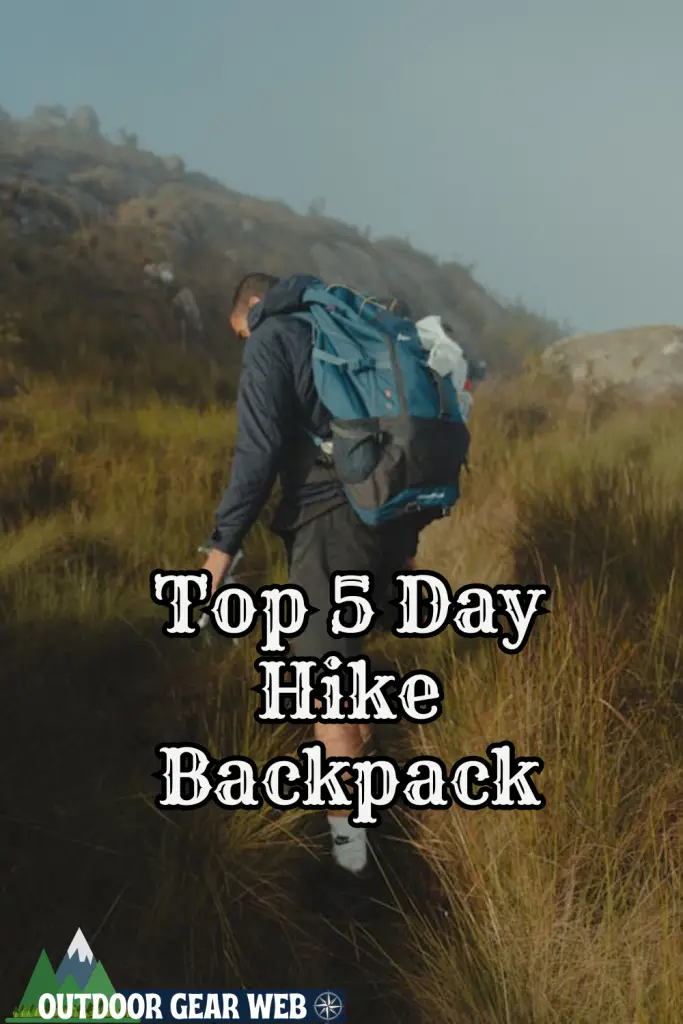 Many items must be brought with you while going on a hike. Even if it is just a one-day hike, you must include your first-aid kit, map, compass, additional layers, water, food, and cell phones. You can load these items effectively if you have the proper equipment. So we have put together our top 5 day hike backpack list for you.
Purchasing a hiking backpack may seem easy, but choosing the perfect one can make your hiking trip more enjoyable. A decent backpack will leave your hands completely free for using the compass and hiking poles. This post will cover all the basics to look for when searching for the best day hike backpack.
---
Check out these great hikes in Washington to take your new day hike backpack.
---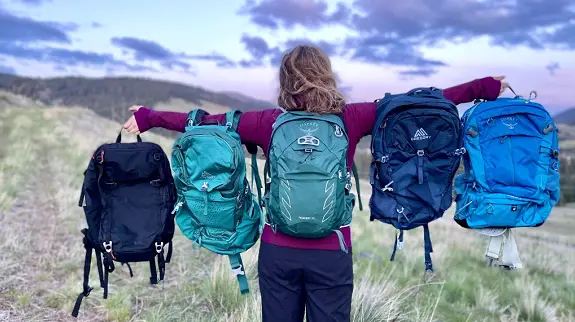 A high-capacity day hiking pack that can also carry water, the Gregory Inertia is a great option. It has a capacity of 30L and a 3D hydro reservoir to keep you hydrated on your walks.
The Inertia has several storage options, both inside and out. There are stretch mesh pockets on the front and sides, a top zip pocket with a key hook, and a soft touch-lined pocket for smaller items like a phone. The main pocket is large and simple to reach, making it ideal for carrying additional clothing, food, a first aid kit, lighting, and anything else you may need on a day trek.
It has a 3D foam breathable back panel that reaches down to the hip belt. On hot days, this keeps you a lot cooler and more comfortable. Some exciting features include a magnetic sternum clasp to keep your hydration bite valve in place and a sunglass QuickStow system on the shoulder strap for quick access to your shades.
The Inertia incorporates two compression straps on either side and loops for attaching extra gear. These are ideal for carrying hiking poles or ice axes.
Overall, the Gregory Inertia is a wonderful day hiking backpack for someone who enjoys all of their conveniences while in the wilderness. It offers lots of space for food, gear, extra clothing, and all of the best comfort features built right in.
Gregory Mountain Products Inertia Day Hike Backpack
Pros:
Hydration bladder
Comfortable
Durable
Excellent pocket placement
Cons:
It's rather pricey.
Not always available for purchase due to high demand
---
Check out these hiking safety tips.
---
Carrying costly and sensitive camera gear on a trip may be a difficult and nerve-racking experience, especially if you've chosen the incorrect backpack. This Lowepro, on the other hand, is designed expressly for sheltering camera bodies and accessories, drawing on the company's half-century of expertise with camera bag designs.
The inside is modular and adaptable, with robust, sturdy, and flexible walls that form compartments, enabling you to add space for lenses or wires (or even a drone). The bag opens entirely from the rear compartment U-zipper, revealing the whole inside.
You may enter from the top or sides if you want a particular item. The bag includes a reinforced hard shell over the front and a waterproof cover that can be reached via an outside pocket to keep everything secure.
Pros:
Padded, flexible dividers hold different pieces of equipment.
Zippers of various sizes give easy access to places.
Waterproof cover included
Cons:
Quite Expensive
Poor quality control in shipping damaged products
---
Hiking isn't all about the bag either. Check out our hiking boot recommendations.
---
If you like trekking and prefer comfort, this Osprey daypack is ideal. This backpack is perfect for a short day walk, and the main compartment is accessible through two zippers. If you're a short-day hiker, the 11L and 22L Talon versions are perfect for carrying food, water bottles, clothing, and other essentials.
If you're a long-day explorer, the 33L and 44L Talon versions are ideal since they include a large compartment to store extra stuff. External hydration sleeves are also included in this Talon variant. Even if it rains heavily during your hike, everything inside the bag will be secure and dry since this daypack is entirely water-resistant.
Don't worry about your body breadth since osprey talon daypacks offer adjustable shoulder straps that suit all body forms flawlessly.
With a mesh back panel, it also appears incredibly stylish and appealing. Because of its elastic material, this backpack can hold more than its full capacity. This backpack is also relatively light in weight, making it simple to carry even when wholly equipped.
It is one of the best daypacks, and a hip belt with mild padding is provided. There is no question that it is an all-purpose backpack for day hikes, and these elements combine to make it one of the best day hiking backpacks.
Pros:
Comfortable
Durable
Water-resistant
Back panel ventilation
Well-made and adaptable
Cons:
The hip belt is not detachable
Bladder can be difficult to load when full
Not made for taller bulkier people
---
Planning on hiking with your children? Learn these tips for hiking with kids.
---
The tensioned Delrin U-frame and the cushioned back panel with 3D air-mesh lining in this pack provide comfortable, flexible, lightweight support. To provide a cool, dry carry, the S-shaped shoulder harness is padded ergonomically with rounded corners and a breathable 3D mesh inside.
As required, the hip belt may be removed for further weight savings, and linking compression straps can be placed across the front of the pack to support your load. The adjustable chest strap allows you to personalize the fit while adding security.
Elastic mesh side pockets let you reach your gear and food without removing your pack. The side-access front compartment with mesh sides stores gloves, layers, and other items. It may be used with drinking tubes and has a reflective attachment.
There are accessory hooks for attaching gear or helmet holders and an interior valuables compartment. The strengthened base makes it easier to carry heavy loads and protects your pack when you put it down, while the 3M reflectors keep you visible in low light.
Deuter Speed Lite 20 Athletic Daypack
Pros:
The back is breathable, and the chest strap comes in handy for larger weights.
There are several spots where you may attach items to this bag.
Trekking poles fit well in the side pocket fastened with the side compression strap.
Very lightweight and properly built
Cons:
The back straps are really near the neck
Bag tapers near the bottom impacting straps and storage
---
Looking for a gift for someone you love who loves to hike? Check these gift ideas out.
---
The Osprey Stratos 24 is ideal if you want something entirely customizable to keep you comfortable on your hike or while doing chores. It is one of the best hiking backpacks for carrying larger weights.
Let us confidently assert that this is the most comfortable daypack for day hikes. However, all of that comfort comes at the expense of weight. It is a large daypack, yet it offers a large main compartment with easy access.
The Osprey Stratos 24 has a vented back panel, an adjustable cushioned shoulder harness, and load lifters to provide a tight, comfortable fit for the user.
It has a detachable integrated rain cover and is thus ideal for wetter circumstances. It has a hydration sleeve that can accommodate any size water bladder up to a 3L reservoir and is hydration compatible.
With the trekking pole attachments function, you may take your poles everywhere. The two zipped hip-belt pockets keep all of your things near and accessible. If necessary, an ice axe loop is provided.
It contains mesh compartments for bottles and other small personal things. The Osprey Stratos 24 is among the best options for hiking daypacks for those seeking the highest levels of comfort and convenience. If you need extra carrying capacity, they, like many of the Osprey Day Hiking Packs, come in various sizes and capacities.
Pros:
Back panel ventilation
Two hip belt pockets with zippers
Trekking pole attachment for on-the-go storage
Removable and inbuilt rain cover
Cons:
Top 5 Day Hike Backpack Buying Guide:
Backpacks vary in numerous ways, so you should always consider these factors while looking for the finest day hiking bag. Read on for guidance on choosing the ideal daypack.
Intention:
You should first define your hiking goals. Do you want to walk along the beach? Going into the mountains? Into the woods or across a valley? Certain aspects will be most appropriate for your ideal vacation.
And, more importantly, the degree of engagement you want. Fast, vigorous hikers often demand specialist packs. Still, slower hikers may choose packs with trekking pole attachments and additional outside compartments.
Volume:
How much room do you require? If you pack correctly, the difference between a 12-liter bag and a 24-liter pack might be between a few days of storage. Make sure you have a good idea of how long and how far you want to hike. If you intend to carry your children's lunches, a bigger pack is recommended; if you're hiking alone, a 12 or 13-liter pack should be enough.
Features:
You'll notice the many features available when you look for your new pack. Each backpack has more features than you can think, from dual-zippered hip compartments to external hydration bags and more.
Once you've found the one you like, go through all the features. Consider how you would utilize each one. If you have a particular feature in mind, be sure your new bag has it.
Comfort:
Finally, comfort is everything. You may grow anxious if you are not at ease on the walk. And if you're unhappy, you're losing out on the wonderful world around you. Check as many reviews as possible on the backpack you wish to purchase.
To guarantee your comfort, get a backpack tailored to your gender. Certain firms make male and female backpacks; if you value comfort above all else, they may be your new best friend.
---
Head out hiking on one of these great hiking trails in California.
---
Top 5 Day Hike Backpack FAQs:
What Is The Best Day Hike Backpack?
The best day hiking backpack is made of sturdy and water-resistant materials, such as polyester. It has enough space for all your hiking gear and needs. Additional features to look for in a hiking backpack include a stash compartment, hip belts, extra layers for temperature control, a top-loading design, and a hook for attaching an ice axe.
Which Is The Best Day Hike Backpack?
The best hiking daypack has enough space for your wilderness and trekking necessities while being ultra-durable, lightweight, and water-resistant. The best day backpacks may also be integrated with third-party equipment like water hydration tanks and trekking poles.
What Color Hiking Backpack Should I Get?
It is a personal taste; however, brightly colored backpacks may aid visibility. Reflective surfaces are commonplace on even the most subdued and stealthy of backpacks.
What Size Day Hike Backpack Should I Get?
Hiking backpacks come in many sizes, with capacities ranging from 17 to 35 liters. The size of the backpack you should buy is determined by the length of the trek you want to do. If you're only going out for the day, a daypack should be enough, but if you want to camp out for the night, you'll need a bigger one.
Final Thoughts on the Top 5 Day Hike Backpack:
Regardless of the sort and model of backpack you choose for your day hiking needs, be sure it meets your unique requirements without sacrificing aesthetics. Finally, ensure the backpack is helpful and comfortable as it is also worn over time. For the same reason, we suggest you choose one constructed of high-quality materials with a good reputation in the hiking market. Any one of our top five day hike backpack options are great. So, which one will you take out on the trail with you? Start your adventure off right with a comfortable day hike backpack that can store everything you need.