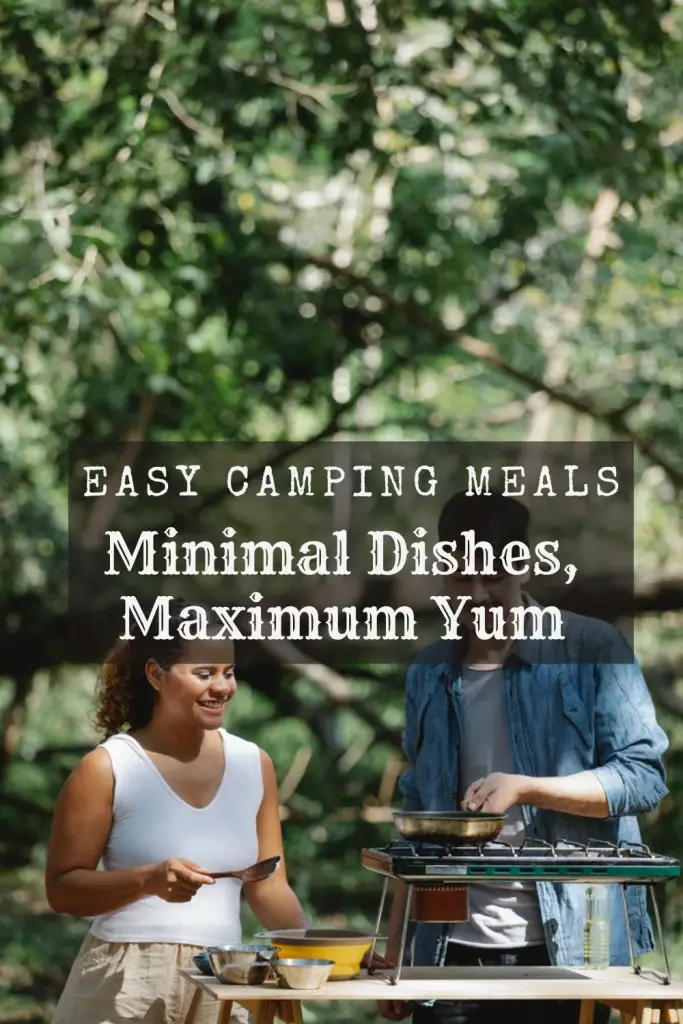 If you're anything like me, planning meals for a camping trip can seem overwhelming. I'm not the greatest cook in the world and doing dishes is one of my least favorite chores, now add cooking over a fire and doing dishes in a bucket? Sounds like a nightmare! However, through years of practice and many… interesting… recipes, I have compiled a list of my go-to easy camping meals. They are tasty, require minimal effort, and create little to no dishes!
It should be noted that these are recipes that I have picked up from various places and that I have tweaked to my liking. Another great thing about these recipes is that you can adjust them however you see fit. The possibilities are endless with the right creative attitude! So let's start creating the maximum yum!
---
Ready to try some harder recipes? Learn how to be an expert campfire chef!
---
Easy Camping Meals – Breakfast
Muffin Fluff
Muffin Fluff is a delicacy I picked up during my time at summer camp. I first tried this when I was around ten years old as a camper and it's been in my repertoire ever since. It's an easy camping meal, quick, and the perfect sweet start to your day!
Ingredients:
1 package of muffin mix (choose your own flavor)
1.5 – 2 cups water
Directions:
Mix your package of muffin mix with the water. You want it to be a little runny but not too soupy. Start with smaller amounts of water and add until you have a good batter consistency. Next, pour the mixture into a pan over the fire or a camping stove. Then take a spatula and cook the mix as you would scrambled eggs. Push the batter around the pan until it forms small golden clumps of batter. Once they are golden brown, they are ready to eat! Scoop them into bowls or eat them straight out of the pan once it cools! This recipe makes two to three servings.
Oatmeal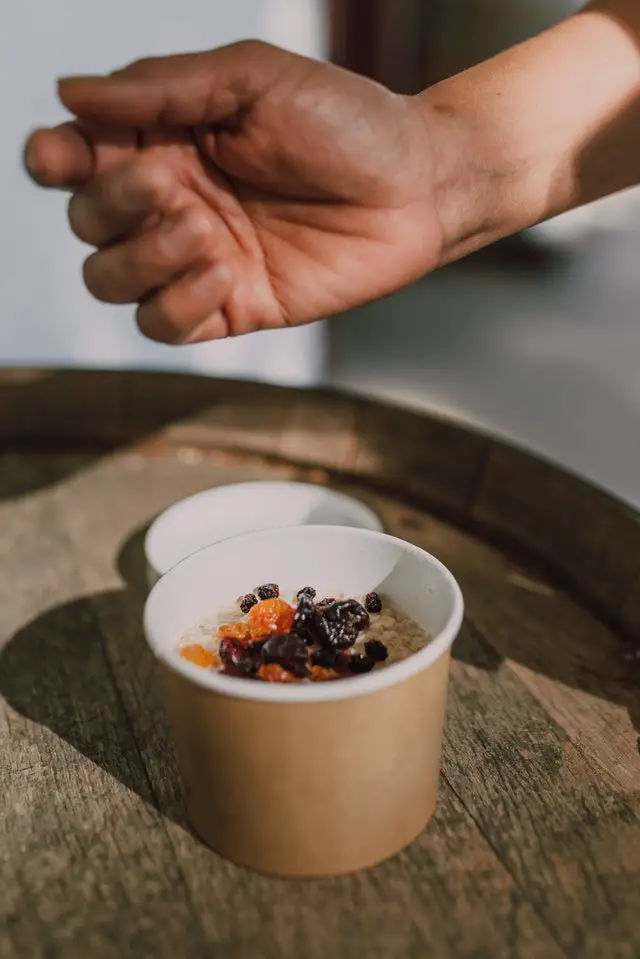 Oatmeal seems boring and isn't always a crowd-pleaser, but with the right fixings, oatmeal can go from boring to the best meal ever! I used to hate oatmeal for its blandness but through lots of trial and error, I found how I like it best. I prefer the prepackaged oatmeal, but regular oatmeal works fine too! Try some of these suggestions or create your own awesome oatmeal!
Ingredients:
1 package of oatmeal (I like the maple brown sugar kind)
Water
1 scoop of dried fruit (craisins, raisins, dried cherries, dried blueberries, etc.)
1 scoop of nuts (walnuts, pecans, macadamia nuts, etc.)
Honey (optional)
Directions:
Boil some water in a pot over the fire or a camping stove. Open the packet of oatmeal straight across the top. Carefully pour water into the packet with the oatmeal. More water will make it runnier, and less water will make it thick. Mix with a spoon or by squeezing the package carefully. Then add whatever fixings you see fit! Enjoy! One package is one serving.
Easy Camping Meals – Lunch
Pizza Wraps
Here is an easy camping meal for lunch! Pizza wraps are one of my favorite lunches when I'm camping. I like wraps because I can take them on hikes with me and eat them on the trail. You can prepare them ahead of time or bring the ingredients with you. Either way, they are a great way to refuel in the middle of the day! As with all of these recipes, feel free to customize to your heart's content!
Ingredients:
1 tortilla
Pizza Sauce
Mozzarella cheese
Pepperoni
Italian Seasoning
Directions:
This one is very simple! Take your tortilla and spread pizza sauce across it. Add cheese and pepperoni or other toppings you enjoy. Finish with the Italian seasoning. Roll the tortilla like a burrito and enjoy!
Hummus Wraps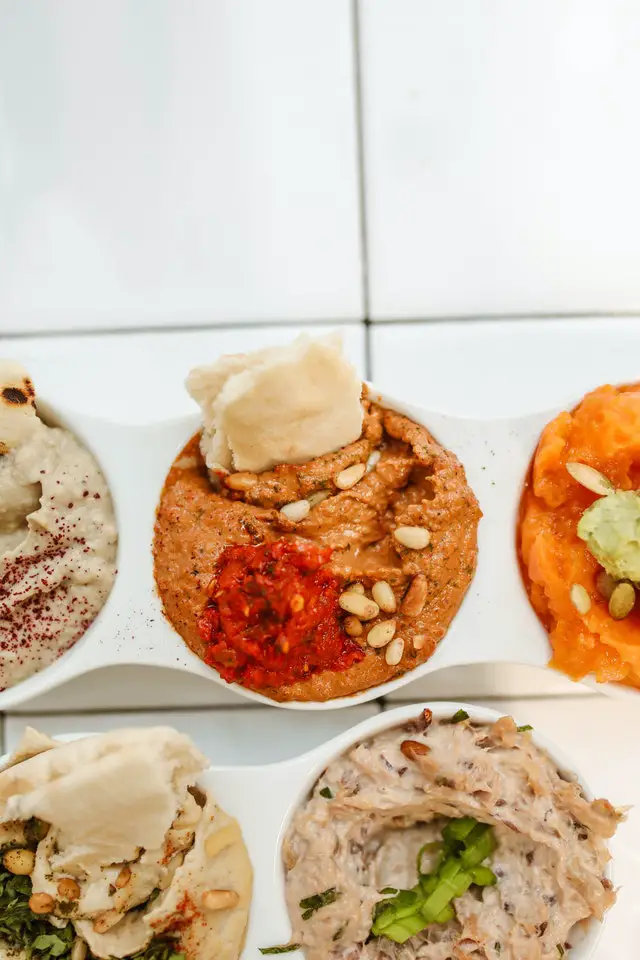 Similar to the pizza wrap, this is a great trail snack. Hummus wraps are a great option for people who prefer a more plant-based meal. This one takes a little more prep time, but it's very worth it in the end! I picked these up during my time as a trip coordinator in college and now I even eat them for lunch when I'm at home! They are very easy camping meals to make and always leave me feeling full and happy!
Ingredients:
1 tortilla
Roasted garlic hummus
One bell pepper (pick your favorite color)
Sesame sticks (your favorite flavor)
Beef Jerky (optional)
Directions:
Take your tortilla and spread the hummus onto it. Then dice your pepper and put the pieces onto the hummus. Next, add the sesame sticks and the jerky. Finally, roll it up and enjoy!
Easy Camping Meals – Dinner
Foil Dinner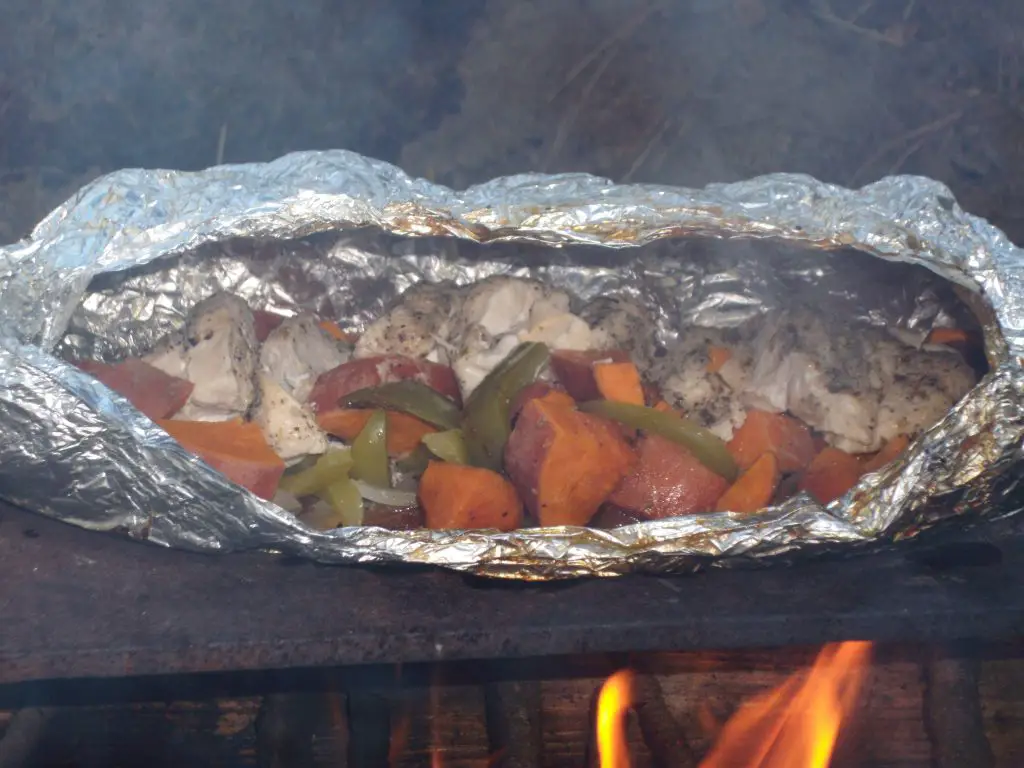 This is another classic easy camping meal that is truly for everyone. Honestly, I can't remember where I picked this one up. I feel like I've been having foil dinners forever. They're fun to make and super kid-friendly! I would recommend not using any raw meat because it is difficult to cook raw meat safely on the fire. I've listed some of my favorite ingredients, but of course, you are welcome to add whatever you think would make it your own.
Ingredients:
Potatoes – Diced
Bell Peppers – Diced
Onion – Diced
Olive Oil
Canned Chicken
Ham lunch meat
Shredded Cheese
Italian Seasoning
Garlic powder
Onion powder
Directions:
You may have noticed that I didn't include any amounts of ingredients on this list. The amounts are completely up to you. Create to your heart's content. Wait until your fire is mostly hot coals. This is the ideal cooking condition for foil dinners. Start with a piece of foil. Spread some olive oil onto it to prevent the ingredients from sticking to the foil. Next, dice your vegetables of choice and put them on the foil. Next, add your meat of choice! If you're using lunchmeat, I would encourage you to cut it up into strips or smaller pieces. Finally, add your spices to the top. Then fold the foil so it completely wraps around the food.
Next, carefully place your foil dinner onto the coals using tongs or a long spatula. You will want to make sure you flip the foil dinner over about halfway through cooking. The heat of your fire will really determine how long you have to cook it. Once everything is warm and soft, the meal is done. Carefully remove it from the fire and enjoy!
---
Need more foil meal inspiration? Try this recipe out!
---
Chicken Mac
Chicken Mac is one of my favorite dinner dishes. It's the perfect combo of cheesy chicken goodness. I learned this one during my time as a camp counselor. The kids loved it just as much as the adults. I found I really enjoy mixing vegetables in with it for a well-rounded meal in one pot! Give it a try and maybe this will become your favorite too!
Ingredients:
1 Box Mac and Cheese
Water
2-3 Canned Chicken
Canned Vegetables
Shredded Cheese
Salt
Pepper
Directions:
Boil water in a large pot over the fire. Once water is boiling, add noodles and cook until soft. While noodles cook, drain the canned vegetables and canned chicken. Remove the label and place the open cans onto the cooking grate to warm. When the pasta is done, drain most, but not all, of the water. Add cheese sauce packet and mix. Then take the vegetables and chicken and add them to the cheesy mixture. Stir well and add salt, pepper, and extra cheese to taste. Enjoy!
To Wrap it Up
Camping should be a relaxing experience, so don't let cooking stress you out. All of these recipes are completely customizable but also give you a good starting place as you plan your next low-maintenance camping trip! Try my suggestions or create your own meal-time masterpiece. Having these easy camping meals at hand for some of your trips is sure to keep the dishes at a minimum and the yums at a maximum! Either way, let us know how it goes in the comments, or share some of your favorite easy camping meals, on our Facebook, or Reddit!