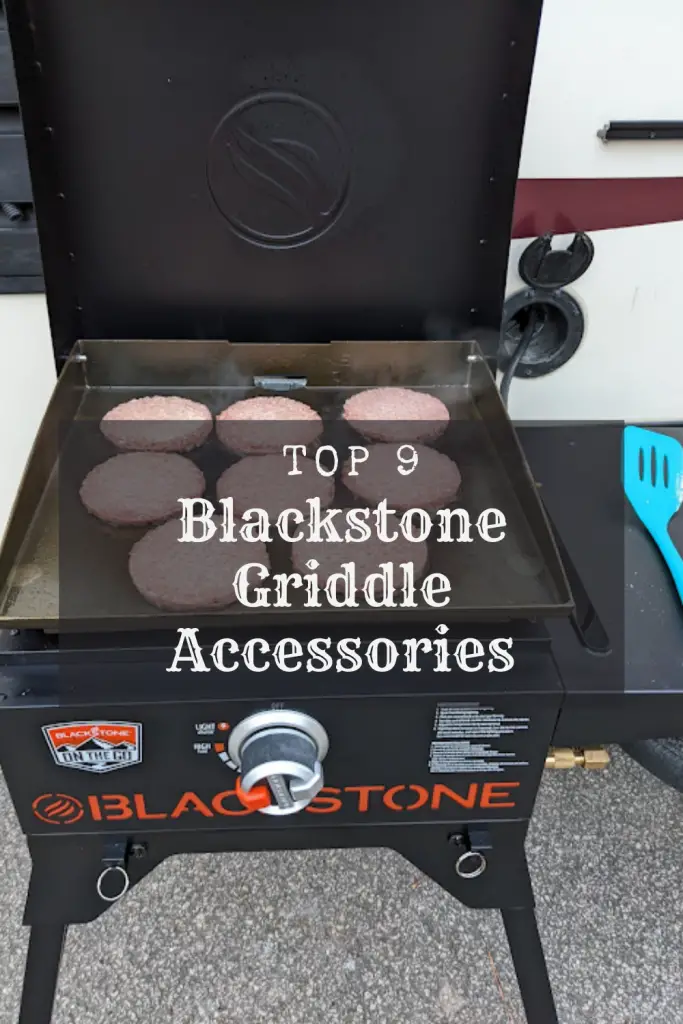 I am always on the lookout for ways to make camping life easier. Cooking is no different. After purchasing my Blackstone Griddle I spent hours looking for things that made the Blackstone even better. So, save some time and use this list of the Top 9 Blackstone Griddle accessories to improve your camp cooking skills!  
I have hand-picked and personally recommend these must-have accessories for the Blackstone Griddle. These have been most useful as a Griddler and I know that you will enjoy the ease with which each accessory can be added to your cooking toolbox. So let's get griddling with these top 9 Blackstone Griddle accessories! 
Some of these sneakily give you even more than 9 with some special buys! Take a look now to find out how some will give you more than 30 pieces!
---
Check out these delicious Camping Recipes
---
First What is a Blackstone Griddle?
Doing a quick search of Blackstone Griddles you will find that there are numerous options to choose from. Essentially, when you buy a Blackstone Griddle you are buying a steel flat-top cook surface. It may have multiple burners or zones depending on the size that you purchase. This helps with heat distribution and the steel provides a non-stick surface when properly seasoned.
Overall, Blackstone provides a quick cook surface that is easily cleaned. This will reduce the number of dishes that you need to use. There are tons of accessories that you can add to your griddle as well making it even more versatile.
While there are many models the one that I am reviewing is the Blackstone 1939 17-inch version. I really needed the ability to store the griddle in my trailer but still have space for cooking for a family of four. The 1939 model gave me this blended capability with a collapsible stand. In fact, it is built to get even smaller!
However, with all of this greatness, I still needed to find the best Blackstone Griddle Accessory
---
Want to know if you should buy a Blackstone Griddle? Check out this review now!
---
1. Make Setup Easier
The best Blackstone accessory is actually a propane quick connect adapter and elbow. This simple attachment means that you can easily connect your Blackstone Griddle right to the quick connect on your travel trailer or RV. Having the ability to set up your Blackstone Griddle quickly and easily is fantastic. However, the quick connection will make it even easier. Additionally, you will save the time of having to carry extra bottles of propane around.
You can pick up this accessory from Amazon for less than $15!!
So why is this the best Blackstone accessory? Well, aside from the ease of set-up it allows your Blackstone to be versatile. Sure a set of spatulas or other cooking items will make your Blackstone functional, but those don't make it more capable. This simple and inexpensive accessory allows you to get closer to the family on those camping trips quicker. You also don't have to worry about lugging even more gear with you. We can all use a little more time and less junk in our trunk.
2. Blackstone Accessory Kit
The first thing that always comes up when looking at Blackstone Accessories are kits. These are fantastic because you get so many of the commonly used tools together in one place. Not only does it save you time in searching for what you really need but it also means you are a more efficient cook!
This Blackstone Accessory Kit is one of the first things that I purchased after using my griddle for the first time. Not only is it inexpensive but it contains most of the cooking utensils you will need with some added benefits.

So what does this kit include? Well, 31 different accessories! These are 2 – Spatulas, Tongs, Fish Turner, Fork, Scraper, knife, basting brush, sauce dispensers, choppers, egg molds, basting cover, cleaning brush, apron, hooks, and a convenient storage bag. This is really your one-stop-shop for everything that you will need to cook and clean when it comes to the Blackstone Griddle. So the number 2 item on our Top 9 Blackstone Griddle accessory list is actually 31 accessories all in one!
3. Breakfast Cooking Kit
Not looking to purchase a full cooking set? Well, don't fret. You can focus on purchasing a cooking set that will make your breakfast set up and cooking much easier. Wow those campers with delicious breakfast foods with this breakfast kit. It comes with fancy-shaped egg rings, a batter dispenser, a breakfast meat press, and burger presses. Each of these is sure to make your breakfast extra special.
Now I will say that I received this as a gift. While I use some of these items others do overlap with the kit in spot number 2 of the Top 9 Blackstone Griddle Accessories. If I was purchasing between the two I would select the full cooking kit from number 2 as you get more quality products for the price. However, I have found the batter dispenser to be hard to live without now that I have it!
The griddle press has also been a nice addition. It helps to cook food like grilled cheese and other paninis better and faster. So I have enjoyed that addition as well.
4. Hard and Soft Covers
Some Blackstone Griddles actually come with a hardcover as part of the package. Not all though. Purchasing a hardcover will help protect your flat top. Moisture and condensation can collect on the flat top which can cause rust. The hardcover will protect from this as well as from insects and animals to some degree. This may be a good option for quickly covering the griddle. The downside here is that these are typically made for the larger Blackstone Griddles. For instance, the one shown in the picture is for a 28″ Blackstone Griddle Hardcover. My little 17″ Blackstone came with a hardcover for protection which was a lifesaver!
Luckily there is a solution! Whether you have a large Blackstone or a small Blackstone, you can purchase a softcover for it. This will make storage a breeze and ensure that you are protecting your investment. Since the griddle is used outdoors, it is a must to protect it like you would your gas grill at home. Rust is the killer of any grill, but also a softcover will help protect the gas supply lines. Now if you are storing it inside of your RV this might not be necessary, but it sure does help keep your campsite looking squeaky clean and organized if you cover it while not in use!
5. Blackstone Griddle Warming Wrap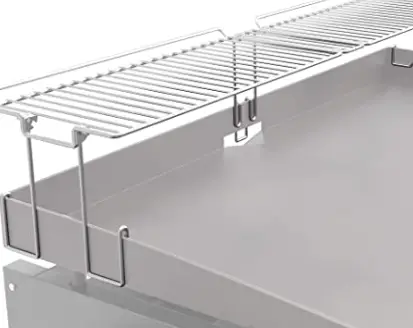 Number five on the Top Blackstone Griddle Accessories is a warming rack. The warming rack makes life so much easier because you can toast your buns on the griddle and then keep them warm. It prevents burning them on the griddle. You can also use the warming wrack to gently heat other food items that you want to add to your meal. Use it to lightly toast your buns, keep your food warm until the guests arrive, or for a really slow cook away from the high griddle heat.
It is easy to set up with the Blackstone Griddle because it simply clips right to the side of the grill in seconds and is ready for use. The warming rack folds neatly into two making for convenient storage. Simply fold away and store in the box when not in use on your griddle. Unfortunately, if your griddle came with a hinged lid you may have some difficulty using this accessory.
6. Wind Guards
I haven't had too much difficulty with wind on my griddle. I have used it quite a bit in the cold of winter too and it seems to work pretty well. However, I have used some wind guards while cooking at a friends house on their 36″ Blackstone. My smaller 17″ version I use in the RV seems to do okay with wind blocking. The larger surface area of the 36″ though does have some drawbacks. That is where these wind guards come into action! They help to prevent too much wind disturbance on the grill ensuring that the surface stays nice and hot to cook your food to perfection.
So admittedly, while I have not personally purchased these I have used them and they are successful. They do help to prevent blowouts and keep the temperature where it needs to be on larger multi-zoned Blackstones. That is why they are on the Top 9 Blackstone Griddle Accessory list.
7. Don't Forget the Cleaning Kit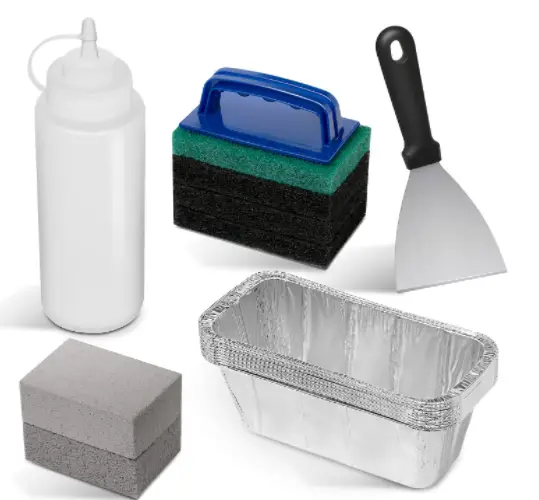 Cleaning your Blackstone Griddle is just as important as seasoning it. Make sure that it is cleaned properly after every use makes sure that you are maintaining it in the proper fashion. Additionally, it ensures that you will continue to have the best non-stick surface you can.
There are many steps to cleaning your griddle. The first is to properly scrape the surface using a metal scraper followed by a grill block if necessary. After letting the surface cool you must wipe it off with some water. Finally, you need to season the surface again with cooking oil.
Luckily there are Blackstone cleaning kits that will make sure that you have every tool at hand so that you can quickly and easily clean your griddle. This kit comes with scrubbing pads, a metal scraper, a water bottle, and grease trap pans. These grease trap pans are a lifesaver for cleanup! Having each of these tools in one set makes life simple and clean up easy. While I would rather skip the cleanup I want to have my griddle last for years!
8. Grease Trap Pans
Number seven on the list provides grease trap pans as part of the kit. However, you don't want to be constantly re-buying the kit every time you need more grease pans. Instead, grab a set of extra grease trap pans to keep with your Blackstone Griddle. This is a simple item but allows you to save so much time when cleaning and seasoning your griddle. That is why it is in the Top 9 Blackstone Griddle Accessories.
Having one of these drip pans means that you don't have to clean out the trap after every meal. Instead, you can wait until it is full and then dispose of the foil pan so you keep insects and critters at bay.
9. A Night Light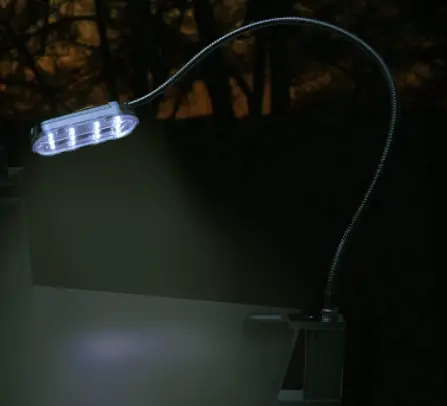 Sometimes when I am cooking at night I need a little extra direct light. The scare light from the RV does a wonderful job of giving general lighting over my cooking area. However, sometimes I need direct lighting to make sure I am not burning things or to see if food is completely cooked. I was using my trusty flashlight. Then I tried out this light attachment and found nighttime cooking nirvana!
This griddle light attaches to your grill with magnets or with the built-in clamp. You can only use the magnet if your grill is magnetic. The light has a long gooseneck and large LED light which will allow you to move the light to exactly where you need it. It certainly has helped with my cooking after dark. I do enjoy being able to cook outdoors even after the sun has set.
Do you have a favorite Blackstone Griddle Accessory that you would like to share? Share it in the comments below or on our Facebook, Twitter, or on Reddit!