While there are places in the U.S. that have a climate conducive to year-round paddling, many of us will be getting ready to store our standup paddleboards (SUP) for the winter months. But how do you store it safely when the temperature drops and the snow starts to fly? Understanding the best way to store your standup paddleboard for winter ensures you will have many future seasons of enjoyment. Check out these tips to keep your gear safe this winter.
Safely Store Your Standup Paddleboard For Winter
1. Remove the Fin
Taking the fin out of your SUP will ensure it doesn't get damaged over the winter. Depending on where you store your board, if your board falls or has something fall on it while the fin is inserted, it could cause substantial damage to the fin box.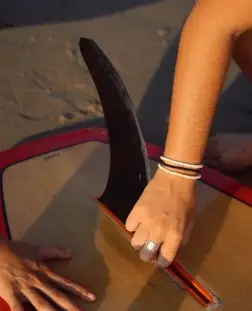 Remove the plate and screw from your fin box and screw it back into the fin. Store this in a safe place you'll remember, like with your paddle, lifejacket, or other summer gear.
2. Clean Your Equipment
Before you put your equipment away, make sure it's clean. Use dish soap and water or a product made for water gear, like Simple Green Marine, to wash away dirt and sand from your board and deck pad. Use a hose to rinse out the fin box.
If you have an inflatable SUP, or iSUP, make sure your board and deck pad are dry before you roll it up to store. When you're not deflating your iSUP, or you have a Styrofoam, epoxy or fiberglass board, it's still best to let your board dry completely before you store it. If you plan on storing it outside or in a non-climate-controlled area, water trapped inside the board can freeze and expand.
If you have adjustable paddles, pull the plunger out of your paddles. Drain them and give them time to dry inside as well, before putting the plunger back.

Cleaning your equipment will make sure you don't have stains on your deck mat come next season, and if you have multiple boards you're stacking, it'll prevent sand and small rocks from scratching your board. You can also use a towel between SUPs you're stacking for added protection.
Cleaning and drying your gear are good habits to get into during paddling season also, especially if you take your SUP to different bodies of water. Cleaning and drying your board not only help to protect your gear, but also helps to avoid spreading aquatic invasive species (AIS).
3. Find a Safe Storage Place Inside
If possible, try to store your SUP inside, in your garage, basement or a storage unit. There's many options for hanging wall storage, including board straps, and wall mounts.
Another idea is to hang it from the ceiling using large screw eye hooks and straps. All these options are optimal if you don't have a lot of floor space. Strapping or mounting your SUP to the wall, as opposed to leaning it against the wall, also helps ensure it won't slide or fall and get damaged.
4. Or Store Your Board Safely Outside
If you need to store your standup paddleboard for winter outside, make sure it's off the ground and protected, ideally on a rack or trailer. You can use wall mounts talked about earlier or premade SUP racks that hold multiple boards. You can also make your own rack.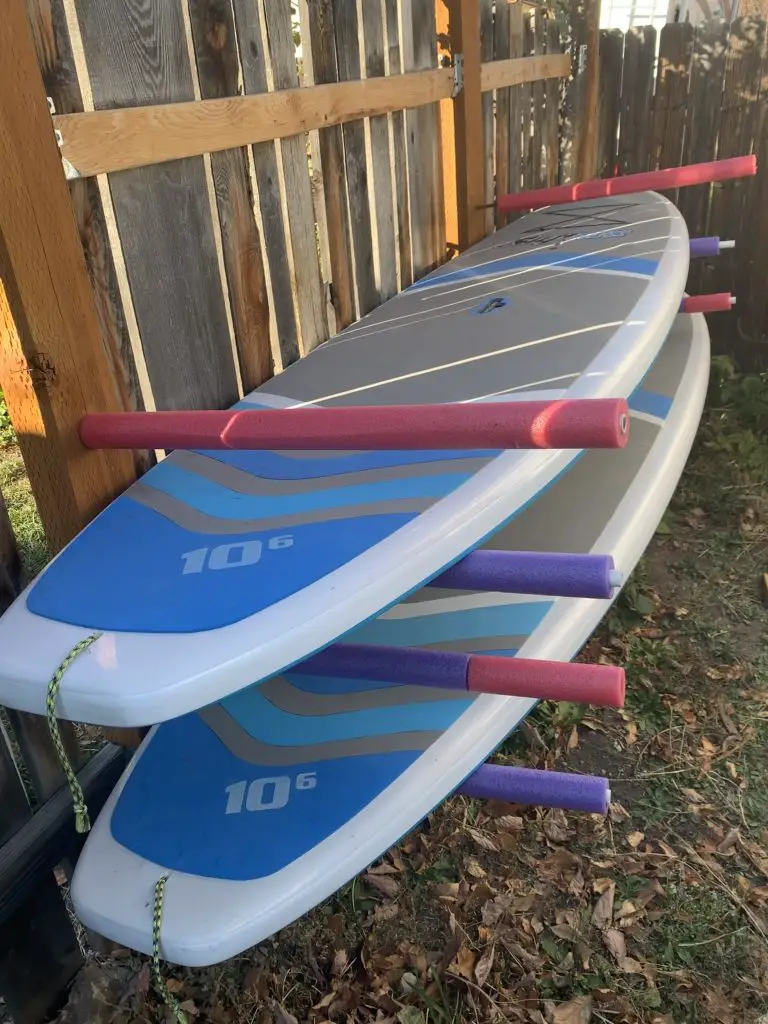 In our yard, we attached rebar covered in PVC covered in a pool noodle to the fence. The PVC spins around the rebar, making it easy to slide a SUP onto the rack, while the noodle is padding that protects the board. We use this for summer storage but adding a roof or cover could help take it into the winter months.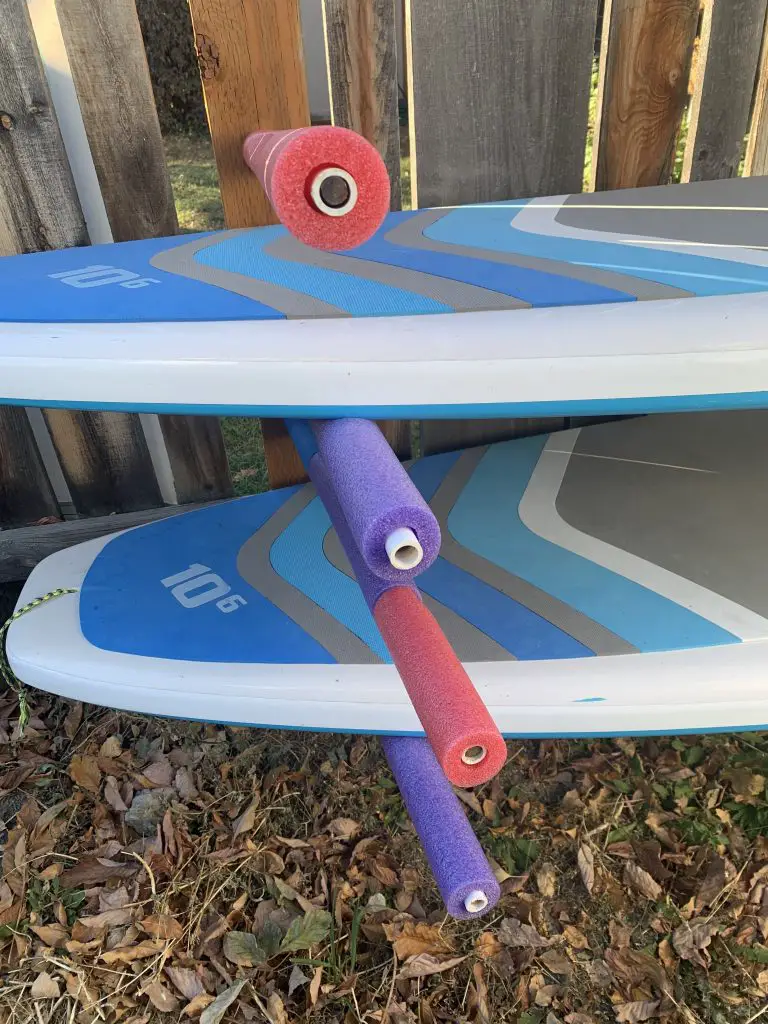 Getting your board off the ground can be as simple as buying two sawhorses or milk crates and placing your board across them. 
No matter how you get your board off the ground, if it's outside make sure it's covered. Use a tarp and rope or bungee cords to cover and secure your board. Also check around it and clear away branches and other debris that could possibly fall and damage it.
5. Check On Your Board
Especially if your SUP is being stored outside, check on it frequently. Clear off any snow that may be piling on top, so you don't put extra weight and stress on your SUP or on your rack. 
Also check to make sure it's not getting wet and adjust your storage method as needed.
---
Now you know how to store your standup paddleboard for winter! Click now to find out how to score your winter gear on a budget!
---
Store your Standup Paddle Board for Winter
Winter seems like it lasts forever, but before you know it it'll be time to get in the water again. Following these 5 steps will guarantee that you will safely store your SUP. Taking care of your board in the off season will not only increase its lifespan but also make sure you're ready to go on your next adventure once the snow melts.
Do you have any great tips for storing your Standup Paddleboard in the winter? We would like to hear about them in the comments, on our Facebook, or on Reddit!
Find more great SUP info at Mean Moose Boards.