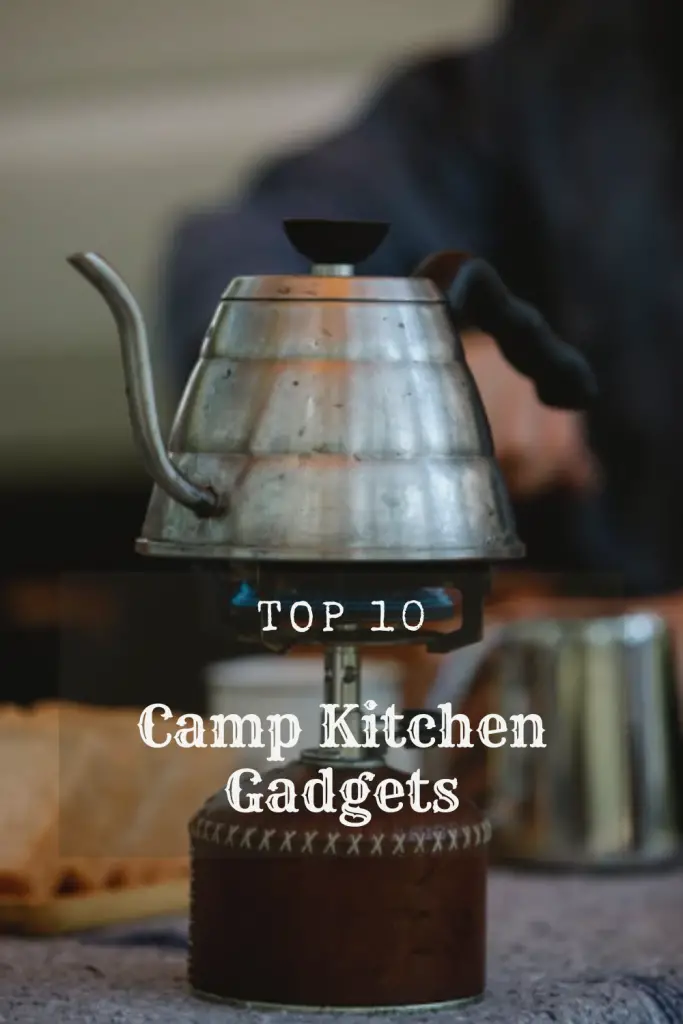 Kitchen gadgets are all the rave on social media, but what gadgets are most useful for camping? Out in the elements, you obviously do not have the resources and tools that you regularly would. Therefore, it is so important that you have all of the pieces you need. Especially for all the camping recipes, you will be cooking. You do not want to just take things from your kitchen. You want to make sure that the camp kitchen gadgets you have will serve multiple purposes. So, leave the ladle behind! Instead, take a look at these top 10 camp kitchen gadgets.
Having too many gadgets can become overwhelming, especially since you are already working in a potentially overwhelming environment. Before purchasing all the gadgets, consider what you are most overwhelmed by when camp cooking. Also consider what conditions you will be cooking in (climate and weather). Even the resources at your campsite and what foods you are preparing are important.
Remember, if you are bringing the item, you want to be certain you are going to use it, or it can be used in an emergency. Planning is key here! So, let's go over the top 10 camp kitchen gadgets that will help your cooking experience be as refreshing as your adventure. 
---
Check out these Dutch Oven Gadgets to really up your camp cooking!
---
This Odoland 16 Piece Camping Set is a great addition to start your camping kitchen. It includes all the basic necessities needed, as well as keeps everything lightweight. The best part is it is all made for durability.
By having 1 large pot, a smaller pot, a cup, a set of cutlery, a foldable camping stove, a gas tank bracket, and a carrying bag, you are not only prepared for your next camping trip but you are also in a great spot to build an efficient camping kitchen kit that works for you. 
Another great part about this is the low price. It makes it possible to have a full camp kitchen even for a beginner.
The Original Meater is a great utensil that is not only meant for camping. This smart meat thermometer is able to wirelessly read the temperature of your meat without having to fiddle with the grill or check on it. Of course, this is a great tool for when you are not in your normal circumstances, but it is also helpful for the grill at home.  
When out camping you may not have access to a grill. You will likely be doing a lot of campfire cooking. This is a great tool to help check the internal temperature of your Dutch oven. Better yet, if you are trying our campfire foil packets then you will have an easy way to see when they are done. It does rely on a phone app so keep that in mind.
This Grill Light Flipper is perfect for cooking in the evening when there is little to no natural light. The spatula includes a light so you can have targeted light right where you need it. Of course, when you are camping, you are not able to control your lighting which can be proven to be fatal when you are cooking meat and then serving raw meat. This grill light puts an end to that fear, by shedding light on your workspace in order to know when your food is completely cooked.  The kit comes with some wonderful extras as well. They are sure to make your camp kitchen that much better.
The UCO Stormproof Matches come with a waterproof case. This is a great resource to have for an emergency. It also can be a great resource to have if you know that you are going to be in a rain, or a stormy climate. With 25 matches and 3 strikers, you will have more than enough for one trip. 
These will certainly come in handy when trying to light that perfect campfire. However, many less expensive camp stoves do not feature an electric start. So if you are cooking on your camp stove these will help there as well. Even in an RV it doesn't hurt to have some extra matches around the kitchen! Since this serves multiple purposes we would be remiss if we didn't add it to the top 10 camp kitchen gadgets list.
---
It isn't just matches to consider in the rain. Learn every tip necessary to be ready to camp in the rain.
---
This cooler is a great resource to have for any camping trip. However, this Lifetime High-Performance Cooler specifically has a few extra features that make it the perfect cooler for the great outdoors. Such as a certification to withstand a bear for up to an hour! Also, it includes an easy-to-drain spout that can also be connected to a garden hose. Not to mention, it has two rubber latches that make it easy to open, but also padlock compatibility to lock it shut.  
In any case, having a 55 gallon cooler available to keep your food stored and safe is a must for any camp kitchen. Especially for those of use who like to car camp on occasion.
This Sea to Summit Water Cell ST is a small water storage bag. You may think we are jumping around a bit on our top 10 camp kitchen gadgets, but that is because there are so many different types of camp kitchens. Backpackers need to eat to! Transporting fresh water can be difficult but not with this water cell.
Made of Nylon fabric, makes this a light pouch that is easily attachable to a backpack. It also has a hook to allow it to be hung to dry as needed.  Being able to quickly pour fresh clean water or fill it easily while out on the trail will make your backpacking camp kitchen that much more versitile.
One of the hardest things about cooking in an RV is that most of them lack an oven. Even when there is an oven it is terrible at heating evenly. So you are left with undercooked food. Worse a bunch of hungry children trying to eat snacks as you wait for the food to cook.
This tool allows you to have even more options to cook more types of foods on the stovetop. The Omnia Stovetop Oven allows you to cook what you would usually cook in the oven like pizza, brownies, cake, or bread. It widens your kitchen horizons by replicating a conventional oven. 
These colored knife sets are really convenient when it comes to organizing, or keeping each knife clean with a sheath cover. Having them be different colors can be helpful for keeping the knives that cut raw meats, separate for the duration of your trip. Additionally, these knives are magnetic, making them easily attachable to a magnetic strip in your house or RV.
You may be thinking that having a dedicated knife set for camping is overkill. Or that even five different blades are overkill. Well, you would be wrong. After spending years of forgetting a knife at home and using my multi-tool, I came to the conclusion that having a dedicated camping set made the most sense. You may not use all of these but having them available when you need them is good insurance when cooking your meal!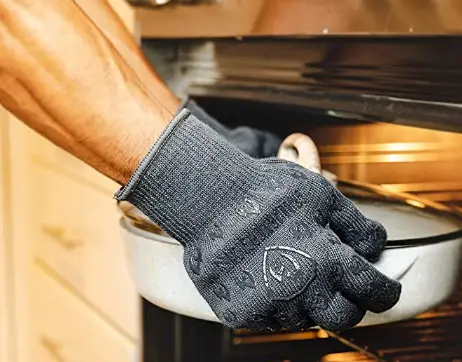 Using heat-resistant gloves when cooking outside is a great precaution, as you are not always able to control the temperature of your pots and pans over a fire or an outside grill. While it may feel over-the-top cautionary, it really could be helpful in making sure that you are not harming yourself while out in the wilderness. Especially if you are in such a destitute place that it may be a hassle getting back to your vehicle or a medical facility. 
Therefore having this top 10 camp kitchen gadget, the Grill Armor Heat Resistant Gloves will ensure that you can pull that dutch oven out of the fire safely. Then you can remove the lid to stir and serve.
Coffee is essential for many people in our country, and the AeroPress makes it delicious even out camping. Yes, even better than a barista's coffee. The natural espresso or coffee that comes from this process is truly hard to beat. Especially on a crisp camp morning before a hike. It is conveniently made without any large machines or even an outlet. Think of it like a pour-over device that additionally takes out all of the bitterness that comes with coffee.
Being a lightweight item, this top 10 camp kitchen gadget could be used in any camp kitchen. From car camping to remote backpacking, you no longer have to skip your morning coffee!  
Final Thoughts on the Top 10 Camp Kitchen Gadgets
Each of these kitchen gadgets are not necessarily must-haves for every camping kitchen. However, they are certainly worth considering when preparing for your next trip. They will bring a bit of convenience or safety to your camp kitchen. If nothing else they will make your morning a little more caffeine filled! So whether it is safe water to drink, or properly stored food make sure to grab some of these camp kitchen gadgets before your next trip. We hope that some, if not, all of these gadgets are helpful.
What is your favorite camp kitchen gadget? Tell us in the comments below, on our Facebook, or on Reddit!