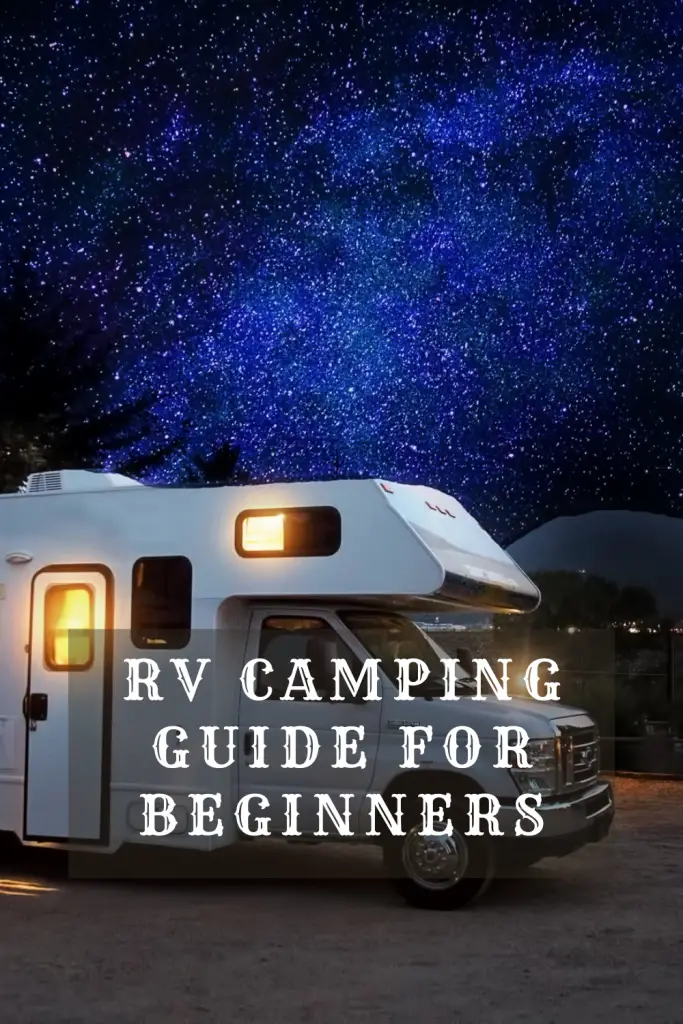 Summer is almost upon us. Maybe you have thought about buying an RV and going camping this summer. You can even use the camper to drive around the country and look for places to stop and spend the night inside the camper. However you intend to use an RV, you know it will be fun. This RV for camping beginners guide will help you understand the things you should know before your purchase. There are plenty of things you should know first. While this scratches the surface it will prepare you before you buy an RV and begin your family's summer adventures touring around in one of these magnificent machines.
This RV camping beginners guide will help you learn the basics and some intermediate concepts about RV camping. Then you should be ready for real-life experience. Keep this RV camping guide close to help familiarize yourself with all things RV!
---
Take your RV to one of these family campgrounds in Colorado!
---
RV Camping – Terms to know
RVing has its own lingo. Knowing the jargon that comes with the territory of owning, driving, and using an RV will help you communicate with others at an RV park, an RV dealership, or an RV repair shop, should you need one. As part of an RV camping beginners guide, this section is invaluable to greenhorns. Here are some key terms and phrases and what they mean. In terms of an RV camping guide, these are words you will see quite often.
Definitions
Chassis: The truck and wheels part of your RV. If your RV is a "fifth" wheel or tow-behind,
Wheel Base: The distance between your RV's wheels, which affects how well the RV can make a turn. A wider wheel base provides greater stability, but may also make it very difficult to make sharp turns.
Propane: To use the stove or heat water in your RV, you need a propane fuel tank. These require special RV-specific tanks too.
Holding tanks: The three tanks located underneath and toward the back of the RV that store clean water and wastewater.
Gray water tank: This is the tank that holds your sink water and possibly your shower water.
Black water tank: This is the tank where human waste goes. It has to be emptied often to avoid very smelly catastrophes.
Fresh water tanks: When your RV is not hooked up to water sources at a campground, you need these tanks to have a fresh water supply on hand. You use the water directly from the tanks and they are not connected to your RV in any way.
Basement: No, RVs don't really have basements. This just refers to the storage space/racks under the body of the RV.
FSU: Full Site Hookups is an abbreviated way of saying that a campsite has all of your plumbing and electrical hookups for your RV to run like a house on wheels.
Dry camping: This means zero hookups. You're just parked on a spot with no hookups.
Boondocking: Slang in the RV world for camping anywhere with your RV, including supermarket parking lots.
Moochdocking: More slang, except that you are literally mooching off a friend by camping on their front lawn or in their backyard in your camper.
Motorhome: An RV that is a complete home and vehicle in one.
Fiver: A "fifth wheel" or "fiver" is a camper that has to be towed by a truck because it doesn't have an engine of its own and it has extra wheels underneath.
Pop-up: Another tow-behind, much smaller, and needs to be unpacked and popped up to create sleeping space.
Toad: When you tow your regular car behind your RV so that you can use your car to drive around and not have to drive your RV everywhere.
Coach: A Motorhome
Diesel pusher: An RV with a diesel engine in the back of the vehicle rather than in the front.
Triple tow: When you tow two things behind your RV, like a boat on a trailer and your car behind that.
Toy hauler: An accessory for your RV that allows you to tow one or more "toys" behind the RV, like an ATV, boat, UTV, etc..
It also helps to have owner's manuals to look at, supplement an RV camping guide, and read when you are considering the purchase of an RV. That way you can make comparisons prior to purchasing one of these vehicles.
---
Need a full list of useful RV Terms? Check out our handy list!
---
How to Camp in an RV | Step by Step Instructions
Now that you have been introduced to some very useful terms for RV'ving, we turn to the RV camping guide that will take you on a verbal walk-through from start to finish after you have obtained your own RV. However, you can always find more information by reading more of our camping and RVing articles!
1. Finding an RV: Resources
If you haven't purchased an RV yet, there are plenty of resources to help you find an RV for sale. Be sure to do plenty of research and examine your budget and options before buying. It is possible to rent an RV, but most people willing to rent an RV will expect you to show that you have driven one before and that you are capable of driving one. RVs have unique braking systems that make driving one of these recreational vehicles very different from driving a car. Be sure to test drive several of these vehicles before choosing one to purchase.
2. Where to Buy an RV for Camping
There are dealerships specifically for RVs. You can also check out RVs at camping and outdoor expo shows, where you will find plenty of dealers and manufacturers interested in selling you an RV. Also, check online and in classified ads in your area for people that are selling their RVs. There are many large and small dealerships. You need to do your research on the specific dealership that you are looking to do business with. These three are common and large in the US and each have pros and cons. These are provided as references with no affiliation and may be a poor choice in your area. RESEARCH, RESEARCH, RESEARCH!
3. Where to Rent an RV for Camping
An RV camping guide would not be complete if you did not know where to rent an RV. There are a couple of different ways to do this. You can actually rent a camper at a campsite that stays there all year and does not move, rent a camper from a private owner (like an AirBnB for campers), or rent from an RV rental company. Each has its own benefits, like not having to worry about driving an RV you rent at a campsite, or having RV insurance included with the cost of renting an RV from an RV rental company. Private owners are the most difficult to rent from, but if you already know how to drive an RV, then this is the least expensive way to go.
The most popular site for RV rentals is Outdoorsy.com!
4. Types of RVs for Camping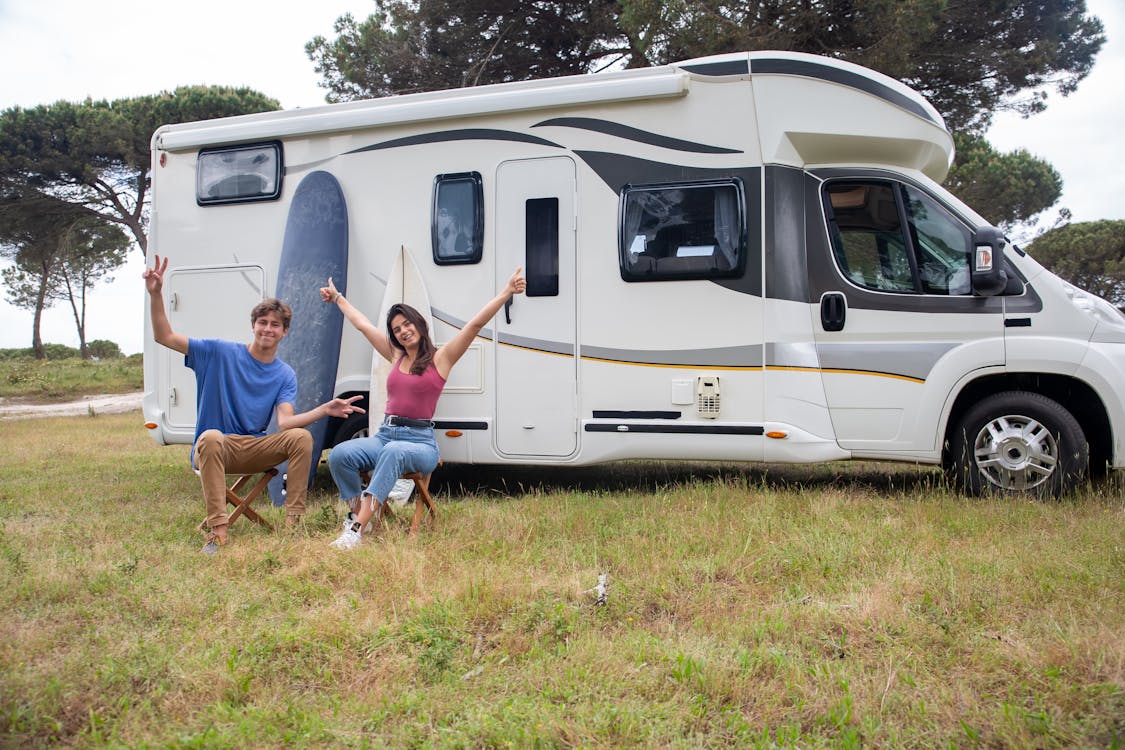 We touched on the types of RVs above in the RV lingo defined. To expand on that, think of it like this.
A pop-up is a tow-behind and is the smallest and most compact type of RV.
A fifth wheel or fiver has double sets of wheels but no engine and is large enough for about four to five people. It lacks showering amenities, but it does have sleeping and cooking amenities.
A motorcoach or motor home is the biggest RV. It has all the amenities of home in one vehicle. There are three classes–A, B, and C.
A double-wide deluxe motorcoach has fold-out features and extras that make it a very comfortable and posh RV in which to camp.
5. Before You Go RV Camping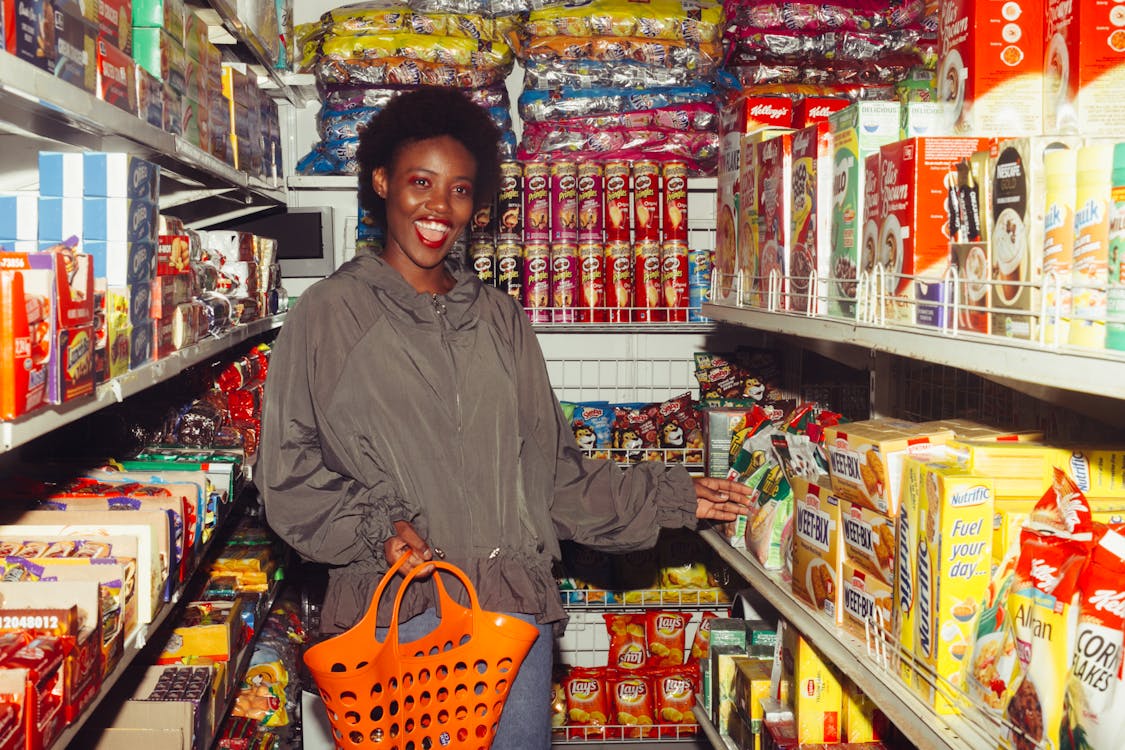 Before you go RV camping, you have to have a fully stocked RV. Buy enough groceries and cleaning supplies for at least a few days to a week. This reduces the need to make several stops along the way. Then you have to make sure all of your water tanks underneath are clean to start, and that your clean water tank is full. If you don't have an RV yet, prepare to find a dealership and start shopping.
6. What to Pack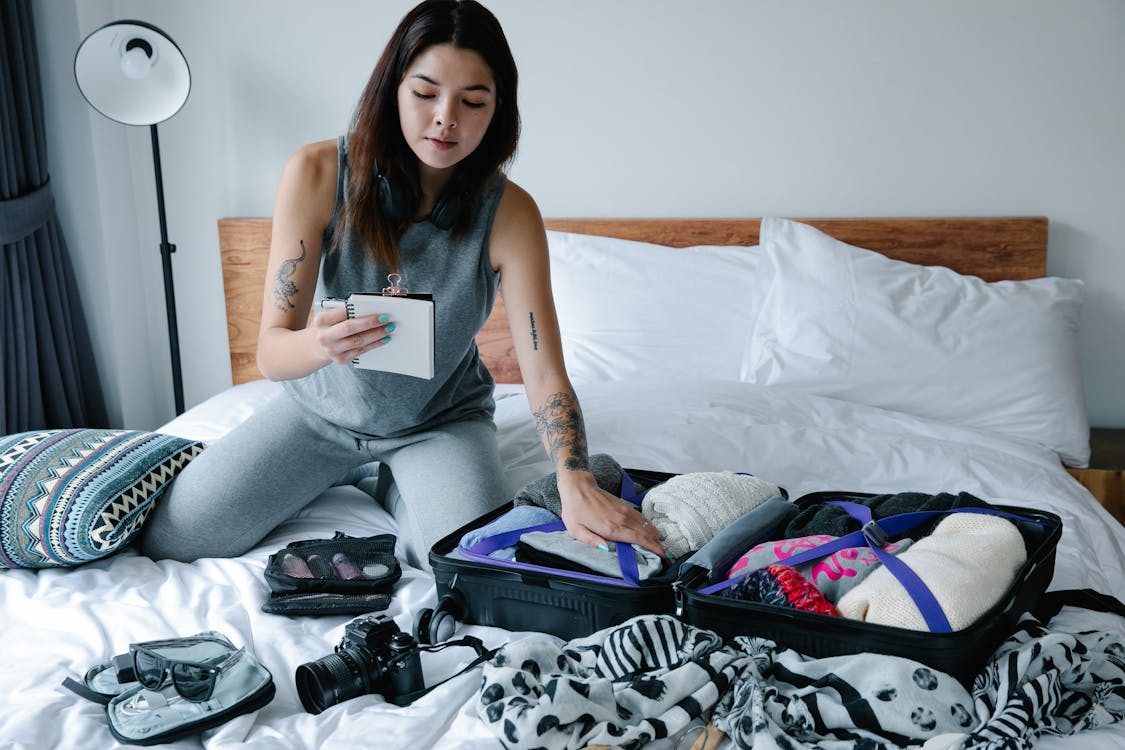 As part of your RV camping beginners guide, you should know what to pack. Clothes, obviously, are important. Pack dry goods, shelf-stable snacks, canned goods, and if you have a working refrigerator in your RV, have some milk, juice, drinking water, hot dogs and lunch meat stored in there. Anything you can fit, store, and keep without rotting in your RV, pack. Be sure to include tools to make small repairs, sunglasses, extra shoes and boots, sunscreen, and a few other key essentials.
7. Where to Book a Campsite
AAA and other travel organizations have a wealth of books that tell you where you can take an RV and camp. Their handy RV camping guides to RV campsites all over the country are very useful. You can read them in advance and then plan ahead by reserving spots weeks in advance. Honestly for RV camping beginners these are the places to stay!
Don't forget that State and National Parks tend to have excellent and secluded campgrounds even for RVs. They are quieter than a private campground.
---
Check out these great family campsites in Alabama!
---
8. When You Arrive at the RV Campsite/Check-In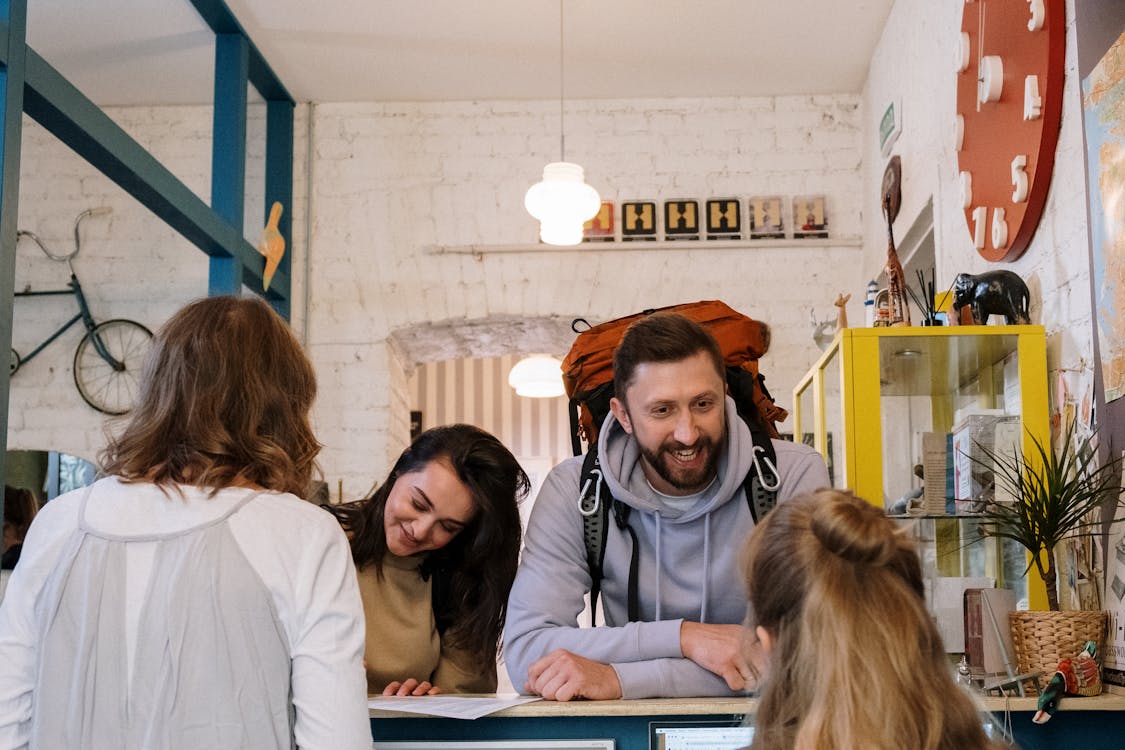 You will need to stop at the campsite office to check in. Here is where you will receive info on black water dump stations and how to find your campsite. A brochure with additional check-in info will be provided. If you show up after-hours, you will have to find your campsite on your own and check in with the office in the morning.
9. Setting up Camp/Stabilizing the RV
Park the RV on the concrete slab if provided. If there is no concrete slab, you will have to park the RV on the dirt and set down the stabilizing legs to prevent the RV from tilting in any one direction. If necessary, use a few flat wood boards under the stabilizing legs to prevent the legs from sinking into the mud.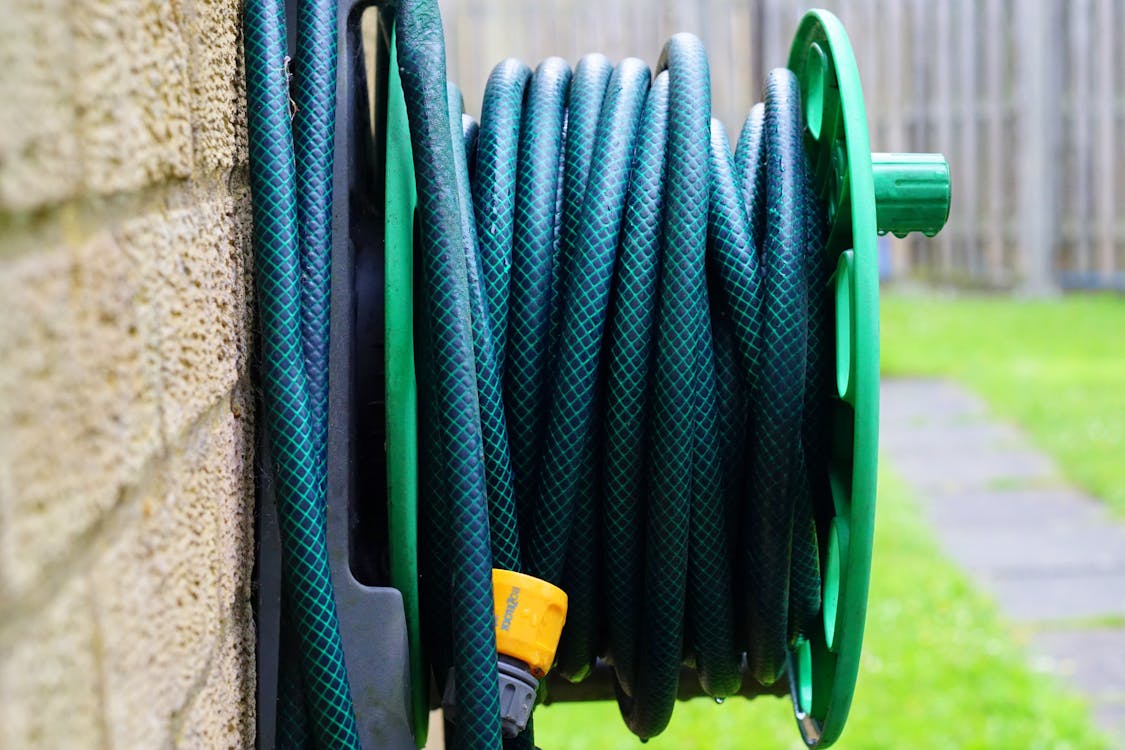 10. Powering up and Hooking up to Water
The hookups, when available, are obvious at each RV campsite. Water hookups are akin to hooking up hoses to outdoor spigots, so that is easy enough to do for RV camping beginners. Electric hookups take a more knowledgeable approach, but if you follow the instructions in your RV owner's manual, you will get this too.
11. Before You Leave/Cleaning up Camp
Campsites are almost always in scenic natural areas. As such, there is an expectation that the campers will clean up after themselves and leave no trace that they were thereafter the campers leave. Be sure to quash a campfire with sand or water to avoid starting a wildfire, and then clean up all your trash and dispose of it in waiting for park receptacles. Additionally, it is a good idea to make use of a black water dump zone so that your RV's black water tank is completely empty before you leave. Some campgrounds can and will fine you if you leave trash behind.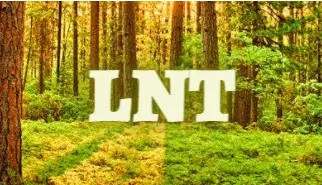 RV Camping – Bonus Tips
Here are a few more bonus tips just in case that wasn't enough!
1. Check the RV's brakes before you ever leave on a trip. Nothing is more terrifying than rounding a steep curve in the road and finding out that your RV doesn't have working brakes!
2. If you rent an RV, always return it in the condition it was in when you picked it up. Owners will be pleased and want to rent to you again.
3. Not every available RV campsite will have hookups. Be prepared for that possibility if you do not make reservations in advance.
---
Need even more? Check out our more in-depth discussion on these 11 tips!
---
Final Thoughts RV Camping
We hope you enjoyed this starting tutorial on RV camping. While it is still a basic RV camping guide, this guide is still useful for intermediate campers. We have camped with RVs and other RV owners for years. Having this knowledge when we started may have made things easier. Take each of these tidbits of information as they are so important and share them with others. It gives you an excellent idea of what the experience of owning an RV and camping with it is like. Having these 11 RV camping for beginners tips under your belt are a sure way to make sure your first trip is a success.
Have any other beginner RV Tips? Tell us in the comments below, on our Facebook, or on Reddit!