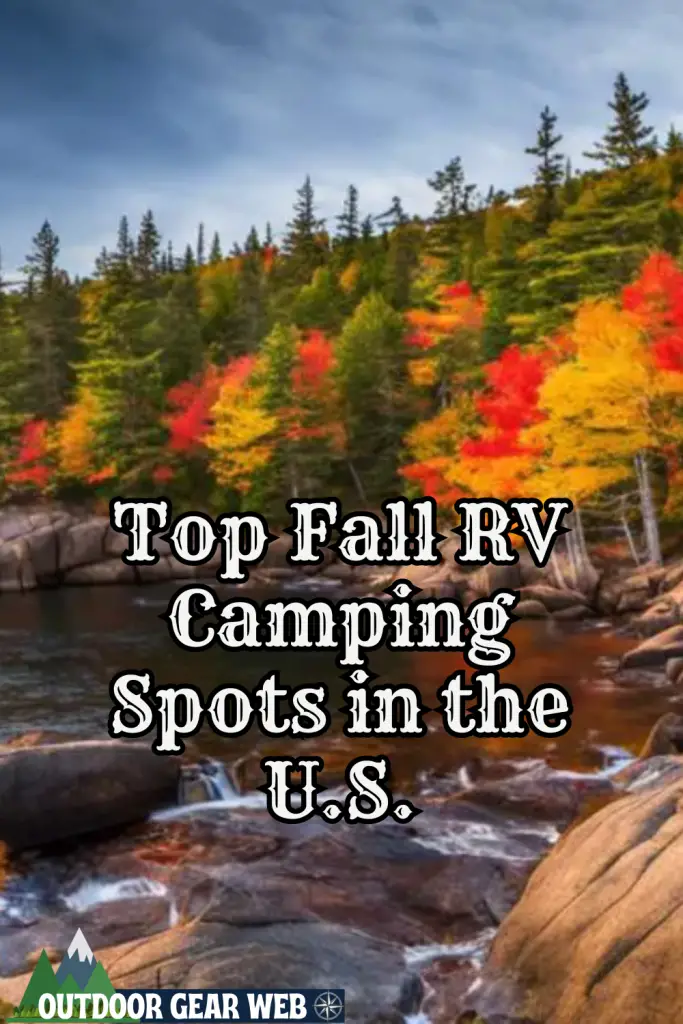 When the cool autumn breezes begin to swirl and the landscapes are painted with stunning hues of red, orange, and yellow, the allure of RV camping in the United States is irresistible to nature enthusiasts. The charm of these vibrant shades reflected against the crystal blue waters is stunning. Better yet the dense woody forest creates an enticing panorama unlike any other. Across the nation, from the serene coasts of Maine to the enigmatic expanse of the Appalachian Mountains, there are myriad camping spots that offer a unique, unrivaled experience of the fall season. Two of these places, acclaimed for their enchanting beauty, are Acadia National Park, Maine and Great Smoky Mountains National Park. Another spot that most certainly warrants a mention is Shenandoah National Park, located in Virginia. Keep reading to find out why these are the top fall RV camping spots in the U.S.
---
Ready for more great U.S. camping? Read our ultimate U.S. campgrounds here.
---
Acadia National Park – An RV Camper's Fall Paradise
Nestled in the heart of Maine, Acadia National Park transforms into a piece of living art during the fall. This period turns the park's landscape into a scenic beauty, as leaves take on vibrant shades of red, orange, and yellow. Following paths through the fiery foliage, RV campers can partake in exciting hiking adventures. Not to mention, sightseeing escapades or simply recline in their chairs and drink in the unspoiled natural aesthetics all around them.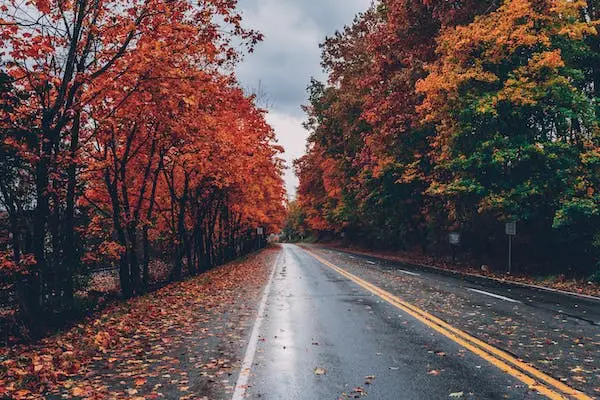 Camping in this park isn't a one-size-fits-all experience. Acadia National Park hosts three distinct campgrounds for RVs. They are Blackwoods, Seawall, and Schoodic Woods. Each carries its own set of unique features that cater to diverse preferences. Campers may choose from oceanic views that deliver stunning sunsets and sunrises. They can also choose dense woodland areas that offer complete immersion into nature's arms.
Acadia Campgrounds
Blackwoods Campground presents an intimate blend of forest and coast. While campers at Seawall Campground are greeted by a cool Atlantic breeze at the campground's edge. Schoodic Woods, on the other hand, whisks campers into a quiet forest setting away from the bustling summer crowd. Trust us this break from people that throng the park's main area is needed sometimes.
Given its fairy-tale-like allure, Acadia National Park is a popular spot for RV camping in the fall. It's therefore advisable to book a spot in advance to ensure that you secure the perfect place to park your RV. Regardless of your choice of campground, the fall season presents you with a rustic, colorful escape that will make your RV camping experience a memorable one.
---
Make sure to take these fall camping essentials with you on your next top fall RV camping trip.
---
Serene Beauty of Great Smoky Mountains National Park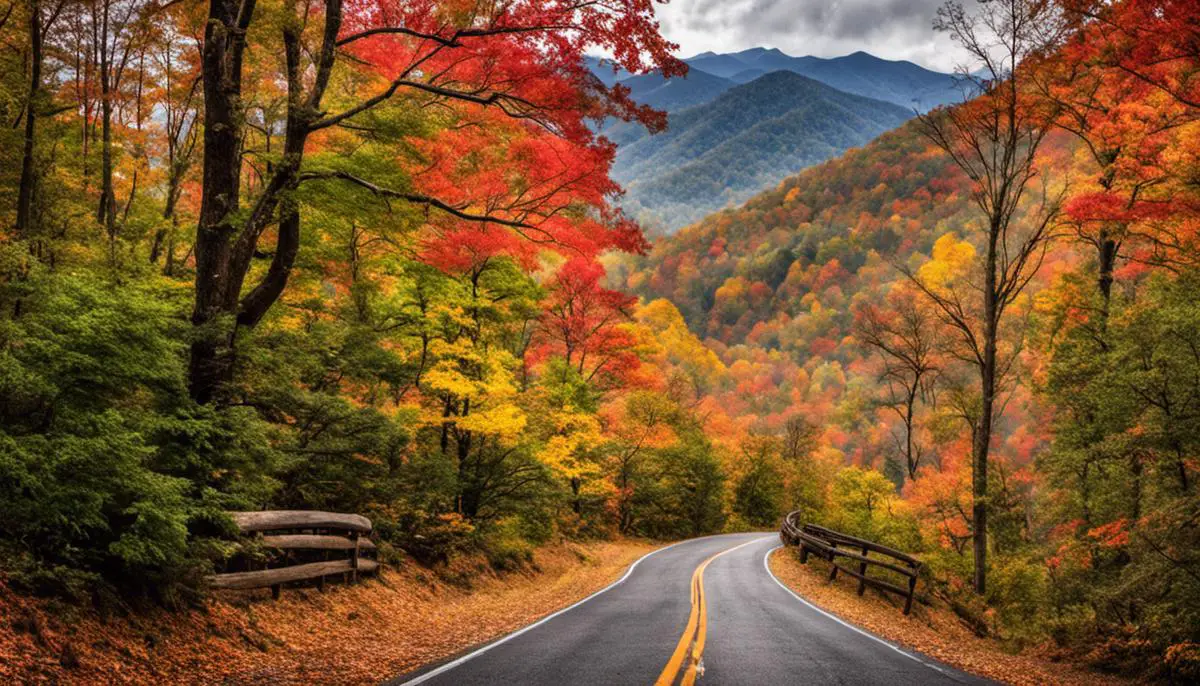 Stunningly magical, the Great Smoky Mountains National Park with its vibrant fall foliage offers an unforgettable RV camping experience. When Autumn paints the ancient Appalachians in shades of gold, russet, and garnet, it leaves nature enthusiasts and campers awestruck. Recognized globally for its assortment of plant and animal life, the park scores high as an idyllic Fall RV camping spot. It offers striking views, serene locations, and fascinating wildlife.
Campgrounds that Welcome RV Campers
To accommodate its eager visitors, the park hosts numerous campgrounds that are designed for RVs. The distinctive offerings of location, verdant surroundings, and facilities make each camping site an attractive choice. Particularly popular among RV campers are Cades Cove and Elkmont in Tennessee. These exhibit marvelous natural beauty with modern camping facilities, ensuring a comfortable stay. Notably, RV campers also favor Smokemont, located in North Carolina, for its scenic view and comprehensive amenities.
Climate and Scenery
Unpredictable and enchanting, the atmospheric conditions here significantly add to the overall camping experience. The park is known for its mystifying morning fogs, offering dreamy landscapes. During the fall months, the daytime temperature is comfortable and complements the outdoor activities such as hiking or wildlife spotting. The golden leaves, the clear blue sky, and the soft sun's rays together create a picturesque setting.
Exploring the Trails and Wildlife
In addition to the campgrounds, the Great Smoky Mountains National Park offers plentiful hiking trails. The trails are a great way to immerse oneself in the natural splendor and observe the wildlife living there. It's not uncommon to spot diverse species of animals along your adventure. While the park mesmerizes with its aesthetic beauty, it's the wildlife that offers a sense of thrill and excitement to the camping experience. This makes the Great Smoky Mountains National Park a bucket-list worthy destination for fall camping.
---
Use our Great Smoky Mountains Quick Guide to plan out your trip now.
---
Immerse in Autumnal Splendor at Shenandoah National Park
If it's an abundance of colors and breathtaking mountain views you're after, Shenandoah National Park may just be your dream fall destination. Nestled in Virginia's Blue Ridge Mountains, the park boasts an impressive stretch of scenic vistas. All of them seeped in the rich, warm colors of fall.
Nature Wonders Awaits
Shenandoah National Park is a wonderland of natural beauty that captures the essence of fall. The park is known for its tranquil waterfalls and quiet wooded hollows. These come alive with hues of orange, red, and gold during the changing season. Say goodbye to the summer haze and embrace the crisp, fresh air that welcomes you as you set foot in this mesmerizing place.
RV-Friendly Camping Sites
For those travelling by RV, Shenandoah National Park offers the convenience of three campgrounds: Mathews Arm, Big Meadows, and Loft Mountain. All of these campgrounds are RV-friendly and situated amidst the park's distinct and captivating landscapes, making for a truly immersive nature escape. They are mostly first come first serve so plan wisely on when to attend.
Hiking in Fall Magic
But Shenandoah National Park's autumn charm isn't just for viewing. It's also for exploring! With a multitude of trails, including a section of the famous Appalachian Trail, you can bask in the glory of fall up close. Traverse through the vibrant foliage and be enchanted by the magic of the season.
Marvel at the Birds of Shenandoah
Besides the enchanting panorama of fall colors, Shenandoah National Park also boasts a thriving birdlife. Armed with a pair of binoculars, you can spend countless hours marveling at the various bird species taking flight amidst the autumnal trees.
Exploring Shenandoah National Park in your RV in the fall isn't just a journey. No, it is a feast for the senses, an exercise in tranquility, and an unforgettable experience. Don't miss out on the wonderful beauty that this season offers in one of America's most awe-inspiring national parks.
---
Stay warm while leaf peeping with one of these great fleeces.
---
Final Thoughts on the Top Fall RV Camping Spots in the U.S.
So, whether you're passionate about hiking through lush landscapes, bird-watching in tranquil silence, or simply relaxing in your RV amidst picturesque nature, these national parks offer an unforgettable camping experience. Providing a mix of astonishing ocean views, calm woodland settings, and stately mountain fortresses, each park offer something for every camper during the fall season. Gift yourself the pleasure of these sights and sounds. Most importantly take home memories that will remain etched in your heart for a lifetime. Embark on an RV camping trip this fall, and let the burst of colors and the symphony of nature sweep you off your feet while you sit under the star-studded sky. Feel the crunch of leaves beneath your boots and the melody of the wilderness strumming softly in the background at these top fall RV camping spots in the U.S.