Embarking on a journey into the realm of outdoor gear can often feel like a daunting expedition, especially when confronted with equipment designed for a specific and crucial purpose, such as the zero-degree sleeping bag. Crafted with an unwavering focus on conquering unforgiving, icy climates, these exceptional sleeping bags stand as an indispensable asset for avid outdoor enthusiasts. Within the confines of this guide, we will detail the intricate significance of zero-degree sleeping bags. Our exploration will traverse their remarkable attributes and the unparalleled advantages they bestow upon the diverse community of outdoor devotees. In our top 5 zero-degree sleeping bags list we will unveil a selection of the most highly acclaimed options currently gracing the market. Furthermore, an exploration into the vital realm of proper care and maintenance will equip you with the knowledge to preserve these exceptional bags, ensuring their enduring performance across a multitude of adventures.
---
Winter Camping preparation is critical. Take these steps before heading out.
---
First Things First
You need to plan out the type of camping that you are doing. If it is winter camping then having the right gear is important. One piece of this gear is the zero-degree sleeping bag. So whether you get cold at night anyway or will be camping in a snowstorm you will want one of these top 5 zero-degree sleeping bags. Beyond the critical temperature rating lies a plethora of factors that demand consideration when selecting the perfect sleeping bag, including the insulation type, spatial dimensions, and overall weight. Ensuring the unwavering longevity and peak performance of your sleeping bag mandates an understanding of the essential storage and maintenance practices that guarantee its resilience across countless escapades.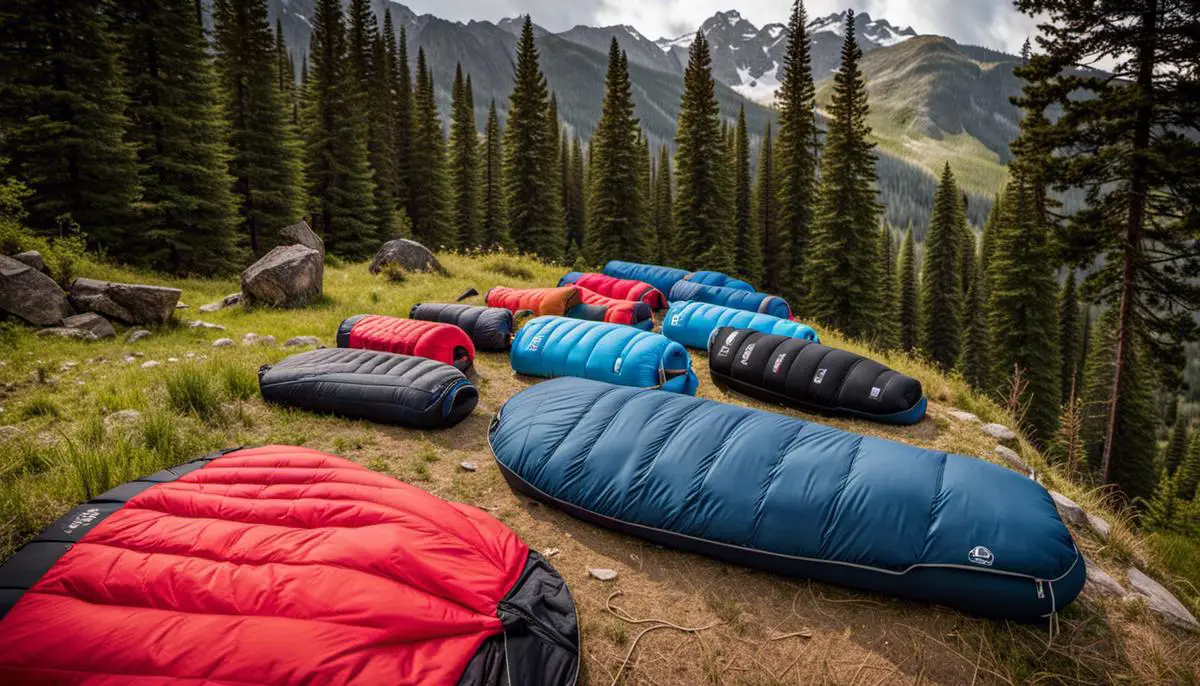 Key Features of Zero-Degree Sleeping Bags
Understanding the Components of Zero-Degree Sleeping Bags
An initial element to scrutinize when selecting a zero-degree sleeping bag is the construction materials. Durability and high quality compose the cornerstones of the most effective sleeping bag materials. Particularly given the potential for exposure to severe outdoor conditions. Usually, the outer shell of such sleeping bags includes robust nylon or polyester. This provides a barrier against wind, wet weather, and snow. It is a superb construction. These materials come with the added advantage of water resistance, and many are further treated with a durable water repellant (DWR) finish for augmented security.
Softer materials on the interior of the sleeping bag will provide a higher level of comfort. Some manufacturers use lightweight and breathable fabrics such as nylon or polyester taffeta. This design is not only provide comfort but also expertly wick away moisture, ensuring the user remains dry throughout the night.
Insulation Types in Top 5 Zero-Degree Sleeping Bags
A core feature of a zero-degree sleeping bag is the insulation that determines how well it retains heat. There are generally two types: down insulation and synthetic insulation.
Down insulation is made from the undercoating of ducks and geese. Down has a superior warmth-to-weight ratio and compressibility. Consider "high fill" down options for even more efficiency. Plus, properly cared for, down sleeping bags can have a long lifespan. However, they tend to lose their insulation properties when wet and may be more expensive.
Polyester fibers make up synthetic fills. Sleeping bags with synthetic insulation are generally more budget-friendly, maintain their warmth even when wet, and dry out faster. However, they are bulkier and may not be as durable as down-insulated sleeping bags. However, this makes it less efficient in terms of warmth-to-weight ratio and it doesn't compact as well.
It is important to know which type of fill you have in your sleeping bag. It may dictate the way you choose to sleep. Further, it may help you decide on your mat, tent, and even your sleeping garments. So you should pay close attention to the fill types when you are buying your sleeping bag.
Design Features for Zero-Degree Sleep Conditions
Surviving in zero-degree temperatures requires sleeping bags with specific design features. One of the fundamental features is a mummy shape, which is wider at the top and tapers towards the foot. This shape creates a snug fit which reduces the amount of air inside the bag that your body has to heat, thereby increasing efficiency and warmth.
Most zero-degree sleeping bags also feature draft collars. These are baffles around the hood and neck region to prevent heat loss. They also have the added benefit of being a minimal cushion for holding your pillow in. Another critical feature to look for is a well-insulated, adjustable hood. You will want one that you can cinch tight to preserve warmth around the head.
---
Need more general sleeping bag help. Check out our full guide here.
---
Furthermore, some sleeping bags come with a no-snag zipper. This is a feature that ensures easy opening and closing without tearing the material. Also, a full-length zipper draft tube, a barrier that runs along the length of the zipper to prevent warm air from escaping and cold air from entering, is a beneficial feature in cold weather conditions. Make sure you always test the zippers. We can't tell you how many people we have come across who regret not doing this. Zippers can snag on material easily, especially along the draft tube. It can be frustrating. So verify the reviews on the zippers and test them yourself!
Lastly, there might be the feature of a foot box on your bag. Instead of allowing the feet to compress the bag's insulation, a foot box gives extra space. This offers more comfort and warmth for the feet. We won't say that this is a must-have, but it certainly makes for a more comfortable night's rest!
Zeroing in on the best zero-degree sleeping bags in the market, the Hyke & Byke Eolus 0 Degree Sleeping Bag emerges as a popular favorite among consumers, all thanks to its enduring durability and unmatched comfort. Built with an 800-fill power goose-down insulation, this sleeping bag promises optimal warmth even in the harshest, coldest of conditions. Not only does it boast a lightweight design, but it is also generous in space, making it a convenient companion for all your outdoor adventures. A water-resistant shell tags along, ensuring you stay dry. Its warmth and compact design have earned it glowing reviews from customers.
Another quite popular option is the Teton Sports Celsius XXL 0 Degree Sleeping Bag. This sleeping bag features a soft cotton flannel lining and a taffeta shell, making it as cozy as it is durable. It is a highly-touted choice for its high insulation that can withstand cold conditions. It is spacious, allowing for comfort even with bulky winter clothing. However, this bag should likely be used early in the winter season or late as spring starts to change the weather. With high customer satisfaction ratings, it's also one of the less expensive options.
The North Face Eco Trail 0 Degree Sleeping Bag is a favorite among outdoor enthusiasts. Known for its extreme temperature resistance, it uses 800 Fill ProDown insulation and features a water-resistant Neovent Air fabric on the hood, foot box, and back for extra protection against frost and condensation. The price is on the high end yet customers seem to agree that for its robust design and durable features, it is well worth the investment.
The Coleman North Rim 0 Degree Sleeping Bag is an excellent budget choice. With its quality synthetic insulation and affordable pricing under $100, it's very popular among beginners and those on tight budgets without compromising on warmth and comfort. Its durable construction contributes to its positive reviews, with many noting its longevity despite regular usage.
The Sierra Designs Nitro 0 Degree Sleeping Bag utilizes Dridown fill to provide warmth and softness. It also has a full-length, two-way, anti-snag zipper that makes ventilation and temperature control very easy for users. With ratings lauding its comfort and flexibility, it's a higher priced option, likely best for people who camp in winter a lot.
Exploring the market, one can find a vast selection of 0 Degree sleeping bags tailored to various needs and budget sizes. When selecting the right sleeping bag, it's crucial to factor in elements such as weight, pack size, and added features like water-resistant properties, hood shape, and uniqu
Final Thoughts on the Top 5 Zero-Degree Sleeping Bags
In the ever-evolving world of outdoor exploration, where challenges and triumphs intertwine, the significance of reliable gear cannot be underestimated. One truth remains resolute: the journey to conquer the frigid unknown begins with the right equipment.
From the unyielding embrace of icy nights to the camaraderie of crackling campfires, these top 5 zero-degree sleeping bags have proven their mettle time and again. The intricately designed features are aimed at providing you with the ultimate reprieve amidst the harshest elements.
Every adventure holds its own story, and within that narrative, these sleeping bags become more than just equipment—they become steadfast companions, weathering the storms and illuminating the victories. As you embark on your next odyssey into the heart of the great outdoors, armed with the knowledge of these exceptional zero-degree sleeping bags, remember that your experience is not defined solely by the path you tread, but by the gear that stands by your side.
So, whether you're a seasoned mountaineer pushing boundaries or a spirited soul seeking solace in the wilderness, rest assured that the top 5 zero-degree sleeping bags are more than tools; they are the embodiment of determination, resilience, and the unwavering spirit of exploration. As you zip up and settle in, may these sleeping bags not only shield you from the cold but also elevate your journey to heights only dreams can reach. Adventure awaits—embrace it, equipped with the very best.