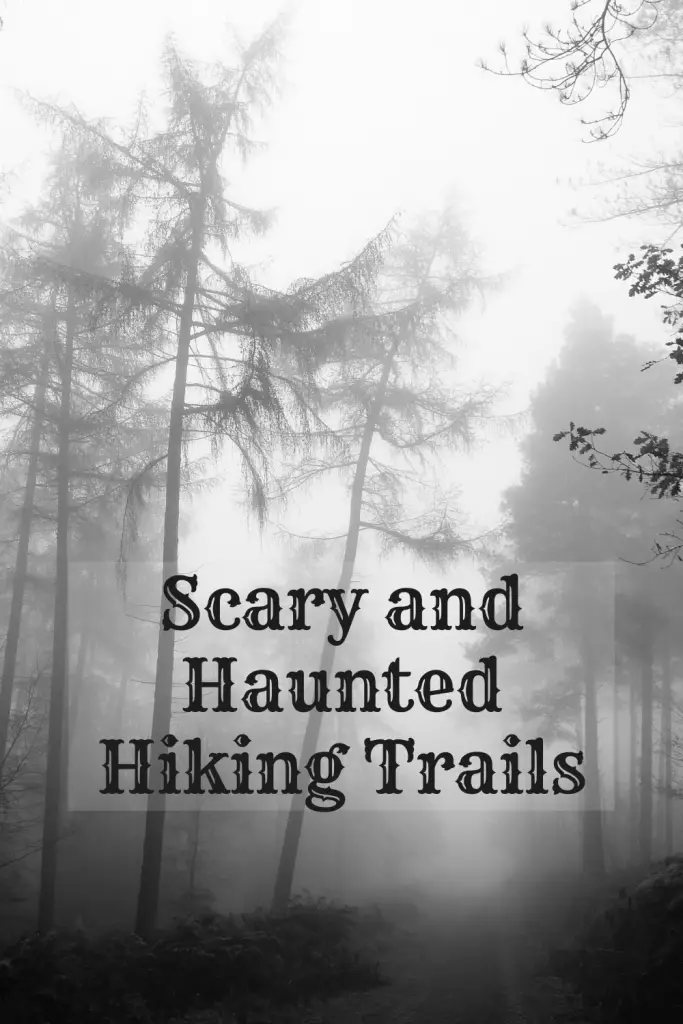 We all know that being outdoors is the best place to be in the summertime. Often we overlook the fact that camping and hiking can be just as fun in the fall because the weather starts to cool off. However, this is the best time to get outside and enjoy hiking trails. It's time to ramp up our attempts to scare ourselves. That is why I have collected some scary and haunted hiking trails for you.
I know I find myself searching for haunted houses near me, or better yet, haunted hiking trails near me. The spookier the better! Where can you be scared right out of your hiking boots? From Virginia to California and everywhere in between we did the spooky research so you don't have to!
---
Before hitting these scary and haunted hiking trails make sure to review these Outdoor Risks.
---
1. Iron Goat Trail
The first on our list of scary and haunted hiking trails is The Iron Goat Trail. This trail is located in the Cascades and is part of Stevens Pass. Like many older railways in the country, the tracks have been turned into trails. This is great for hikers because they end up being relatively flat and wide which makes for easy hiking. However, the Iron Goat Trail was the site of one of the worst train incidents in American history. In the early 1900s, two trains tried to summit the Cascade Crest only to get caught in a violent snowstorm. Being stuck near the top the passengers would soon meet their fate at the hands of an avalanche. Nearly 100 lives were lost.
Now you can hike this ill-fated path and imagine the blizzard that claimed so many lives. As you walk you may feel the chill in your bones that the passengers felt as their train car was swept into the creek. It is likely that you will hear the screams and shouts along the rail line. They will get louder the closer you get to the ghost town of Wellington. Remember that this is not a trail you can attempt at night and the tunnels are off-limits. That is of course if you still have a pulse.
2. The Danvers State Hospital Trail
While this trail is not secluded or remote you may find more visitors on the trail than you think. Not all will be solid. You will find this trail on the former Danvers State Hospital property. This was a psychiatric hospital that operated from 1874 to 1992. Sadly, like many of these types of facilities from that era, it has a history that is drought with neglect and pain. The spirits of those who were harmed there still haunt the grounds.
You will only be able to access this trail on the weekends. Get ready as you hike to encounter ghostly noises and figures that will be more than just the wind. You will never be truly alone on this hike. However, might I suggest that you bring a friend.
3. Bash Bish Falls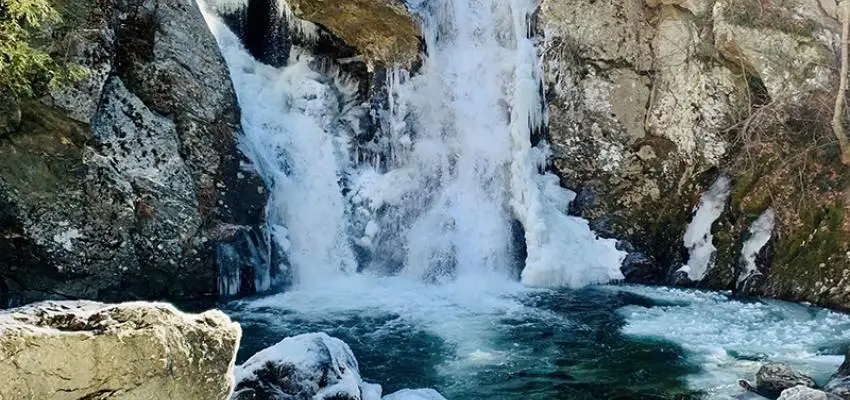 There is a start warning right at the beginning of Bash Bish Trail. Don't enter the water at these falls. This is for your own safety. Otherwise, you may end up like the ghosts that haunt this trail.
According to an old legend, a Mohican woman was tied into her canoe and sent over the falls. As the highest waterfall in Massachusetts, she would have fallen 80 feet to her death. It seems she had challenged the status quo a bit too often. It is said that her daughter jumped over the falls as a result of the killing of her mother. Will you hear their screams as you hike near these falls? Maybe glimpse their shadowy figure as the water crashes down? Either way, you are sure to get a scare on this scary and haunted hiking trail.
4. Long Path
The most haunted hiking trails continue on the East coast again with the addition of The Long Path to Thiells in Rockland County New York. This trail is unique in that it connects Theills, New York to the Letchworth Village Cemetary.
Now you may be thinking why would I hike to a cemetery? Well, it is Halloween of course and it is what we do to fill that spooky need. It is especially the case when I tell you that Letchworth was a psychiatric institution in the early 1900s. The cemetery includes no names of the souls who perished at Letchworth. Instead, each cross is marked with numbers.
The horror doesn't end there though because most of the residents were actually children who were subjected to clinical drug trials, abuse, extreme neglect, and overcrowded conditions.
The institution was shut down in 1996. The children still remain in the cemetery and along the path. So are you willing to help them find their way on an eerie night or are you giving this one a pass?
---
Almost halfway through these scary and haunted hiking trails. Here are the 10 most haunted hiking trails.
---
5. The Ghost House Trail
The next most scary and haunted hiking trail on our list is The Ghost House Trail. This is a 1.2-mile hike that has some moderate terrain but is a fairly easy hike even for beginners. The trail is located in Tennessee's Big Ridge State Park. It is a wonderful park filled with many things for people to do. However, it comes with a grisly history.
It is said that this area is where scalpings and witch hangings have taken place. While there is no true evidence there are even local legends of this being the site of witch burnings and murders. What is verifiable is that the ghost of Mary Hutchinson who lost her life to tuberculosis haunts the trail with her trusty K-9 companion. They wander up and down the trail. It is likely that you will hear her footsteps or feel her breath as she passes by. If you aren't so lucky you may hear her dog coming up behind you.
6. The Bates Bridge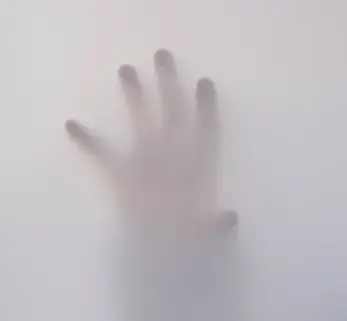 From Tennessee, we next head to Virginia for more scary and haunted hiking trails. The Bates Bridge ghost story is another local legend in Virginia. Remember most legends and lore are rooted in some point of fact. Of course, if you scare easily you may want to forget this when you hit the trail. The legend tells of a woman who met a tragic and untimely end while crossing the bridge. The Potomac river and her ghost are the only ones who know what really happened.
So are you willing to cross the bridge? Will you go hand in hand with her ghost as she haunts each of your steps? You will likely glimpse her easier if you traverse the bridge on a foggy morning or evening. You better strap those boots tight.
---
Take these scary stories with you on your haunted hike to distract you from your ghostly encounters.
---
7. Camp Lulu
You are almost to the end of our most haunted hiking trail list. Are you ready to explore a haunted trail near you? The next on our list is Camp Lulu which is near Brownsville, Texas. There are many trails around this area. However, the one we want to focus on leads in and around an abandoned girls' camp. While the human girls and counselors are gone something remains. The trail has even been said to be the home of a gang-killing field. The fun of summer has definitely left this tainted place.
There are two things we can count on Florida Man and Texas being the brewing place of modern-day horrors. It is said that the spark of one child's life ended at the hands of a counselor at the girls' camp. Hmmm, reminds me of some movies I have watched. Maybe it was more than one because hikers now claim to hear sounds of children playing nearby and have even seen toy offerings move on their own. Are you ready to confront the girls whose summer never ends?
8. Transept Trail
The Grand Canyon is full of amazing views and hiking trails. However, you may not have realized that the canyon has been a place of deep spiritual ties for thousands of years. Use this Grand Canyon quick guide to plan your haunted hiking trip.
Over the many generations of people living and camping in the area, one trail has become a mecca for the paranormal. The Transept Trail is the home to the wailing woman. While pacing the trail or sitting along the edge she has been known to confront hikers. Her endless crying beckons those on the trail to stop and help. However, it may be the last offer of aid they ever provide. While a shorter hike, the trail includes ruins of old buildings. These are sure to conjure spookier thoughts in your mind.
Want to know more about the wailing woman and a recent tale of horror that took place on the trail? Our book Tales from a National Park Campfire includes this and other scary stories for your next camping trip.
9. Chilnualna Falls Trail
Back to California, we head for the number six most haunted hiking trail and this one is located at Yosemite National Park. The Chilnalna Falls Trail is an 8.4-mile long trail that passes many grand views including Grouse Lake. Yosemite is a sacred place to any who have visited. More so to those who have never left. There are tales of a Native American boy who drowned in the lake as well as the evil spirit Pohono. The trail may be beautiful but there are dark secrets in this sacred place.
If you want to remain among the living and leave the park to tell your tale then you should be careful. When you hear the boy crying and asking for help in the lake, make sure it is not the ghost of the Native American boy. He is said to drag you under so he can have friends in his watery tomb.
Pohono is a trouble maker and when you are out on your hike he will disorient you and help you find the wrong way. He is especially troublesome if you get close to Bridalveil Falls as he will push you over the edge. For ecological and safety sake though you shouldn't ever go near Bridalveil Falls. Pohono will make sure you never forget your mistake.
---
Look here for some fun Halloween Camping Ideas to pair with these scary and haunted trails.
---
10. Devil's Punchbowl
California is a large state that holds many scary and haunted hiking trails as we have seen. However, in LA County one elicits fear just with the name. The Devil's Punchbowl is a popular hiking spot given its wonderful views and escape from the urban jungle. However, you are sure to get a fright on this trail.
The Devil's Punchbowl has an eternal hiker. While her name is now forgotten to history, it is said that she met a violent death in the area. You can sometimes hear her screams as she relives the last moments of her life. So while out hiking in the punchbowl make sure to bring along an extra pair of running shoes. You wouldn't want to be caught in the same trap as her.
What Scary and Haunted Hiking Trail Will you Explore?
Are you brave enough to venture out onto a scary and haunted hiking trail? Or would you rather stick to the safety of your own tent? If you are as excited as I am for the Halloween season this year then maybe you should add these spook-filled hikes into your plan. Maybe you will likely find me wading through the mist. Or worse one of the ghosts! Remember this spoopy season to jump a bit when you hit the trails yourself. Get outside and start to roam through those trails that are closest to you and if you get spooked along the way all the better!
In the comments below or on over to our Facebook Page and let us know what other trails we should add! Do you have a local legend on a hiking trail that should be mentioned?