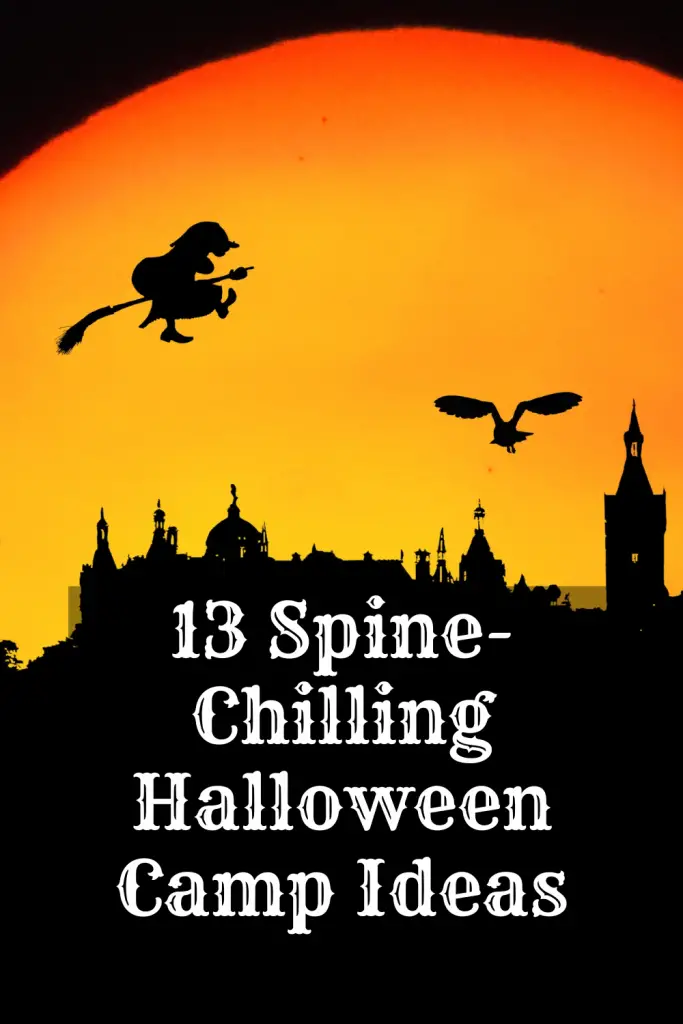 Okay so the fall is setting in and you don't want camping season to end. I get it. Why should the camping season end? In my opinion, this is one of the best seasons of the whole year to camp in. The weather is cooler. Campfires seem to blaze a little hotter. The spooks come out at night. Wait, is that something that we want? I think so! That is why I want to share the unluckiest number of spine-chilling Halloween Camp Ideas with you!
Make Halloween special this year by heading out into nature with these 13 activities and camping ideas that are sure to put the shivers down your spine!
---
Find out the best season to go camping. Fall is my favorite but is it yours?
---
13. Carved Pumpkins for a Spine Chilling Halloween Camp
The Halloween season is not really here unless you have a carved pumpkin hanging out somewhere on your site! How do you like to carve your pumpkins? Do you freestyle or use a carving kit? The carving kits can be pretty handy when it comes to designs especially if you use one like this. Don't forget to bring the tea lights with you to make the jack-o-lanterns really glow!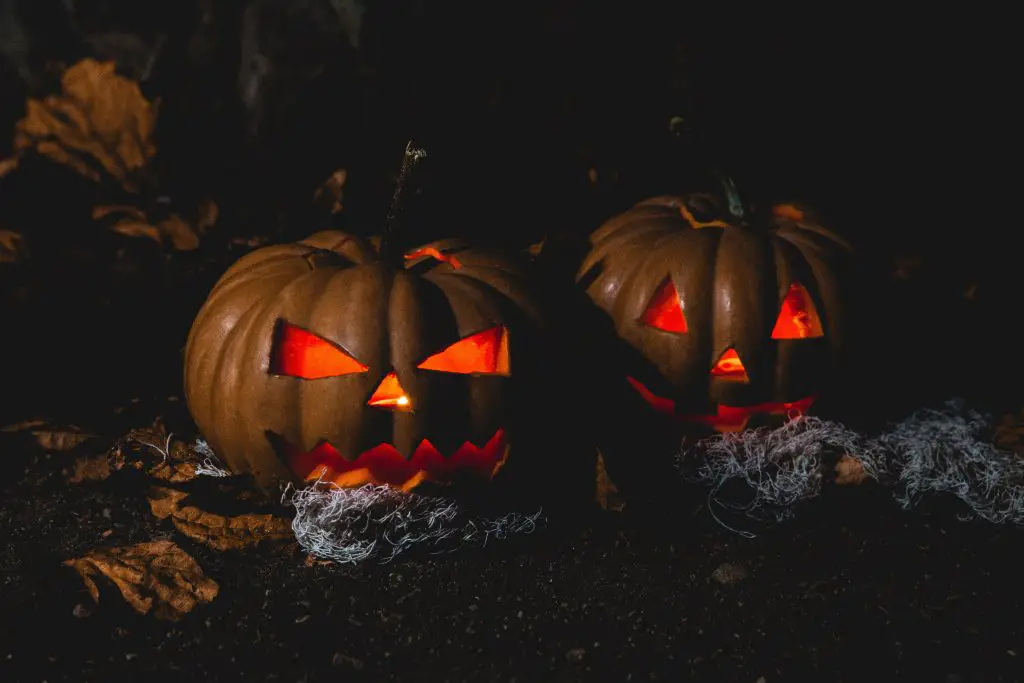 12. Decorate Your Campsite
Setting up camp in the fall is one of the things we love the most. It is so fun to see the numerous campsites each with its own Halloween traditions. Our favorite tradition is Halloween campsite decoration. Though you will find at most campgrounds other activities a decoration contest is almost a staple.
To start you need to ask yourself, do I go all out or do I need something small and easy? If you are tent camping and weight is a concern then do something small. However, if you are pulling that travel trailer or driving that RV then go big! In either case, we know that spookifying your campsite will give young and old something to smile about this fall.
Here are some quick ideas:
Jack-o-lanterns (For spooky sakes it is the hallmark of Halloween!)
DIY Luminaries: Crafts by Amanda has some great tips on making these luminaries.
---
Check out these other Halloween Campsite Decorating Ideas
---
11. Campsite Lighting
While this does fit a bit into the decoration theme, you don't have to fully decorate to get the bonus of some creepy lighting. You are going to need some lights around camp anyways, right? So why not bring in a little spine-chilling Halloween camp atmosphere with different colored and shaped lights?
There are plenty of options out there for string lights. In fact, the little fairy lights are getting so pervasive and inexpensive it could be difficult to determine which ones to use. I like to go with purple, orange, and green lights at Halloween. I don't stop there though. Finding shaped ones like spiders, skeletons, and pumpkins adds some daytime flair as well.
10. Trick or Treat at your Campground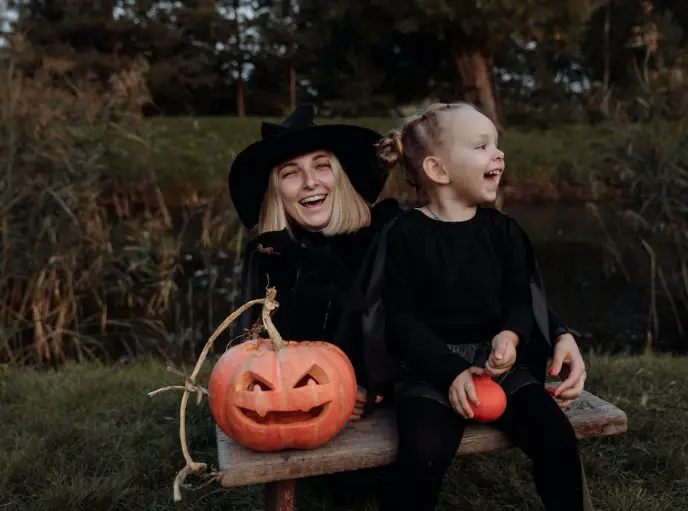 For this spine-chilling Halloween Camp activity, it is time to go knock on some RV doors! Make sure to ask at the campground office if trick-or-treating is allowed and if there are any rules. That way you know who in the campground is participating and who is being a real ghoul!
Many campers will have a bowl of candy waiting on the picnic table. Or if you see them sitting around their fire you could jump up behind them and give them a real trick! Be a good neighbor though and bring your own candy to share as well! As I and my kids can attest, toothbrushes are the worst trick-or-treat item so leave them in your shower caddy!
9. Spine-Chilling Halloween Campsite Scavenger Hunt
Even if your campground isn't holding a trick-or-treating event that is okay. You can still get your kids involved in capturing some candy! This is a great way to get them to burn some energy off as well. If you are going to a familiar campsite then you can do some pre-planning. If not, you will want to take some time to find good places to hide your candy. Make sure to log the answers to your scavenger hunt so no candy or trash gets left behind.
Simply set your spooky monsters out with their first clue and have them hunt around the campground for their candy. Remember to place them in common areas and not in other people's campsites.
This is a great option if you are with a group of people as well. Up the ante with a big Halloween prize at the end. Like a gift card to a corn maze which is sure to make your Spine-Chilling Halloween Camp event exciting.
Check out this free Halloween Scavenger Hunt printable from Play Party Plan.
8. Hike at Night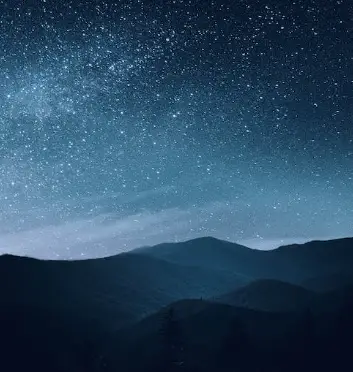 There are plenty of scary hikes during the daytime. From bears to skunks I know there are things that make me jump in the light. Think of how much spookier a trail would be at night. Obviously, you need to be prepared with a good flashlight when you hike. However, hitting the trail at night could be quite fun.
Did you know that there are even some haunted trails out there? You may find yourself on a trail and have an additional member in your party! Just don't forget to turn the light off and look up. The stars on a cool fall evening are incredible to behold.
---
Check out these 10 most haunted hiking trails to have a real spine-chilling Halloween camp experience
---
7. Gather Round the Campfire
This is a pretty standard camping thing to do. However, Halloween makes it even better. Gathering around a campfire is something that has been done for millennia. Humans told stories to pass the time. I know that I enjoy hearing about things that go bump in the night though.
The cooler evenings that come in fall make campfires a really special place to be. The scariest ones get our heart pumping and our adrenaline flowing. It is always fun to bring a book of scary stories with you to have a few to choose from. Tell your favorite scary story from memory, or maybe your memory is the scary story!
We have a few campfire stories already made for you to bring to the campsite. These include some spooky sound effects to help get everyone in the mood. Don't forget to have other adults add some real sound effects from the bushes!
6. Tune in to Spooky Radio
Sometimes telling stories isn't enough. Sometimes the ones we can remember or read in a book just aren't enough to push people over the edge. When this occurs rely on some technology for a Spine-Chilling Halloween Camp activity! If you are eating dinner and just need some background noise then make yourself a spine-chilling Halloween playlist. Music from sources like Spotify can be downloaded and saved for offline use. So make yourself a playlist. Or if you are really trying to be old-fashioned burn yourself a cd!
Here are 10 songs that I like to have:
"Thriller" Michael Jackson
"Somebody's Watching Me" Rockwell
"Monster Mash" Bobby Pickett
"Ghostbusters Theme" Ray Parker Jr.
"This is Halloween" The Citizens of Halloween
"I Put a Spell On You" Bette Midler
"Lost in a Corn Maze" Kevin Hurst (Check out his music!)
"Freaks Come Out At Night" Whodini
"Stranger Things Theme" Kyle Dixon & Michael Stein
"Nightmare on My Street" Will Smith and DJ Jazzy Jeff
If music isn't your thing and you want to listen to scary stories then you should download some podcasts. Here are my favorite scary and downright creep podcasts.
5. Costume Parade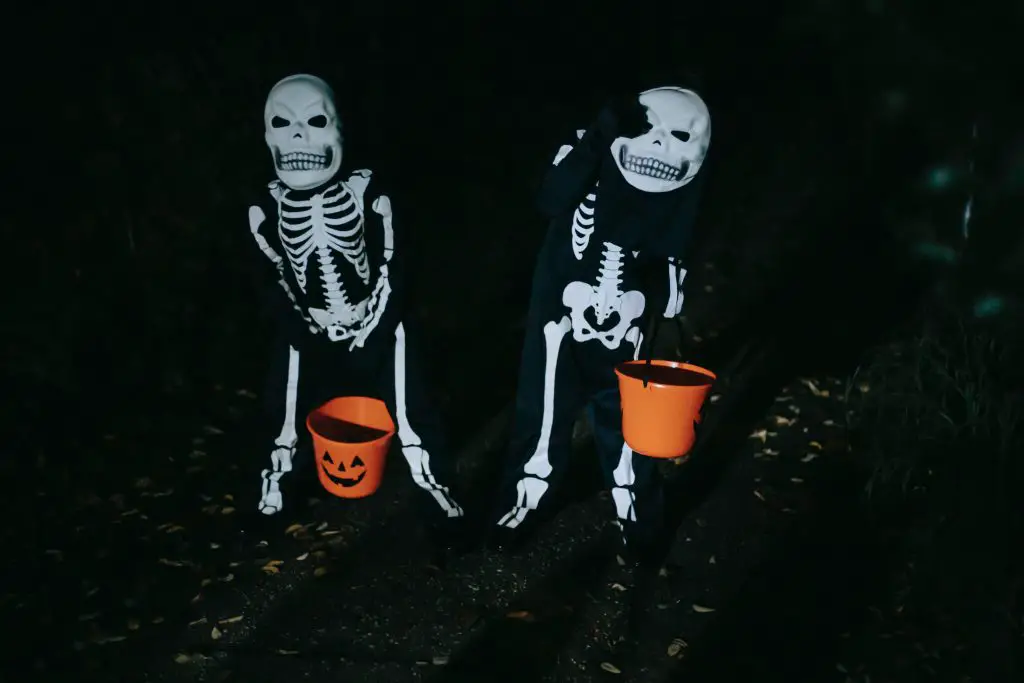 Let's be honest. The single best part of Halloween that everyone looks forward to is putting on their costume. Costumes for trick-or-treating and parties get everyone in the Halloween spirit. So dress up as your favorite superhero or ghoul! Make it interesting with your family and have a prize. Take a look at the campground too because they may already have a costume party planned with prizes for the children.
Make it easy on yourself though. Remember you are still roughing it and may not have the same amenities you have at home. So make-up can be difficult to take off, instead take a mask. It may be chilly out so consider the amount of coverage you will need beneath the costume so you can remain comfortable. We don't want the Halloween spirit to turn you into a spirit!
---
Stay warm during your activities for Halloween Camping with our Meatball Skillet Stew
---
4. Serve Up Some Spine-Chilling Halloween Camp Drinks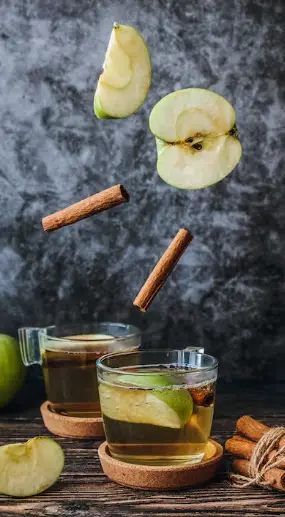 Ok, so maybe these are the opposite of spine-chilling. In all reality, they are going to warm your heart and soul. I love telling stories around the campfire. It is only made better by the fact that the evening is cool. If it is getting downright chilly though, you may want to serve up some tasty warm drinks like hot apple cider or hot chocolate. In either case, you will have something to keep you warm when those goosebumps set in!
Keeping with the apple theme you may want to try our cinnamon apples with your apple cider. They are sure to blend that extra candy you have into a wonderful dessert!
3. Halloween Movie Night
Okay, so the fact is that when you are heading out to go camping you are generally trying to escape technology. I get it. We normally have a no-tech policy when it comes to our adventures. However, Halloween is one of those special times when we like to consider ourselves glampers. We bring DVDs to play on the RV TV or we pre-download some movies to watch from Netflix or Disney+.
Depending on the ages of your campers some of these may not be appropriate. However, the Disney+ options are generally family-friendly.
Halloween Town (multiple movies) – Disney+
Stranger Things – Netflix
Nightmare on Elm Street Series
The Nightmare Before Christmas – Disney+
The Haunted Mansion- Disney+
Hocus Pocus- Disney+
Hocus Pocus 2 – Disney+ (Streaming on September 30, 2022!)
Friday the 13th Series
Fear Street (3 Movies) – Netflix
Frankenweenie- Disney+
Halloween Series
Locke & Key – Netflix
2. Fall Farm or Orchard Trip
The good thing about doing campground camping is that they are normally located in rural areas and are near farms. This is fantastic during the fall time and especially Halloween. You will likely be able to find a nearby farm or orchard that has some Halloween activities that you can take part in during the daytime. For instance, a working corn farm may have a corn maze, pumpkin picking, or even corn cannons.
Nothing says fall to me like picking apples and taking them home. I love to make applesauce and eat it warm. The kids will love to pick them and eat them right from the tree. Try to look for campgrounds that are near these types of venues to give yourself a break from the tent or the RV. Apple picking and corn mazes will make you scream with enjoyment and that is why it is one of the best activities for Halloween camping.
1. Smashing Pumpkins
When the camping trip is over there is no reason the fun has to end! In fact, this next activity for Halloween can be the kid's last hurrah. It is likely that you are not going to want to truck those carved jack-o-lanterns home with you. Instead, let the kids jump on them, throw them, or wack them with a stick. It may cause a little clean-up on your part to make sure the campsite is ready for the next guest. However, your children will always have a core memory of being able to decimate those poor pumpkins. It may also help to get their minds off those scary stories you told them the night before! If you didn't carve the pumpkins and are taking them home from the farm then give our Pumpkin Delight recipe a try!