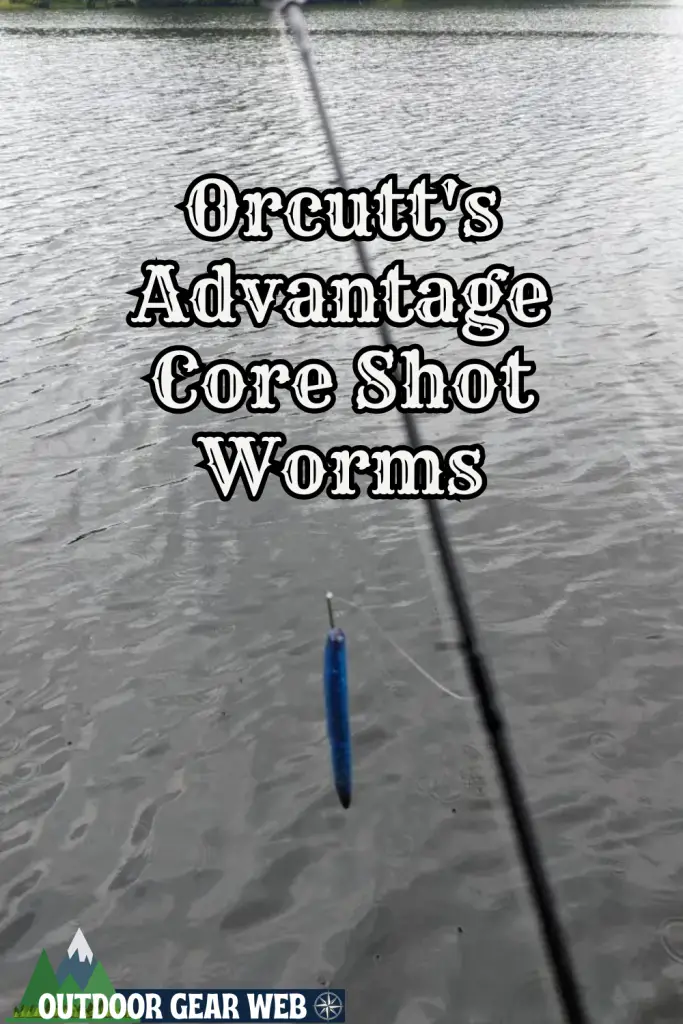 We received Orcutt's Advantage Core Shot Worms directly from Orcutt in order to test and review the worms. We decided to use each of the lures that Orcutt had sent us somewhat methodically to test their characteristics. To my chagrin, we took turns running live bait against the lure from Orcutt to see if we were catching more, equal to, or less fish. As you will see the results for each lure pretty much speak for themselves. Running this type of test allowed us to see specifically the performance of the core shot worms. If you are in the market to add some effective lures to your tackle box then you may want to start with Orcutt's Advantage.
Disclosure: The products listed from Orcutt's Advantage were provided free of charge for an honest and unbiased review. Outdoorgearweb has no affiliation or relationship with the supplier and tests each product thoroughly and gives high marks to only the very best.
---
Check out our fishing trip where we put these lures to the test and caught something surprising!
---
Core Shot Worms
Need to know the difference between a stick bait and a jig? Click now to find out!
Orcutt provided three different core shot worms or stick worms including the 5″ Blue Shell with Zombie Blood Core Shot Stick Worms, 5″ Custom Rainbow Trout core shot stick worms, and 5″ PB&J Core Shot Stick Worms. While we only received three differing colors Orcutt's Advantage provides numerous to choose from depending on your local fishing needs. You may want to take your experience from your local fishing holes to determine the color that you would like. You know, these soft stick worms are a staple, everybody has them. Everybody catches lots of fish with them. It is possible to fish at any level of the water column with this type of lure.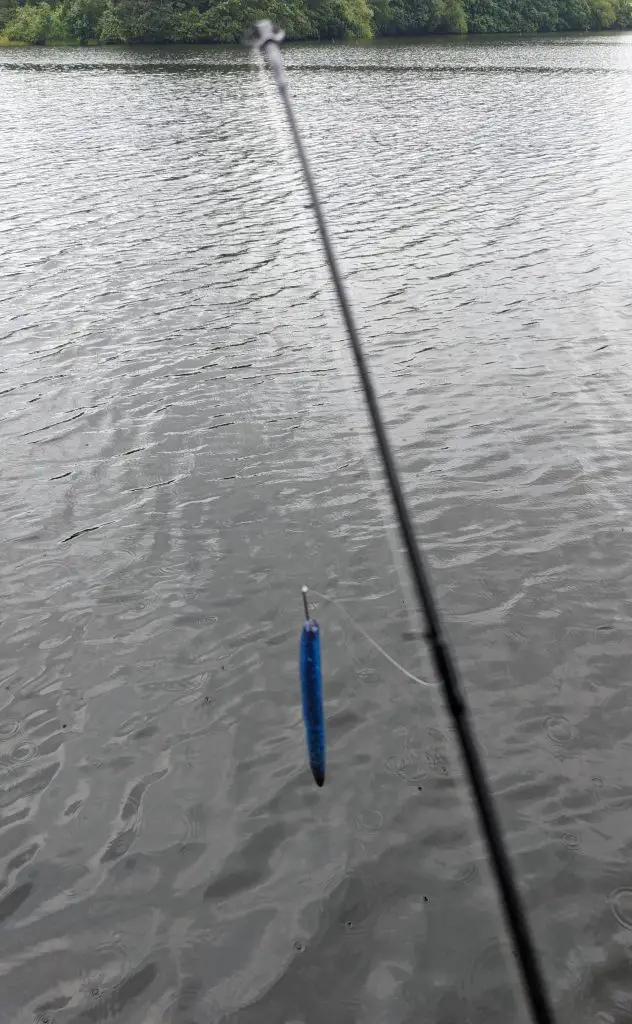 These lures are very easy to rig up for beginners and experienced fishers alike since they so closely mimic a natural nightcrawler. In fact, the easiest way to rig this is with a Texas rig. However, during our tests, we tried a few different riggings. With these worm lures, we really wanted to try fishing in a lot of different areas within the water column. Right from Orcutt, these do have salt added to help with the sink which is a nice added feature. So, while we started with this rigging, we did modify a bit as we went switching between poles. We had success with each rigging we did.
Fishing with the Orcutt's Advantage Core Shot Worms
First up, the Blue Shell with Zombie Blood worm. Getting started on this worm was a little slow but that was likely caused by me reeling too fast in my excitement. Casting with the worms was simple and the weight of each provided the heft necessary to get some solid distance. We had no issues with the worms getting caught in the murk of the bottom as we trawled for catfish or in the higher areas of the water. Our primary catch with this was crappie but we did have some success with bass and catfish as well.
The video below shows how the core shots move just below the surface for us.
Switching colors to the PB&J worm yielded some similar results. I was really hoping that the color difference between the three may give us a difference in the fish count. You may find in your own fishing spots that the color specifically matters due to water clarity but for us, it was the same. We did have some success catching both bass and crappie with the different colors. However, the custom trout worm didn't seem as enticing to the bass. The good part about this though is that the stick baits are consistent no matter the color. This means that no matter which core shot you are looking at with Orcutt you will likely land a nice fish.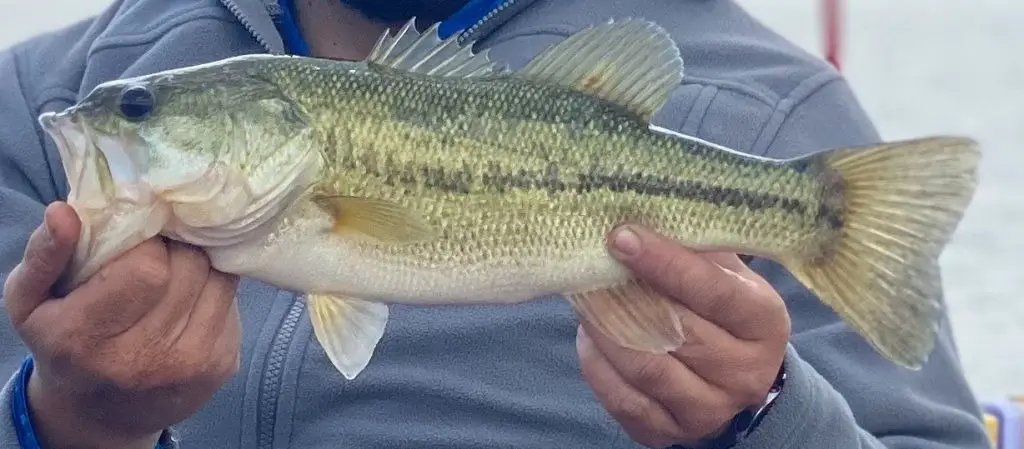 A stronger smell
While we did have some success with the catfish, it was not as good as we had hoped. In comparison with our nightcrawler setups, we did not catch as many catfish. I rigged up a nightcrawler and my father switched between all of the stick bait colors over time. He had caught one catfish but I was more successful with them using nightcrawlers. I attribute this to the smell of the nightcrawlers. A potential upgrade for the Orcutt lures in the future would be to include stronger scented lures.  All three of the core shots we received came with in-house sents added with the blue zombie and the PB&J smelling of coffee. The scents were not very noticeable for us during our tests. That being said, they do catch fish and they do it well. 
Fish Count
| Lure/Bait | Bass | Crappie | Catfish | Yellow Perch |
| --- | --- | --- | --- | --- |
| Blue Zombie Worm  | 1  | 2  | 0  | 0  |
| PB&J Worm  | 2  | 1  | 1  | 0  |
| Custom Trout Worm | 0 | 1 | 0 | 0 |
| Nightcrawler  | 1  | 0  | 3  | 0  |
As you can see from our catch count we were significantly more successful with the core shot worms. We were very happy with the ability to consistently catch fish throughout the water column and with varying colors.
Shipping and Quality
Earlier we had received our shipment of Orcutt's Advantage lures which had been sent so quickly and securely that it was like we had entered a bait and tackle shop and purchased them onsite. The lures came packaged in groups by their specific color in a resealable zip-top pouch. This pouch was fantastic for keeping the lures fresh for use when out on the lake. Additionally, I appreciated that it helped to keep the old tackle box organized.
One of the things that we liked most about Orcutt's Advantage is that all of the lures are handmade right here in America. In fact, the owner makes the product himself and really stands behind each of the lures he makes. It was clear that they were well made as we took each one out of the package. They were soft, flexible, and had the right weight to them. The lures themselves did not have any manufacturing defects or things that would set them off as being inferior.
The Verdict
Since we caught more fish overall with the stick worms, we would give these a high rating of 4.5 out of 5 stars as they are a fishing advantage. They were consistent, easy to rig, a good weight, and versatile catching three different kinds of fish. Additionally, they are a high-quality product and are American-made by a small business
Our only drawback here is that we would like to see the addition of stronger scents to help draw out more catfish. (If the scent is not a concern to you then these are a solid 5 out of 5!) We do look forward to using these different baits in different water bodies and to see how they do against other types of fish. As this was only a single test over three fishing days it is limited in some ways but we were able to be more successful overall with the core shot worms than we were with live bait alone.