When it comes to camping, carrying a heavy tent along with bulky camping gear can be a stressful combination that has the potential to ruin your outdoor experience. That's why we always advocate for the use of lightweight tents, as they are not only easy to transport but also quick to set up. However, finding the right lightweight tent can be quite a challenge, especially when it comes to durability in harsh weather conditions and strong winds. To alleviate this concern, we have compiled a curated list of the top 5 lightweight tents.
Our expert picks aim to save you the hassle of scouring the market for a dependable option. These top 5 lightweight tents are not only fantastic but also offer exceptional comfort, ensuring that your camping adventure is nothing short of exquisite.
At the same time, several critical elements must be kept in mind to ensure a successful purchase. As a result, we have also included a well-researched buying guide better to understand the essential aspects of a good backpacking tent.
---
Looking for a family tent and weight doesn't matter? Check these options out.
---
Can you sleep well while camping? There needs to be more space! This camping tent offers a fantastic sleeping area. A full-sized king-air mattress will fit comfortably inside the tent. Let the outdoor activities begin!
This tent features a dual-layer door, combining an inside mesh for ventilation and an exterior polyester layer for added durability and privacy. Stay organized with mesh pockets for your belongings, and don't forget the light hook for nighttime convenience. Strengthen your family bond as you enjoy the great outdoors!
Crafted with superior materials, these two-person camping tents boast lightweight fiberglass frame poles, inverted seams, and a water-resistant PE floor with polyester fabric. Expert water testing proves their exceptional waterproof index surpassing 1200mm, ensuring a dry and comfortable adventure for you and your loved ones!
Embrace excellent ventilation and air circulation with two large mesh sides and huge windows, significantly reducing natural condensation. Say goodbye to overheating and pesky mosquitoes! With these top 5 lightweight tents, you'll experience camping like never before.
The camping travel tent comes with all of the necessary components for setup. The carrying bag is just 6.17 pounds, making outdoor camping simple. Portable and easy to set up in 6 minutes: No additional equipment is needed to pitch the camping tent during your trip. The carrying bag is just 6.17 pounds, making outdoor camping simple!
Pros:
Wind and water-resistant tent
Mesh sides and a window
Simple to setup
Cons:
No Privacy without the rain fly
If you're looking for a 2-person hiking tent on a budget, the Naturehike Mongar Backpacking Tent is the best option. Suppose you're looking for a 2-person tent that will stay within the budget and doesn't sacrifice amenities. In that case, this tent choice is worth considering.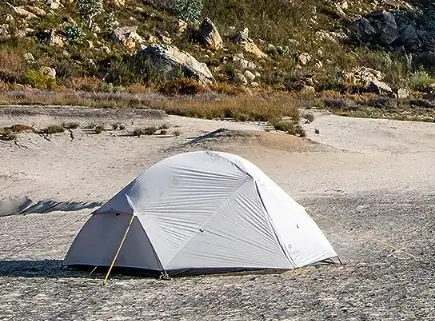 Naturehike's Mongar 2-person backpacking tent is renowned for its exceptional portability, weighing a mere 4.73lbs for the entire set, with a compact packing size of 19.6 x 5.9 x 5.9 inches. The tent is crafted from top-quality materials, featuring a 20D polyester rainfly and bottom with a waterproof index of 4000mm, as well as 7001 aluminum poles. With two doors and spacious vestibules, this tent offers ample gear storage and customizable air-circulation and sunshade options. Setting up the Mongar tent is a breeze with its Y-frame structure, taking around 5 minutes for a person's first use. Naturehike guarantees customer satisfaction, providing a 30-day money-back guarantee and a one-year limited warranty for quality-related issues.
Pros:
Freestanding
Affordable
Plenty of storage
Waterproof and light.
Cons:
The rainfly is short and can be taught
---
Taking your Top 5 Lightweight Tents backpacking? Check out these tips!
---
Experience the ultimate convenience and comfort with the Coleman Hooligan tent! Thanks to its snag-free, continuous pole sleeves, this dome-shaped tent can be effortlessly set up in just 10 minutes, allowing you to spend more time enjoying the great outdoors. Inside, you'll be delighted by the spaciousness, while the innovative WeatherTec system, featuring welded flooring and inverted seams, ensures no water can spoil your adventure.
Worried about the elements? Fear not! The Coleman Hooligan boasts a dry and enclosed vestibule that provides optimal wind protection. Plus, with a full-mesh inner tent, you'll enjoy excellent ventilation and additional weather protection, making every moment outdoors truly delightful.
Choose the perfect size for your camping crew, as the Coleman Hooligan is available in two, three, or four-person options, offering a generous footprint of 9 feet by 7 feet and a center height of 4 feet, 10 inches. Plenty of space to accommodate your preferred inflatable camping pad, ensuring a restful night's sleep in nature's embrace. To top it off, this product now comes with a one-year limited guarantee from the manufacturer, giving you peace of mind for your camping adventures. That is what makes this one of our top 5 lightweight tents.
Pros:
Lightweight
Quick 10-minute setup
WeatherTec technology
A full mesh inside for improved ventilation
Cons:
Product quality can be hit or miss
---
Carry your tent in the right backpack with our best backpacks.
---
The Hyke & Byke Zion Backpacking Tent comes in various colors, giving campers more choices. The Zion Backpacking Tent is a 2-person, 3-season tent with a floor and a gear loft.
The bathtub bottom, seam-taped structure, and attached rainfly all assist in keeping moisture out of your shelter. This tent has a complete mesh body and two D-door openings for ventilation.
With dimensions of 90 inches in length, 55 inches in width, and 42 inches in height, the Zion Backpacking Tent is among the roomiest options here.
The Hyke & Byke Zion Backpacking Tent weighs 4.47 pounds when fully assembled. When the rainfly, poles, and footprint are packed, it weighs only 3.09 pounds.

Pros:
Reflective guylines assist in avoiding falls even at night.
This 2-person lightweight tent has almost vertical inside walls, making it one of the roomiest.
The 3.09-pound pack makes this tent easy to carry.
Cons:
If you want to repack this tent, the provided bag is a tight fit.
This lightweight two-person dome tent with a huge D-style entrance can comfortably accommodate you and a guest. This little tent is perfect for trekking, camping, a kid's indoor or backyard play tent, fishing, or a beach shelter.
The 2-man tent has fiberglass poles, a removable rain cover, ventilation, and an inner storage pocket to keep your belongings tidy and organized while you enjoy the great outdoors.
The inner screen layer and the exterior zippered fabric layer of the tent door work together to give plenty of airflow and privacy. Close the doors with the sewn-in ties to allow the wind in a while, keeping the bugs out.
With just two fiberglass poles, this camping tent is simple to put up and take down. When your vacation is completed, slip the tent components into the provided carrying bag to pack up and travel conveniently.

Pros:
Door With Two Layers
Easy To Install
Useful Features
Cons:
Really best for one camper
---
You have a place to sleep but what about cooking? Check out these ultralight stoves.
---
Top 5 Lightweight Tents Buying Guide:
Here are some essential factors to consider when investing in a decent lightweight camping tent.
Weight & Ease Of Carrying:
Given that you will be carrying the whole weight of the tent in your backpack, weight is an essential consideration when selecting a tent. Backpacking tents are designed to be transported, and in certain instances, across great distances. If you have a hefty one, this might be a difficult task. You should opt for a tent that is lightweight and made for mobility.
Durability & Weather Protection:
The materials used to construct hiking and camping tents differ. It also implies that they may vary in durability and capacity to withstand harsh situations where they may be scratched. A decent hiking tent should also be waterproof and capable of withstanding snow, rain, sun, and other environmental conditions that may arise when camping outside.
Space & Size Of Tent:
The number of people the tent can hold is the topic of much discussion. It is essential to remember that tents come in a variety of sizes.
Knowing the size of the tent and how much room it can provide allows you to determine whether or not you can comfortably accommodate other individuals within. The majority of backpacker camping tents can accommodate one to four people.
Value For Money:
Finally, and probably essential, one must consider the price and value they are receiving. They are priced differently for various reasons. Some are composed of highly durable and pricey materials. In contrast, others are built with exquisite style and are more expensive.
Regardless of the other aspects, one should constantly look at what they are receiving and ensure they are getting their money's worth.
FAQs:
Should A Tarp Be Placed Under Or Above A Tent?
A tarp may be placed under or over a tent. If you have a tarp, you may place a tarp underneath your tent to cover the bottom from a rough surface. You may even hang it above the tent to keep it dry.
How Do You Pack A Tent For A Hiking Trip?
The tent may be rolled up by folding it in thirds along its length, leaving just the floor visible. The thinner walls and mesh will be protected by rolling it up like this. Stuffing your tent might cause it to strain or rip.
Are Tents The Most Lightweight Option For Ultralight Backpackers?
No, they don't. Tents are appealing due to their functionality, dependability, and other benefits. On the other hand, the insect nets, poles, and bathtub floors all add weight. So, what is the lightest tent available? In most cases, a tarp tent will be the lightest tent choice for ultralight travelers.
However, a footprint-only tent structure may also be relatively light!
---
Must have camping items under $20 to take with you on your next trip.
---
Top 5 Lightweight Tents Final Thoughts:
In conclusion, when it comes to choosing the perfect tent for your hiking or camping vacations, personal preference plays a crucial role. It's essential to keep in mind the factors mentioned earlier, as your choice of weight, size, and materials will all interconnect to shape your overall camping experience.
Finding the ideal tent may require some trial and error, but with each camping trip, you'll gain valuable insights. Our Top 5 Lightweight Tents buying guide has already cleared up some of the confusion surrounding tent features, helping you make an informed decision. Whether you prioritize weight, size, or material, our guide is here to assist you in discovering the best lightweight tent that perfectly suits your outdoor adventures. So, get ready to embark on unforgettable journeys with the confidence of a well-suited shelter by your side!