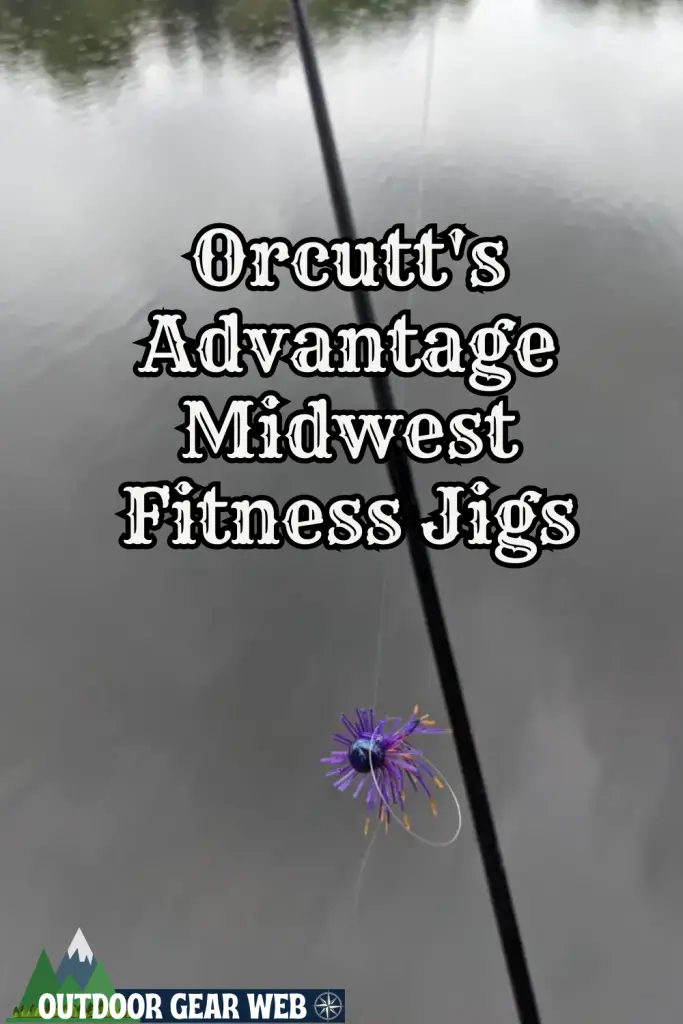 We received Orcutt's Advantage Midwest Fitness Jigs directly from Orcutt in order to test and review the worms. We decided to use each of the lures that Orcutt had sent us somewhat methodically to test their characteristics. To my chagrin, we took turns running live bait against the lure from Orcutt to see if we were catching more, equal to, or less fish. As you will see the results for each lure pretty much speak for themselves against the nightcrawlers. Running this type of test allowed us to see specifically the performance of the Midwest Jigs. If you are in the market to add some effective lures to your tackle box then you may want to start with Orcutt's Advantage.
Disclosure: The products listed from Orcutt's Advantage were provided free of charge for an honest and unbiased review. Outdoorgearweb has no affiliation or relationship with the supplier and tests each product thoroughly and gives high marks to only the very best.
Check out our fishing trip where we put these lures to the test and caught something surprising!
Midwest Fitness Jigs
Need to know the difference between a stick bait and a jig? Click now to find out!
For the jigs that were sent by Orcutt, we had requested testing the Midwest fitness jig. Owing to the superb customer service provided by Orcutt he actually provided us with three different colored jigs. These included green/pumpkin, brown/purple, and green/pumpkin red. Now Orcutt even says that this is technically a Ned jig disguised as a fitness jig. That didn't have any effect on our trials though. There were two jigs provided in each resealable bag from Orcutt's Advantage.
The first Midwest fitness jig that we tried was the brown/purple one.  In truth, we switched out very rapidly between the different colored jigs. We found that they all behaved in much the same way and we had success with each of them. These lures are very easy to rig up for novice and experienced fishers alike. The beginner fishers may have a little trouble initially but they are easy to learn and use. During our tests, we tried a few different riggings.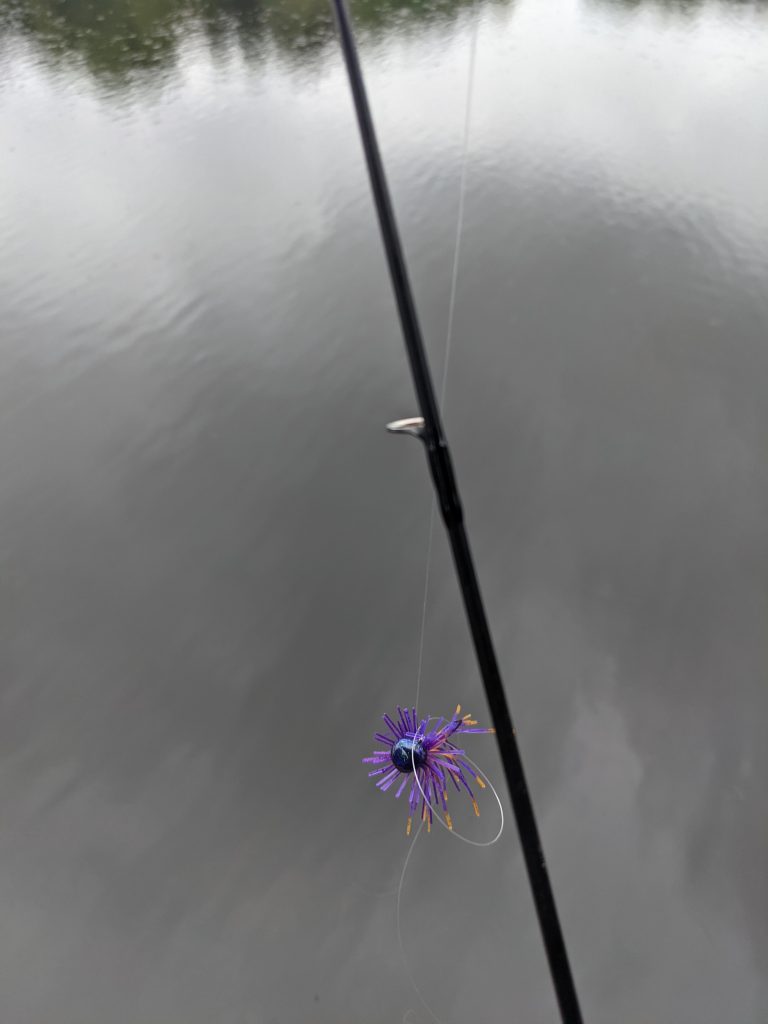 While generally, we would say that the color of this type of jig doesn't really play a huge factor with the fish, we really enjoyed casting with the purple one. It provided great contrast against the water which made tracking it during the cast a bit easier. It also stands out in the tackle box as well. So be prepared to be rigging these up often for the child anglers in your life!
Fishing with the Orcutt's Advantage Midwest Fitness Jigs
I found that all the Fitness Jigs cast like a bullet and were easy to walk the dog across the surface. Admittedly, I did not land a fish on the first cast which was a bit disappointing but I did take that opportunity to keep it close to the boat and see how it looked just below the surface. Using some different pole techniques, I was able to make the action on the jig seem very realistic. So far, the jig was holding up to expectations about looking good in the water and there were even a few smaller fish lurking just beneath that I could see were interested in it. 
The first fish that we landed with the brown/purple jig was a medium-sized bass of about two pounds. It gave us a bit of a fight but not much. We landed a yellow perch on the green/pumpkin jig. We have tried other jigs in the test location and have not had any success with the perch. So clearly the way this jig looked in the water helped entice the perch out of their hiding. In fact, we caught another perch the next day using the green/pumpkin red jig. There is something about that color combination that the perch really liked. These catches made us proud because our perch success is fairly low normally.
We were pleased with the fact that these lures had some versatility. We were able to catch a few different types of fish throughout the course of our three-day test. For usability and versatility, this jig instantly rose to one that we will reach for when we hit our favorite fishing spots.
Fish Count
| Lure/Bait | Bass | Crappie | Catfish | Yellow Perch |
| --- | --- | --- | --- | --- |
| Fitness Jig  | 1  | 0  | 0  | 2  |
| Nightcrawler  | 0  | 2  | 0  | 0  |
As you can see from our catch count we were fairly consistent on the overall fish count in a three vs two count. However, where this jig really shined was in the ability to pull in the yellow perch. The perch and bass make much better eating than the crappie and we like to cook what we catch if it is within limits. So having a reliable jig such as the Orcutt's Advantage Midwest Fitness Jig is going to be a needed addition to our tackle box.
Shipping and Quality
Earlier we had received our shipment of Orcutt's Advantage lures which had been sent so quickly and securely that it was like we had entered a bait and tackle shop and purchased them onsite. The lures came packaged in groups by their specific color in a resealable zip-top pouch. This pouch was fantastic for keeping the lures fresh for use when out on the lake. Additionally, I appreciated that it helped to keep the old tackle box organized.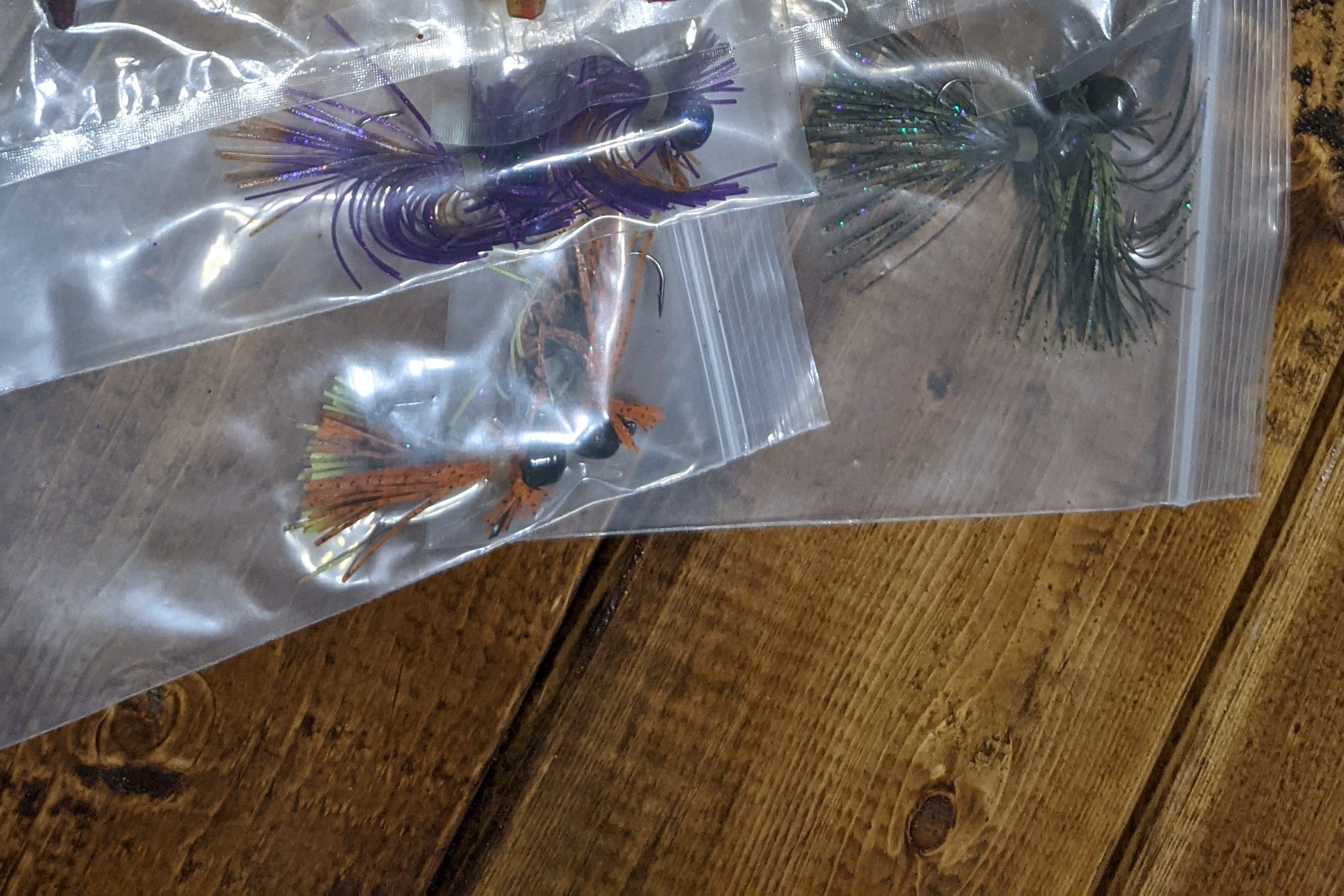 One of the things that we liked most about Orcutt's Advantage is that all of the lures are handmade right here in America. In fact, the owner makes the product himself and really stands behind each of the lures he makes. It was clear that they were well made as we took each one out of the package. They were soft, flexible, and had the right weight to them. In the case of the Midwest jigs, the frill was held securely to the head. This allowed for repeated safe casts without any degradation to the jig. The lures themselves did not have any manufacturing defects or things that would set them off as being inferior. There was one head that had a fairly small eyelet for rigging. this made rigging it a little tougher but was still within a reasonable tolerance.
The Verdict
While we did catch more with the Jigs than the Nightcrawlers it was not much overall. We were pleasantly surprised with the success of the yellow perch in the lake though and that gave us a fishing advantage. It was not really what we thought we were going to catch and we ended up with two. So, in this case, it is actually the type of fish being caught that is more important than the total. If you are looking to catch specific types of fish then using the jig would provide you with a fishing advantage. We rate this one a 5 out of 5 for its success with the perch and bass over our control casts as well as its action, weight, and quality. 
Beyond just the use, which was superb, on these jigs, there are numerous options available. While our preference is leaning toward the brown/purple jig, Orcutt's provides numerous options for colors and types of Jigs. It would be good to consider your own fishing hole and what the fish there prefer. In most cases with these types of jigs, it is good to have a few different options ready to go for changing conditions. If you are looking to add something to your tackle box the Orcutt's Advantage jigs may be a good option for you.