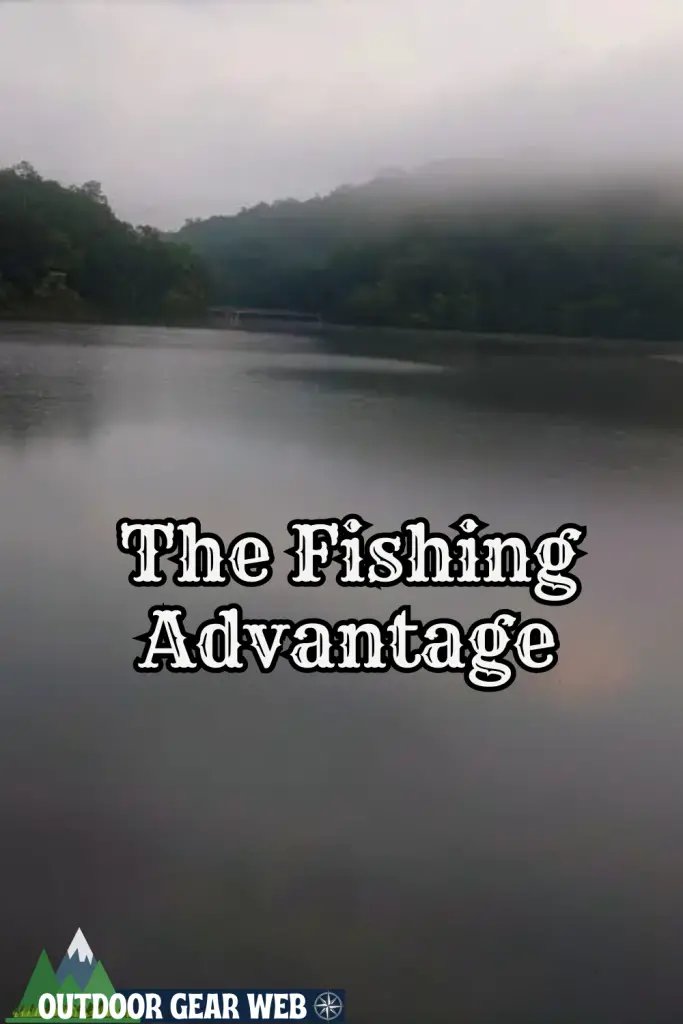 The hot July sun beating down on a Friday afternoon was no way to start out this exploratory fishing expedition especially when we had a true fishing advantage. However, my father and I knew that the cooler evening and early morning would be better for casting out into the water. We enjoyed the remainder of our Friday afternoon with building excitement to try out the new lures provided to us by Orcutt's Advantage for free review.
Now, the two of us have been heading out to the water for years as a way to relax, collect ourselves, and will away the worries of the week. As many anglers know fishing takes patience and diligence. Wouldn't it be nice to have a fishing advantage? It is just the thing necessary to break normal habits and take your mind off of all the nonsense happening in the workplace. We have had the opportunity to fish many great rivers and lakes all across the US but we always return to our favorite fishing hole in the heart of Virginia. This time was different though. Not only were we out to have a calming weekend we also had an advantage that would land us something we never expected. 
Quick Reviews
For those looking for a clear-cut review of these products please check out the specific review pages: 
Disclosure: The products listed from Orcutt's Advantage were provided free of charge for an honest and unbiased review. Outdoorgearweb has no affiliation or relationship with the supplier tests each product thoroughly and gives high marks to only the very best.
Preparing to Test Our Fishing Advantage 
We headed out on a four-day trip, two half days with travel and two full days of fishing and camping. It was impossible to contain our excitement so we actually headed out even sooner on the first day. There was something about this mid-July trip that just made us ready to get out. Maybe it was the impacts of all of the Covid lockdowns over the last year. We had some time to make up together.  
Earlier we had received our shipment of Orcutt's Advantage lures which had been sent so quickly and securely that it was like we had entered a bait and tackle shop and purchased them onsite. One of the things that we liked most about Orcutt's Advantage is that all of the lures are handmade right here in America. In fact, the owner makes the product himself and really stands behind each of the lures he makes. Having a new set of lures provided to us at no cost that we could try out only lent to the over-excitement of the trip!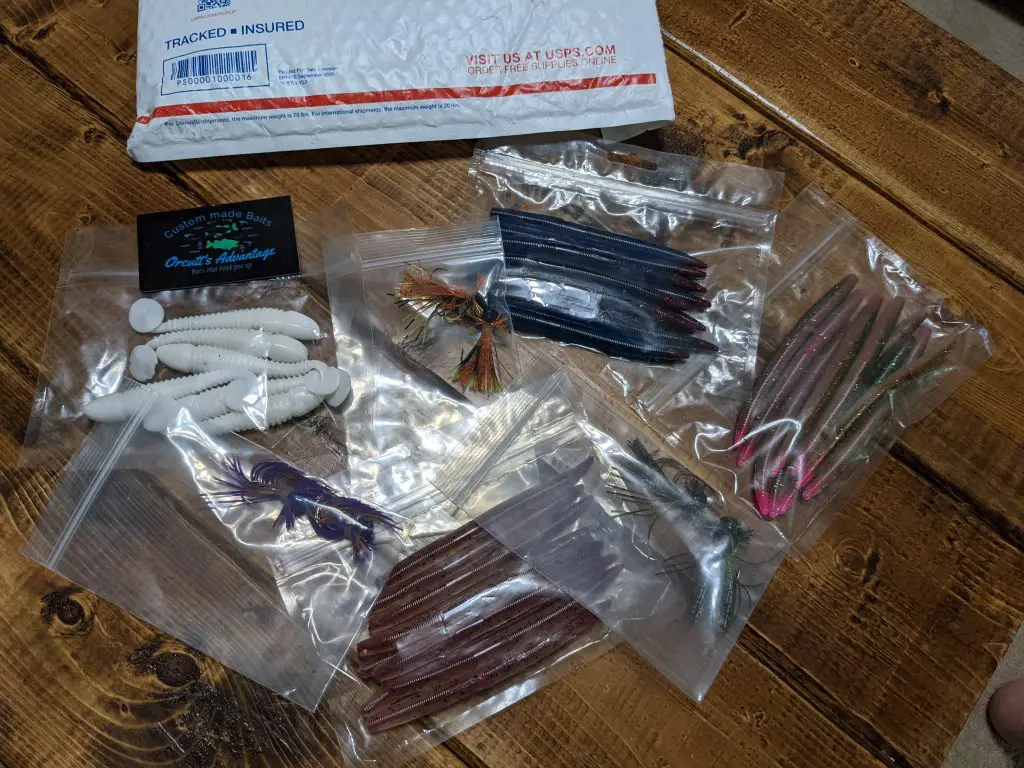 With our tackle box all set (What are the best lures to use?), the boat hooked to the truck, and we were on our way. Only a few hours after leaving we were at our campsite. We got everything all squared away at the campsite. After the tent was up, our air mattresses were blown up, sleeping bags laid out and the camp kitchen was set up we sat down at the picnic table to start prepping our rods. The July sun coupled with the humidity dampened our desire to try and fish just a bit but we found ways to keep busy around camp. That night the water was calling!  
First Casts of the Day 
The next morning, we were up before sunrise. We brewed ourselves a fresh pot of coffee on the camp stove and made sure that we had everything squared away for the first cast. In the evening the sky brought rain down on our tent and the temperature had cooled significantly. Somehow, we had managed the perfect fishing weather. Now the only hope was that the fish agreed and were willing participants!  
We launched the boat as the first rays of sunshine crested the hill on the East side of the lake. Deep shadows were cast all along the banks from the trees that lined the east side of the lake. The rain from the previous evening and the humidity caused a wonderful mist to settle in over the lake. As we pulled away from the launch, we noticed that there were quite a few insects active just above the water's surface. A great sign that feeding time would soon be near. We puttered over into the shadows to toss our first cast into the water. Would the controls be necessary to see the true fishing advantage?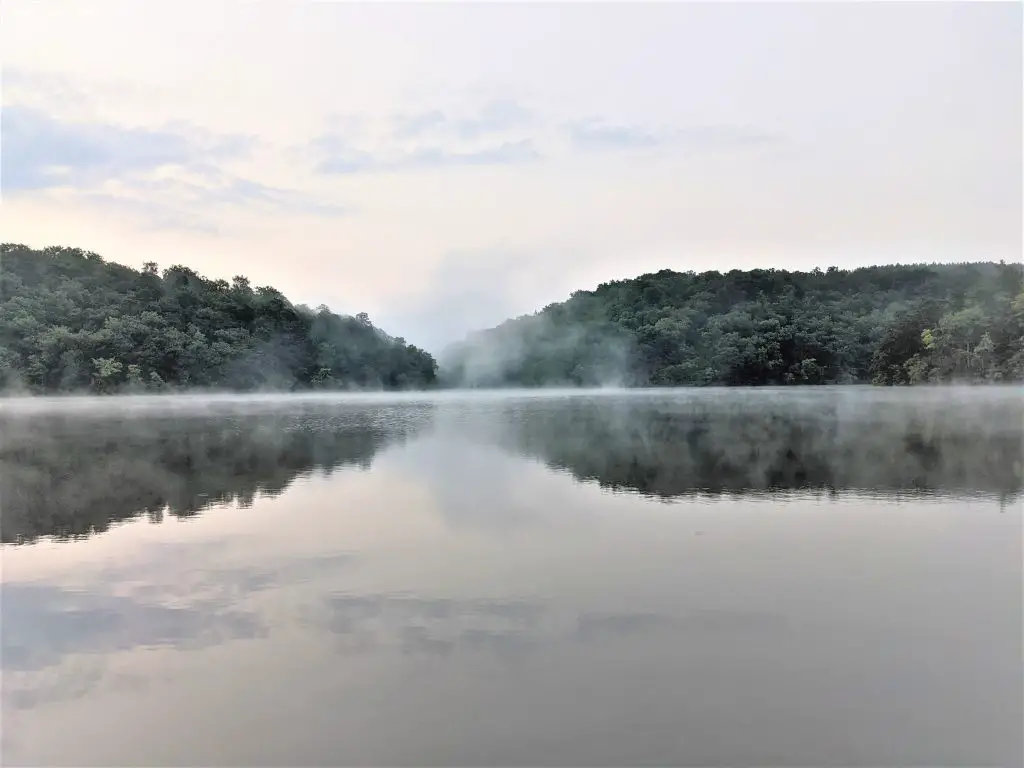 Control Casts
Initially, we both thought that it would be good to just run some control casts. Our favorite lake has fished for largemouth bass, yellow perch, crappie, catfish, and bluegill. We knew that at least something would latch on with such a selection! So, our first casts used nightcrawlers for control. We have always had some level of success in this lake with using live bait, especially in the shadowy areas along the bank under the overhanging branches.
The first casts were tossed into the water to see what we could pull out. On my father's second cast with the nightcrawler, he hooked up with a one-pound largemouth bass. It took the nightcrawler, but the fish was a pretty easy catch and really not much to write home about. Both of us had some on-and-off luck like this for the next half hour or so catching smaller baitfish. The nightcrawlers were pretty consistent throughout the whole fishing trip. The fish were biting but we weren't catching anything that would make us proud.  
Now to Use Our Fishing Advantage! 
We decided to use each of the lures that Orcutt had sent us somewhat methodically to test their characteristics. To my chagrin, we took turns running live bait against the lure from Orcutt to see if we were catching more, equal to, or less fish. As you will see the results for each lure pretty much speak for themselves. It was clear that they were well made as we took each one out of the package. They were soft, flexible, and had the right weight to them. We joked about how many fish we were going to catch with these lures. Had we only known what would end up on our lines as the weekend progressed? We weren't going to let a little rain get in our way! 
I think that it is important to note here that the fish count totals that we kept track of are over our three mornings of fishing.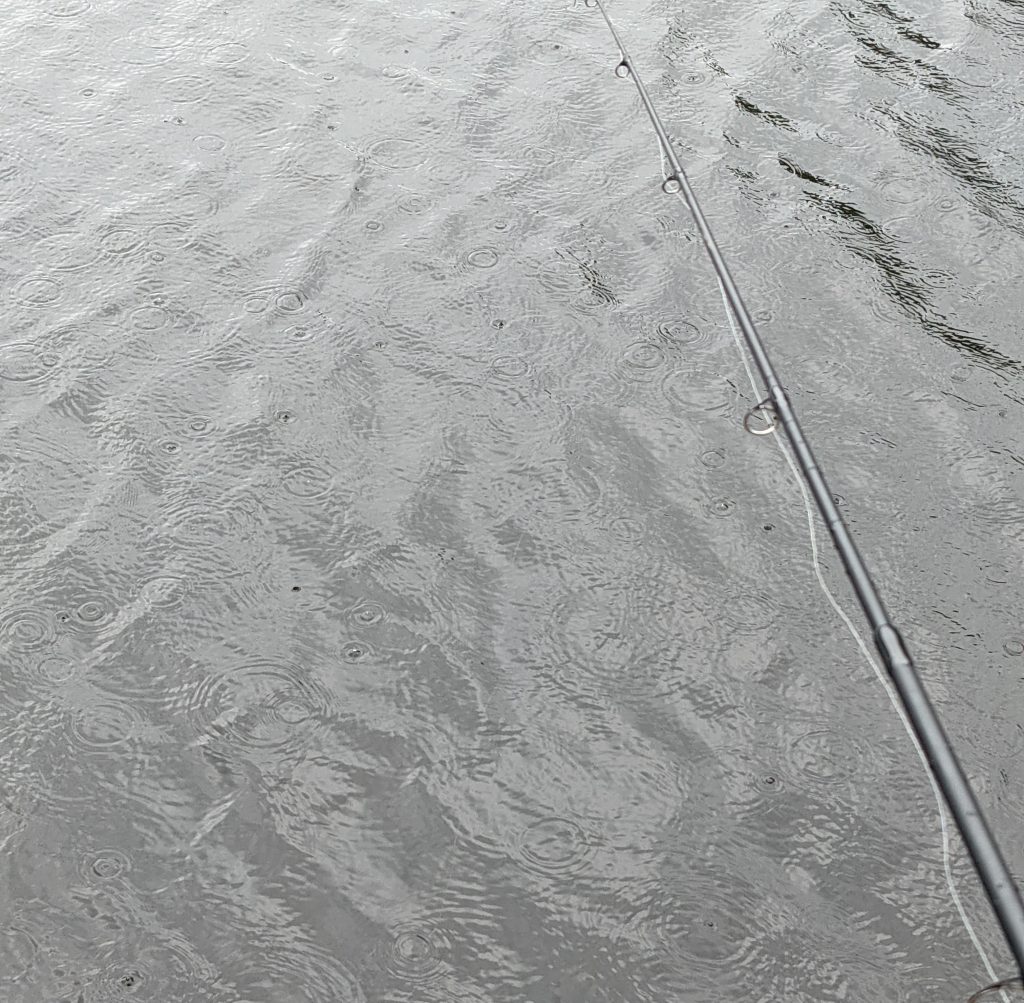 Core Shot Worms 
Orcutt provided three different core shot worms or stick worms including the 5″ Blue Shell with Zombie Blood Core Shot Stick Worms, 5″ Custom Rainbow Trout core shot stick worms, and 5″ PB&J Core Shot Stick Worms. Each package of core shot worms came individually sealed with a resealable pack with a total of ten stick worms included. This gave ample test units out on the lake.
You know, these soft stick worms are a staple, everybody has them. Everybody catches lots of fish with them. So, we were confident we would catch something here as well. I Texas rigged it with a four-zero-weighted hook and quarter oz tungsten bullet weight, unpegged. With these worm lures, we really wanted to try fishing in a lot of different areas within the water column. Right from Orcutt, these do have salt added to help with the sink which is a nice added feature. So, while we started with this rigging, we did modify a bit as we went switching between poles.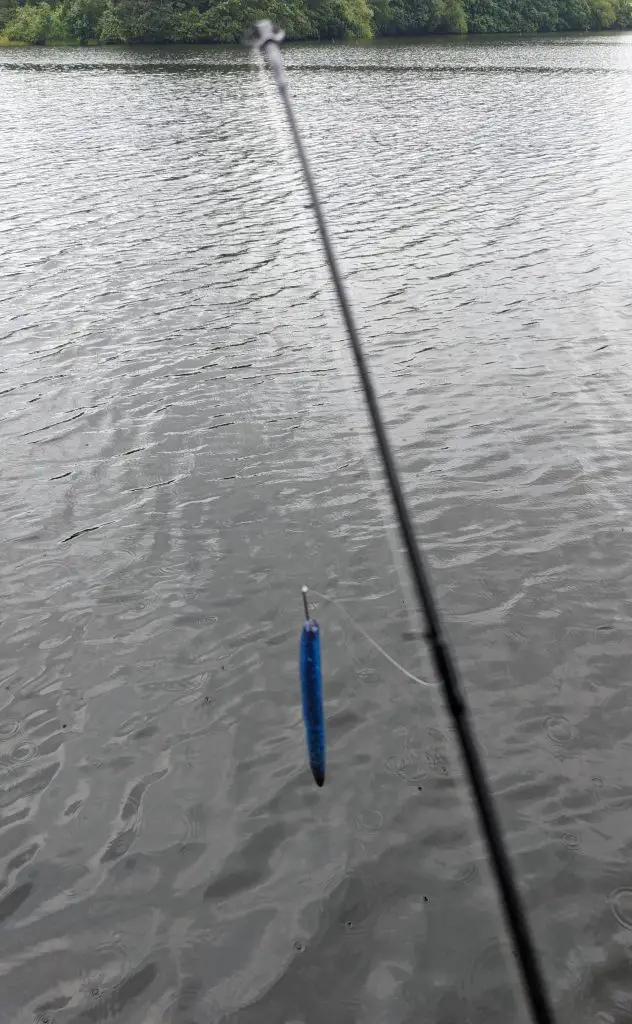 First up, the Blue Shell with Zombie Blood worm. Getting started on this worm was a little slow but that was likely caused by me reeling too fast in my excitement. On the fourth cast with this stick worm, we had a BIG STRIKE, but I failed to connect. My shameful user error continued. Then, my fifth cast of the first day, BINGO, I had a great strike, but a frail fight.  I thought it was a fairly small fish until we saw it.  It turned out not to be a bass, but a nice-sized crappie. That took us by surprise. A short time after this I caught another crappie, but no bass.  So, I gave up the lure casting to my father so he could have a chance and I switched over to the live bait for a few casts. 
Time to switch colors
Switching colors to the PB&J worm yielded some similar results. I was really hoping that the color difference between the three may give us a difference in the fish count. You may find in your own fishing spots that the color specifically matters due to water clarity but for us, it was the same. We did have some success catching both bass and crappie with the different colors. However, the custom trout worm didn't seem as enticing to the bass. The good part about this though is that the stick baits are consistent no matter the color. This means that no matter which core shot you are looking at with Orcutt you will likely land a nice fish. 
My dad landed a two to two-and-a-half-pound largemouth bass which set him one fish ahead of me. We were both pumped, but the fishing was slower than we were expecting. So the decision was made to try dropping a little lower in the water column. How would the stick worms do with the bottom-lying ambush fish? I rigged up a nightcrawler and my father switched between all of the stick bait colors over time. He had caught one catfish but I was more successful with them using nightcrawlers.
I attribute the slow catfish lands to the smell of the nightcrawlers. A potential upgrade for the Orcutt lures in the future would be to include stronger scented lures. All three of the core shots we received came with in-house sents added with the blue zombie and the PB&J smelling of coffee. The scents were not very noticeable. That being said, they do catch fish and they do it well.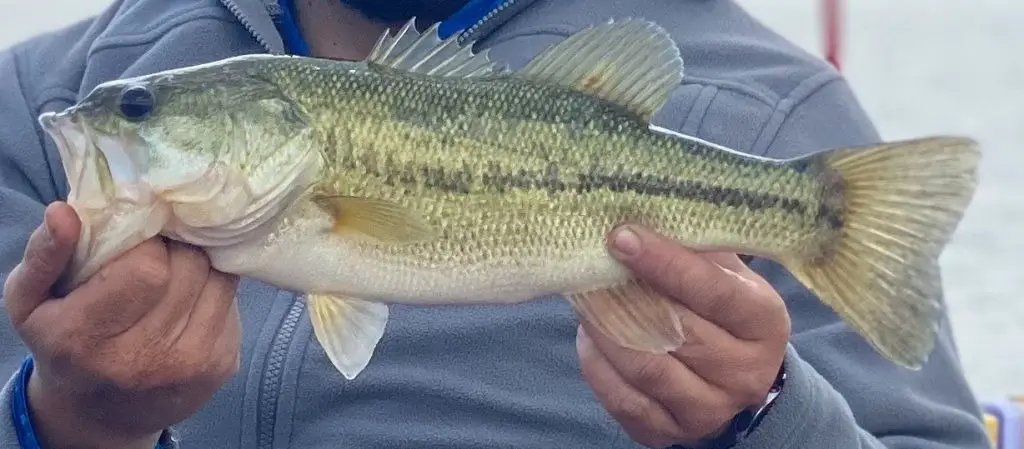 | Lure/Bait | Bass | Crappie | Catfish | Yellow Perch |
| --- | --- | --- | --- | --- |
| Blue Zombie Worm  | 1  | 2  | 0  | 0  |
| PB&J Worm  | 2  | 1  | 1  | 0  |
| Custom Trout Worm | 0 | 1 | 0 | 0 |
| Nightcrawler  | 1  | 0  | 3  | 0  |
The Verdict
Since we caught more fish overall with the stick worms, we would give these a high rating of 4.5 out of 5 stars as they are a fishing advantage. They were consistent, easy to rig, a good weight, and versatile catching three different kinds of fish. Our only drawback here is that we would like to see the scents be a bit stronger to help draw out more catfish. (If the scent is not a concern to you then these are a solid 5 out of 5!) 
Fitness Jig 
For the jigs that were sent by Orcutt, we had requested testing the Midwest fitness jig. Owing to the superb customer service provided by Orcutt he actually provided us with three different colored jigs. These included green/pumpkin, brown/purple, and green/pumpkin red. Now Orcutt even says that this is technically a Ned jig disguised as a fitness jig. That didn't have any effect on our trials though. There were two jigs provided in each resealable bag from Orcutt's Advantage.
The first jig that we tried was the brown/purple one.  My father was a little jealous since I was starting out on this jig as he had to start with the live bait on this test for a second time. Hey, the writer gets the first crack at the provided test items! In truth, we switched out very rapidly between the different colored jigs. We found that they all behaved in much the same way and we had success with each of them.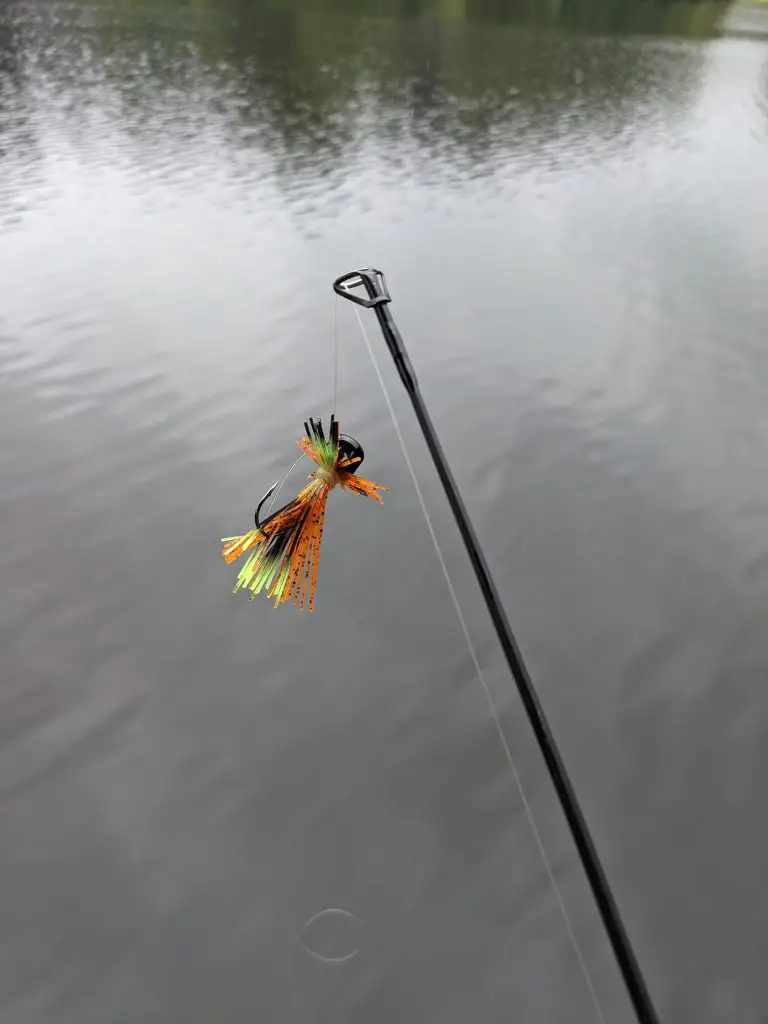 Casting the Jigg
I found that all the Fitness Jigs cast like a bullet and were easy to walk the dog across the surface. Admittedly, I did not land a fish on the first cast which was a bit disappointing but I did take that opportunity to keep it close to the boat and see how it looked just below the surface. Using some different pole techniques, I was able to make the action on the jig seem very realistic. So far, the jig was holding up to expectations about looking good in the water and there were even a few smaller fish lurking just beneath that I could see were interested in it. 
The first fish that we landed with the brown/purple jig was a medium-sized bass of about two pounds. It gave us a bit of a fight but not much. A real surprise came after about twenty minutes of fishing. We landed a yellow perch on the green/pumpkin jig. While we have caught some perch before in this lake, it was few and far between. We have also tried other jigs and have not had any success with the perch. So clearly the way this jig looked in the water helped entice the perch out of their hiding. In fact, we caught another perch the next day using the green/pumpkin red jig. There is something about that color combination that the perch really liked. We were very proud of these catches because for us they are so rare. 
| Lure/Bait | Bass | Crappie | Catfish | Yellow Perch |
| --- | --- | --- | --- | --- |
| Fitness Jig  | 1  | 0  | 0  | 2  |
| Nightcrawler  | 0  | 2  | 0  | 0  |
The Verdict
While we did catch more with the Jigs than the Nightcrawlers it was not much overall. We were pleasantly surprised with the success of the yellow perch in the lake though and that gave us a fishing advantage. It was not really what we thought we were going to catch and we ended up with two. So, in this case, it is actually the type of fish being caught that is more important than the total. If you are looking to catch specific types of fish then using the jig would provide you with a fishing advantage. We rate this one a 5 out of 5 for its success with the perch and bass over our control casts as well as its action, weight, and quality. 
White Swimbait 
Our final lure to test out on this trip was the 4″ swimbait which came in white. This is the lure that I was most interested in trying out and the packaging was on par with the other two lure types provided. The size and the shape seemed to lend themselves to catching some monster fish. It may not be one that you want to try with a pond or lake that you know has smaller mouths.
The only downside that I saw to this one was the white color. I was fishing in a somewhat murky lake with visibility to only about six inches below the surface. Actually, the bright white color actually aids in this setting because it stands out, but if you are fishing in clearer water, it may not mimic the natural prey of the fish enough. Orcutt does provide ample other custom color selections to mimic natural prey.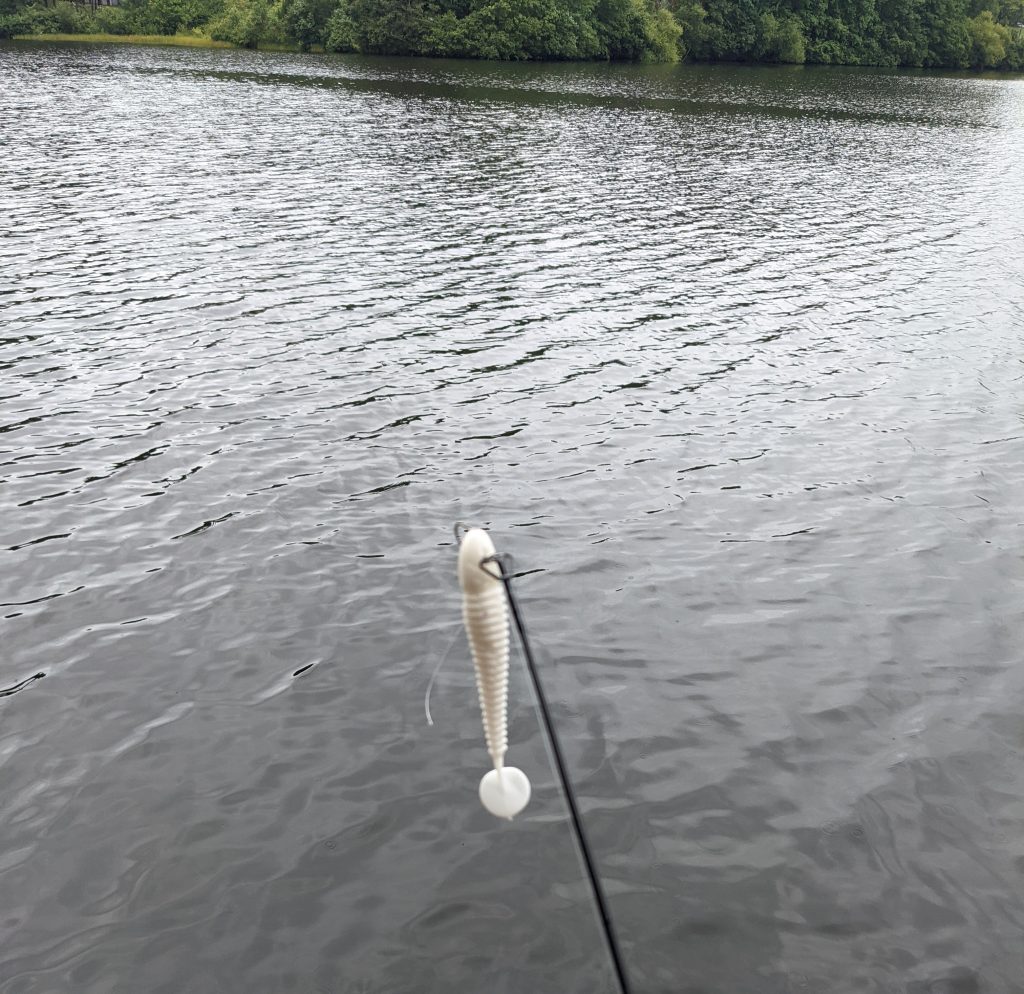 Action and Look
We saw that the lure action on the swimbait was exceptional. The twist of the tail through the water created a churn that was visible in my close-to-boat tests. In fact, one of the ways that we found this bait works well is through the trawling of our boat. Placing this in the water and letting it hang while the boat slowly moved us along proved very successful. I can appreciate this because it allows for varying types of fishing.  We were able to catch multiple basses with the swimbait as well as a crappie.
This lure looks fairly exceptional in the water despite its color, and I was pleasantly surprised. It did stand out against the murkiness making it easier to see for fish. The lure has a steady head and active tail motion. I had it rigged on a four-zero-weighted hook for casting.  Not to mention, the overall weight and aerodynamic profile make for long casts. This was important as the day continued my casts were starting to fizzle a bit. With this set up I was able to get my casts out nice and far providing some long reels to simulate the bait swimming. 
My weekend monster
I thought the swimbait looked yummy for a fish, and clearly the bass agreed. As one smashed the lure, took it down, then up. The only feeling we had was amazement. Time for our first real fight of the weekend! I could tell as I was working this fish that I had a good-sized bass on the line. It was a strong one and my father was cheering me on. Now so you know, it had been quite a while since we had caught something like this. I kept working the reel and bringing my catch in. As it got closer to the boat it was like the fish could sense the fight was coming to an end. In a last-ditch effort from the fish, I felt a hard tug and then it breached the water.
Now, I know a fisher's ruler is on a sliding scale but that fish was a solid twenty inches. I was in the fight now! That reel cranked even faster and harder to get that fish in the boat. A few minutes later I had it on the boat. The actual measurements were eighteen inches and just shy of four pounds. This was clearly the best fish I had caught in a while and a real keeper for dinner later that night!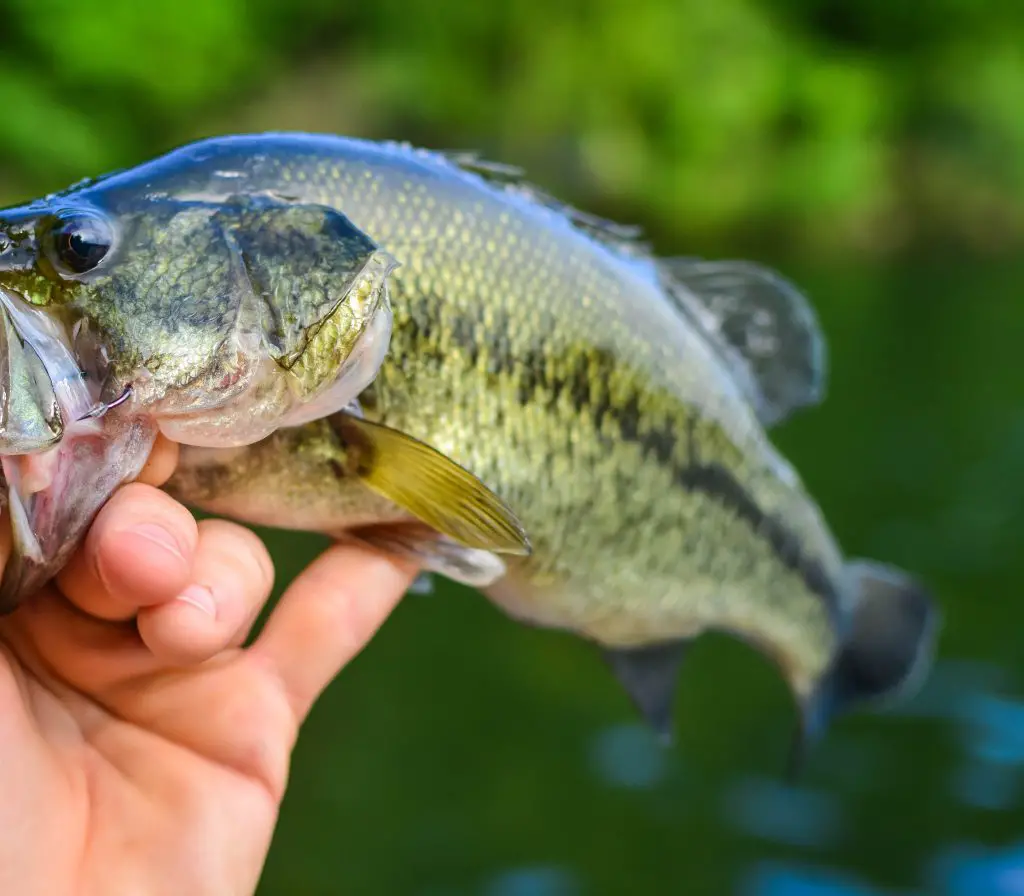 We continued using the swimbait throughout the trip and had some additional success with catching bass. None of the others that we caught were nearly the same size but they were larger than what we were catching with the live bait. We also had one confused crappie which was clearly having a size identity crisis.  
| Lure/Bait | Bass | Crappie | Catfish | Yellow Perch |
| --- | --- | --- | --- | --- |
| Swim Bait  | 4  | 1  | 0  | 0  |
| Nightcrawler  | 0  | 2  | 1  | 0  |
The Verdict
This swimbait was successful in the water because of its lifelike action to the prey of the bass. We often catch bass here but not as consistently as we did with the swimbait which we consider a fishing advantage. It also provided us with different types of fishing through both trawling and repetitive casting. This coupled with the size and quality leads us to give this bait a 5 out of 5 stars (our big bass catch didn't hurt either!)  
So is this a Fishing Advantage? 
Overall, the Orcutt's Advantage lures proved to be very reliable in landing fish and is a fishing advantage. As you can see, we had an incredibly successful day fishing. This is due in part to the fish being cooperative. However, I am giving most of the credit to the lures that we were using. In total over the weekend, we caught 26 fish of varying species. Of the 26, sixteen of these were on the lure over the live bait which well exceeds half of the total fish. It isn't all about counting though either! The fish that we caught using the lures tended to be a little larger in size and I account for this to the size of the lures themselves. We believe that the larger fish found them to be more appealing. This was especially the case with the swimbait and its natural action.  
Both my father and I found that the Orcutt lures really did provide an advantage to us in our fishing. We would recommend using these lures for those who are either experienced or beginners as they do provide the needed weight, action, and success that fishers are looking for. In addition, while ours were provided at no cost for an honest review, we can see that they are reasonably priced for the quantity and American-made quality that is received.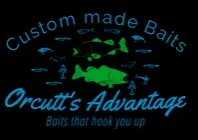 Yes, a True Advantage!
I've tried a lot of different lures over the years, and I want to tell you, that these are definitely up there with the big brand lures. They were consistent, balanced, and effective. I would have liked to also see some different scents included to help along with some of the other types of fish that are in our fishing hole, but that is a preference for me. Orcutt has really thought this through these custom baits and made them a standout while providing a fishing advantage. If you are in the market for new reliable lures to add to your tackle box then the Orcutt's Advantage would be a great addition.