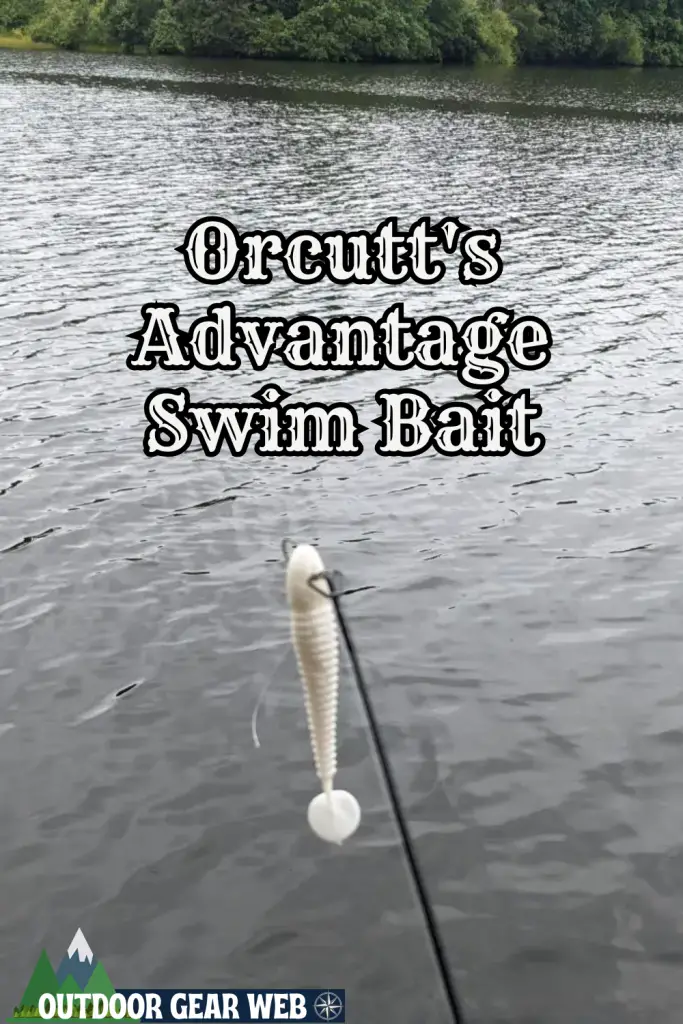 We received Orcutt's Advantage Swimbait direct from Orcutt in order to test and review the worms. We decided to use each of the lures that Orcutt had sent us somewhat methodically to test their characteristics. To my chagrin, we took turns running live bait against the lure from Orcutt to see if we were catching more, equal to, or less fish. As you will see the results for each lure pretty much speak for themselves against the nightcrawlers. Running this type of test allowed us to see specifically the performance of the Midwest Jigs. If you are in the market to add some effective lures to your tackle box then you may want to start with Orcutt's Advantage.
Disclosure: The products listed from Orcutt's Advantage were provided free of charge for an honest and unbiased review. Outdoorgearweb has no affiliation or relationship with the supplier tests each product thoroughly and gives high marks to only the very best.
---
Check out our fishing trip where we put these lures to the test and caught something surprising!
---
Swimbait
Need to know the difference between a swimbait and a jig? Click now to find out!
We tested the Orcutt's Advantage 4″ swimbait (AKA jerk bait) which came in white. This is the lure that I was most interested in trying out and the packaging as mentioned before made for a quality item that could be easily preserved in a tackle box. The size and the shape seemed to lend themselves to catching some monster fish. This could be a downside if you are fishing in a smaller pond or lake. It may not be one that you want to try with a pond or lake that you know has smaller mouths. As with any fishing lure, it is critical that you learn the things that your local fish prefer. That is what is going to make you the most successful.
The only immediate downside that I saw to this one was the white color. I was fishing in a somewhat murky lake with visibility only about six inches below the surface. Actually, the bright white color actually aids in this setting because it stands out, but if you are fishing in clearer water, it may not mimic the natural prey of the fish enough. Orcutt does provide ample other custom color selections to mimic natural prey. Each of the different colors may help you in varying situations and conditions so take this into consideration when ordering.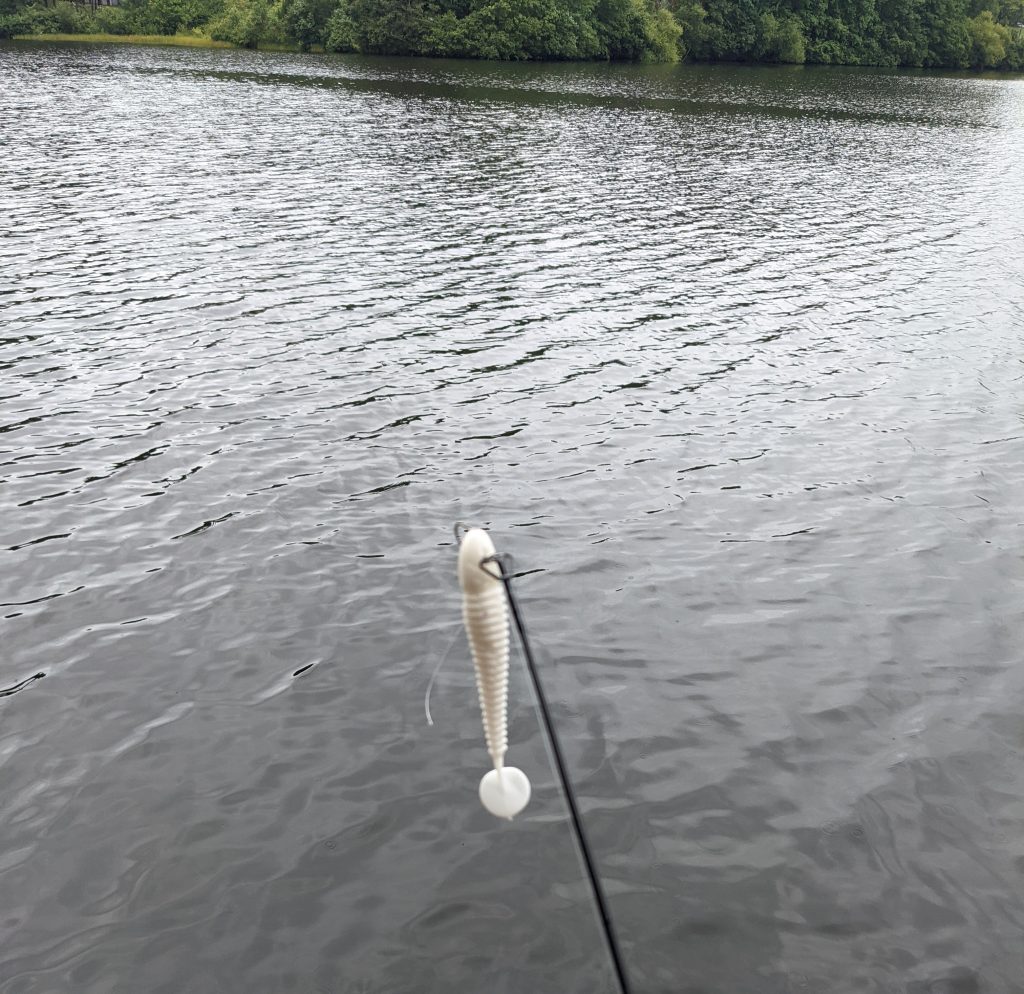 We found that rigging these swimbaits was quick and easy. While in general swimbaits are fairly easy to rig, they can be highly effective for catching multiple different types of fish. This too depends on the type of fish available in your lake. For us our primary catches were bass, and you will likely see most anglers searching for bass with this type of lure. It definitely succeeds in providing bass-catching with its herring scent.
Swimbait Action and Look
We saw that the lure action on the swimbait was exceptional. The twist of the tail through the water created a churn that was visible in my close-to-boat tests. In fact, one of the ways that we found this bait works well is through the trawling of our boat. Placing this in the water and letting it hang while the boat slowly moved us along proved very successful. I can appreciate this because it allows for varying types of fishing.  We were able to catch multiple basses with the swimbait as well as a crappie.
Sometimes a video is worth its weight so here is the swimbait in action
Swimbait Looks
This lure looks fairly exceptional in the water despite its color, and I was pleasantly surprised. It did stand out against the murkiness making it easier to see for fish. The lure has a steady head and active tail motion. I had it rigged on a four-zero-weighted hook for casting.  Not to mention, the overall weight and aerodynamic profile make for long casts. This was important as the day continued my casts were starting to fizzle a bit. With this set up I was able to get my casts out nice and far providing some long reels to simulate the bait swimming. 
I thought the swimbait looked yummy for a fish, and clearly the bass agreed
Fish Count
| Lure/Bait | Bass | Crappie | Catfish | Yellow Perch |
| --- | --- | --- | --- | --- |
| Swim Bait  | 4  | 1  | 0  | 0  |
| Nightcrawler  | 0  | 2  | 1  | 0  |
We continued using the swimbait throughout the test and had some additional success with catching bass. Each of the fish we caught was of varying size and ranged from large to medium. All the fish we caught with the swimbait were larger than what we were catching with the live bait. We also had one confused crappie which was clearly having a size identity crisis. From the counts, you can see that the swimbait was highly effective in catching fish in comparison to the live bait that we used as a control. We lend this to the fact that the swimbait also had a natural herring scent on it. Sometimes a scent can push a lure over the top on effectiveness.
Shipping and Quality
Earlier we had received our shipment of Orcutt's Advantage lures which had been sent so quickly and securely that it was like we had entered a bait and tackle shop and purchased them onsite. The swimbait came packaged in a resealable zip-top pouch. While we only received the white swimbait we found that the other lures came separated by color. Our assumption is that this packaging technique would be used for the different colors of swimbait as well. This pouch was fantastic for keeping the lures fresh for use when out on the lake. Additionally, I appreciated that it helped to keep the old tackle box organized.
A Handmade Advantage
One of the things that we liked most about Orcutt's Advantage is that all of the lures are handmade right here in America. In fact, the owner makes the product himself and really stands behind each of the lures he makes. It was clear that they were well made as we took each one out of the package. They were soft, flexible, and had the right weight too. The swimbait is a well-crafted lure that provides heft weight and a positive herring smell.
The lures themselves did not have any manufacturing defects or things that would set them off as being inferior. Our swimbait was able to live through multiple hooks and unhooks throughout our testing. While the material did start to split over time we felt that is to be expected with this type of lure and not that it was a defect in the quality itself. We fished these lures hard and over time they started to show it appropriately.
The Verdict
This swimbait was successful in the water because of its lifelike action to the prey of the bass. We often catch bass in our test location but not as consistently as we did with the swimbait. That's why we consider it a fishing advantage. It also provided us with different types of fishing through both trawling and repetitive casting. This coupled with the size, quality, and added scent leads us to give this bait a 5 out of 5 stars (our big bass catch didn't hurt either!)  
With so many color combinations and action styles available from Orcutt we are confident that you will see some added success in fishing.