Every product has that one additional accessory that makes the product immensely better. The Blackstone Griddle is no exception. After using my Blackstone Griddle a few times I realized that it was missing something. I was missing the best Blackstone Accessory available. Now, most people use their Blackstone at home. A few, well more than a few in honesty, use it while camping. I am one of those people! Luckily this accessory is something that you can use whether you are at home or in the RV.
Now I perused many Top Blackstone Accessory List like this one. I bought many gadgets and add ons from these lists. Let's be honest, those lists provide some great insights. However, I found myself always thinking there is something that could make my life just a bit easier. So what was it that I was missing?
First What is a Blackstone Griddle?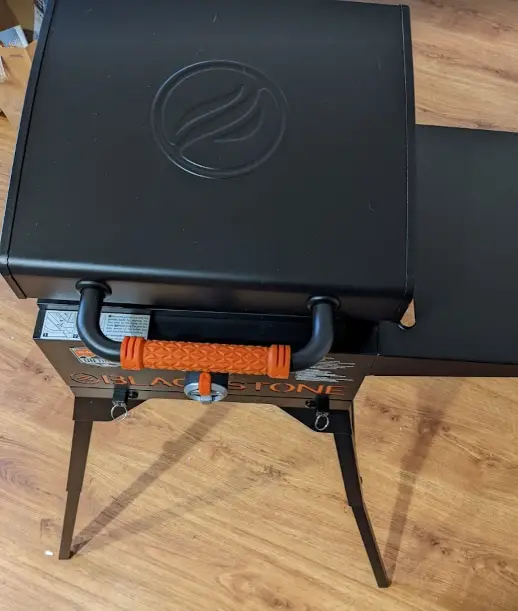 Doing a quick search of Blackstone Griddles you will find that there are numerous options to choose from. Essentially, when you buy a Blackstone Griddle you are buying a steel flat-top cook surface. It may have multiple burners or zones depending on the size that you purchase. This helps with heat distribution and the steel provides a non-stick surface when properly seasoned.
Overall, Blackstone provides a quick cook surface that is easily cleaned. This will reduce the number of dishes that you need to use. There are tons of accessories that you can add to your griddle as well making it even more versatile.
While there are many models the one that I am reviewing is the Blackstone 1939 17-inch version. I really needed the ability to store the griddle in my trailer but still have space for cooking for a family of four. The 1939 model gave me this blended capability with a collapsible stand. In fact, it is built to get even smaller!
However, with all of this greatness, I still needed to find the best Blackstone Griddle Accessory
---
Want to know if you should buy a Blackstone Griddle? Check out this review now!
---
The Ease of Set up
Once I was at the campsite, griddle set up was crazy easy. All I had to do was unfold the legs, set the retaining pins, and then place the griddle on top. I hooked up the propane and the electric start fired right up. I was cooking in under five minutes which made for happy kids after a long ride to the campsite.
One of the things I love about my Blackstone is that I can set it up so quickly at the campsite. However, I often find myself always wanting to improve my process times. Maybe it is the engineer in me. Maybe it is that I don't like setting up and tearing down. I am sure many of you are like me. As a little preview, the best Blackstone accessory is hiding in plain sight right on the sturdy side table.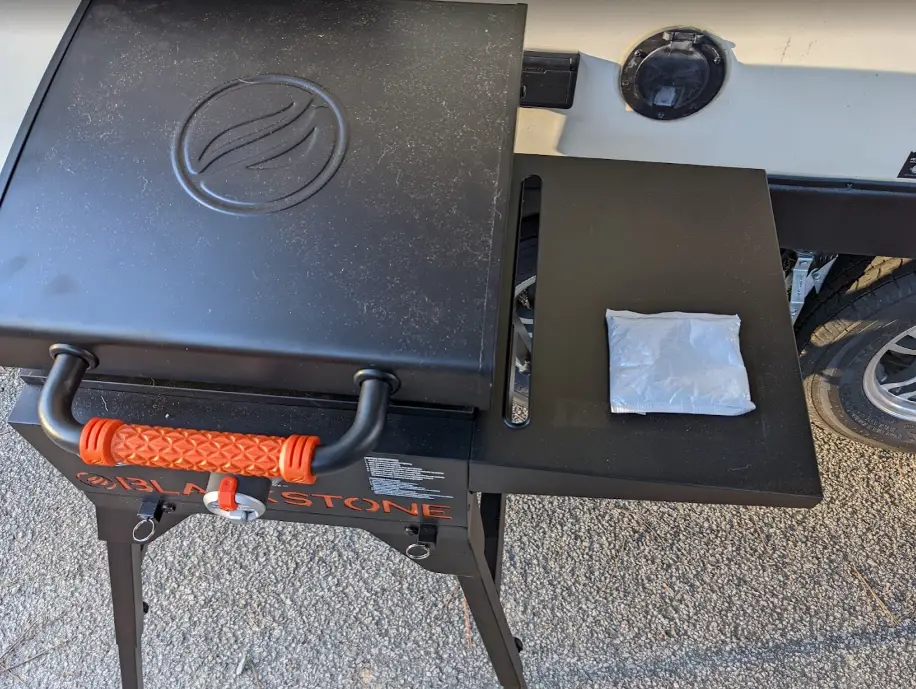 Out of the Box Cooking
Thinking back to my old camp stove, which I dearly love, it took me some time to set up. This was because I would need to unpack it, open it up, connect the propane connection, and then the tank. I would have to lug small green propane tanks around with me wherever I went. Not only that, but I think we have all been on long camping trips where we have run out of propane.
One of the things I wanted to get away from with my camp stove was lugging those tanks around. While not a main reason, this was one of the benefits of a travel trailer. I always had two 30lb propane tanks with me which meant less refueling and the truck did most of the lugging work.
Out of the box, the Blackstone Griddle requires that you bring along your propane tanks to cook. Great I thought as I purchased, I have two huge tanks with me. I don't need to buy more little green cans of propane. Instead, I can use my travel trailer propane. Boy was I surprised when I was assembling my griddle. This is where the best Blackstone Accessory comes in.
The Best Blackstone Accessory
I bet that you can guess what the best Blackstone accessory is at this point. If not, I will lead you on a bit more. This accessory is less than four inches by four inches and actually costs less than fifteen dollars! It is lightweight and easily packed. You can either permanently attach it or carry it separately.
Okay, okay. Enough of that. The best
Blackstone accessory is actually a propane quick connect adapter and elbow. This simple attachment means that you can easily connect your Blackstone Griddle right to the quick connect on your travel trailer or RV. Having the ability to set up your Blackstone Griddle quickly and easily is fantastic. However, the quick connection will make it even easier. Additionally, you will save the time of having to carry extra bottles of propane around.
You can pick up this accessory from Amazon for less than $15!!
So why is this the best Blackstone accessory? Well, aside from the ease of set-up it allows your Blackstone to be versatile. Sure a set of spatulas or other cooking items will make your Blackstone functional, but those don't make it more capable. This simple and inexpensive accessory allows you to get closer to the family on those camping trips quicker. You also don't have to worry about lugging even more gear with you. We can all use a little more time and less junk in our trunk.
Accessory Installation and Safety
Installation of this is a breeze. You simply screw the connection point onto the pre-positioned joint provided by Blackstone. Then use your propane hose from the RV to connect to the griddle. Check for leaks and you are ready to fire up the grill. That is it! You are on your way to cooking.
There are some safety considerations that go along with its use. The first is that you need to make sure that you have a regulator inline on the propane tanks. For travel trailers, these are with the tanks. If you are using it at home make sure that you have a tank regulator. Additionally, you will want to make sure that you check the connection every time to prevent leaks.
Now get cooking!
Once you have the best Blackstone Accessory connected and you have run your safety checks, it is time to get cooking.
For instance, I love cooking breakfast sandwiches on my Blackstone Griddle. I took the Blackstone Griddle a little further with this meal. Who doesn't love a great breakfast sandwich? I cooked the sausage, eggs, and toasted the English muffins all on the Griddle! Can we scream one pan! I loved that everything cooked well and clean up was easy.
At the end of the camping trip, I didn't even have to worry about storing propane canisters! Instead, I just decoupled the quick connect folded up my collapsible Blackstone, and got on my way. That quick connection saved me so much time and allowed me to streamline my whole camping process.
The Best Blackstone Accessory Final Thoughts
There are many accessories that are out there that will make cooking with your Blackstone easier. From spatulas to food covers you will find anything to kick the way you cook up a few notches. However, the best Blackstone accessories actually make the Blackstone more functional. It makes set up and tear down whether with the RV or at home loads easier. It gets you cooking faster and gives you more time with your family. So if there is one accessory that you must buy for your Blackstone then I recommend this quick connect adapter. Make your life easy and enjoy that Blackstone even more!
Do you have a Blackstone Griddle Accessory that you would like to share? Share it in the comments below or on our Facebook, Twitter, or on Reddit!