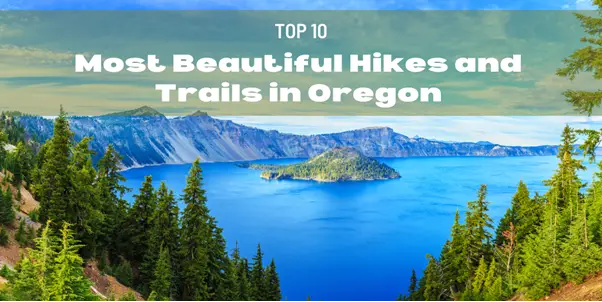 Oregon is full of natural beauty and we're here to help you find the most beautiful hikes and trails in Oregon for your next adventure! 
it doesn't matter if you are looking for the best hiking trails on the Oregon coast, trails close to Oregon City, or something with waterfalls. Oregon is a hiking paradise and there's something here for everyone. 
With so many amazing hikes to choose from, we've narrowed them down to our top 10 most beautiful hikes and trails in the whole of Oregon! 
---
Check-in on our trail talk for some helpful hiking hints.
---
1. God's Thumb via The Knoll  
When it comes to hiking in Oregon, we know a lot of people are after beautiful hikes on the Oregon Coast. We've found one that won't disappoint! 
God's Thumb is one of the most spectacular hikes on the Oregon Coast. It starts out with a beautiful forest and then quickly opens up to stunning views of the coast. This hike is not for the faint of heart, it has steep inclines and narrow paths, but it's totally worth it when you get to see those views from God's Thumb! 
This out-and-back hike is highly reviewed online, so you don't want to miss it. As a precaution, we recommend bringing good hiking boots or poles as the gravel can be quite slippery. 
The trail has been named "God's Thumb" by locals because of its shape, but the trail is signposted 'The Knoll'.  
Difficulty: Moderate 
Length: 6.9 km  
Dog friendly  
2. Multnomah Falls 
If you're looking for a trail with a waterfall, why not take the one with the highest waterfall in all of Oregon? The Multnomah Falls hike is an out-and-back that takes about an hour and a half to complete. It's an awe-inspiring sight and one of the most popular hiking destinations in the Pacific Northwest.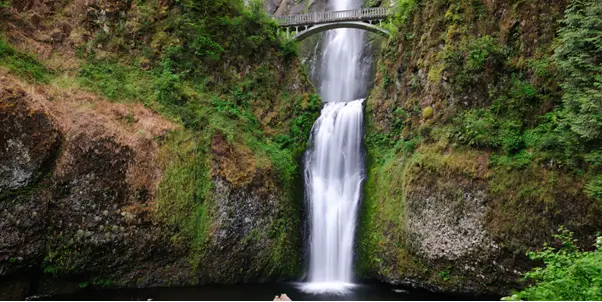 Multnomah Falls is considered kid-friendly and easy enough for beginners but still fun for experienced hikers. You'll cross several bridges as well as pass through lush vegetation and mossy forest floors on your way up to Multnomah Falls itself! 
There are several different viewpoints along the way! Be sure to stop at each one, because they each offer different views of this magnificent waterfall, especially Benson Bridge, located just above the lower falls. From this vantage point, you can get an excellent view of both sets of falls and enjoy their thunderous roar as they crash into each other. 
Dogs are welcome on this trail but must be kept on a leash.  
Difficulty: Moderate  
Length: 3.9 km  
Family-friendly  
Dogs welcome  
3. Castle Rock North Trails  
Our list of the most beautiful hikes and trails in Oregon continues with Castle Rock North Trails. This is because it is a popular trail in Oregon. It takes about an hour and a half to complete. However, you can make it as long or as short as you want by looping trails back to back. 
The trail itself goes along lots of hills and forest areas with wildflowers and birds. 
There are also several spots that overlook the river below as well as a few huge rock formations called "Castle Rocks" which look like castles from afar (hence their name). 
The trail is dog friendly, which means you can bring your furry friend along for the ride! If you've never been hiking before but want to see some amazing views of nature close, this is definitely the place for you! 
Difficulty: Easy  
Length: 5.6 km  
Family-friendly 
Dogs allowed on a leash  
4. South Sister Trail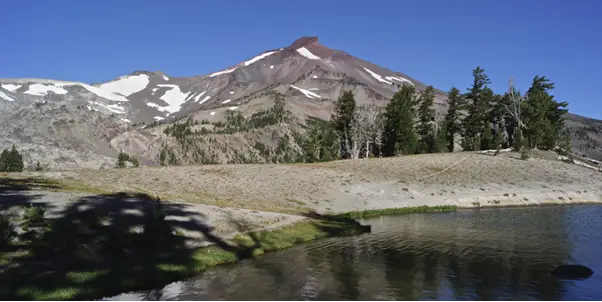 If you want to get a good view of The Sister Mountains, this is your trail. The South Sister Trail is a relatively non-technical, straightforward climb year-round and takes an average of 8 hours and 37 minutes to complete. 
The true beauty of this hike is all around you as you climb. Forested areas give way to open alpine meadows that are home to wildflowers in the summer months. 
The summit, at 10,358 feet, is one of Oregon's tallest mountains. It offers breathtaking views of Middle Sister, North Sister, Three Fingered Jack, and all the way to Mount Hood or even into Washington on a clear day. 
Previous visitors recommend microspikes and poles to assist you on your way up, as well as starting early if day hiking! 
If you're looking for an adventure that won't disappoint—this is on of the most beautiful hikes and trails in Oregon! 
Difficulty: Hard 
Length: 18.7 km 
Best for Backpacking & Camping 
Dog friendly  
---
You may want to see these dollar store camping hacks for your next trip.
---
5. Eagle Creek 
For the hikers who are waterfall lovers, we have another longer trail for you. The Eagle Creek Trail offers some great views of several Oregon waterfalls, including Tunnel Falls and Oneonta Falls (the largest waterfall by volume in Oregon). The trail even allows you to walk behind one! 
The landscape along the hike is spectacular, with lots of green in the first few miles, creeks, wildflowers, and breathtaking cliffs. 
Previous visitors recommend spending a night sleeping next to the river where you're promised an unforgettable sunrise in the morning! It's best visited in spring or early summer so you can really appreciate all of the beautiful waterfalls. 
Top tip: Bring sunscreen and bug spray! 
Difficulty: Moderate 
Length: 41.5 km  
Best for Backpacking & Camping 
Dogs welcome 
6. Neahkahnie Mountain via South Trailhead 
It's not every day that you get to see the Pacific Ocean from the top of a mountain!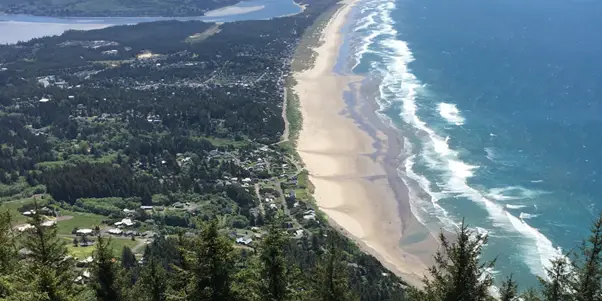 Neahkanie Peak is a beautiful out-and-back trail in Oregon that takes an average of 2 hours and 18 minutes to complete. 
You'll pass through a majestic old-growth forest before heading up to the top of Neahkanie Peak. Keep your eyes peeled for wildlife like deer and elk. The last part of the hike requires some scrambling over boulders, but once you reach Neahkanie's summit, you'll be rewarded with stunning views in all directions 
Previous visitors have said that if it's raining or foggy to take a pass on this peak. There are other summits that are more suited for rainy days. 
Difficulty: Hard  
Length: 6.3 km  
Dog friendly 
---
Want to learn how to camp in the rain? We have everything you need to know!
---
The next trails to make our list are two of the best hikes and trails in Oregon for families wanting to explore the area. 
7. Horsetail Falls and Ponytails Falls   
This beautiful Oregon trail is definitely worth your time! It's easy enough for families but still offers plenty of adventure for those looking for more than just an average stroll through nature.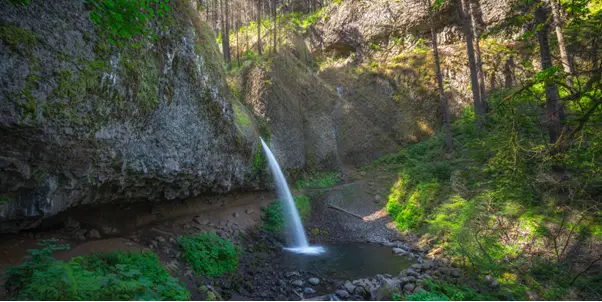 The hike to these two falls is a little less than a mile long and takes about 35 minutes to complete. The trailhead is right at the parking lot, so there's no need to worry about getting lost on your way there! Once you get there, you'll notice a short set of stairs down to a rocky shoreline and plunge pool below. You can even dip your toes in the cool water if you're feeling brave enough! 
Then it's just a 10-minute walk down another trail that's slightly harder than the first. This will bring you to Ponytail Falls, where you can enter a cave behind this fall for an exhilarating experience. 
Visitors recommend wearing proper shoes and taking caution as it may be slippery! 
Difficulty: Easy  
Length: 1.4 km  
Family-friendly  
Dogs allowed  
8. Mirror Lake Loop Trail  
Mirror Lake Loop Trail is another great family-friendly hike in the Oregon area. 
This trail crosses meadows and streams. It ends at a beautiful lake that's perfect for swimming, picnicking, and relaxing. There are lots of wildflowers in the spring, so it's a great time to visit. During the winter, you'll want to wear micro spikes and bring poles because the trail can get snowy and icy. 
One thing previous visitors warn about is mosquitoes, so make sure to pack bug spray!  
Dogs are welcome on this hike, too! 
Difficulty: Moderate  
Length: 6.8 km 
Best for Backpacking 
Family-friendly  
---
Still not convinced about these trails? Find the best trail for you!
---
9. Misery Ridge and River Trail  
If you're looking for the best trail in Oregon that includes a challenging climb and beautiful views, this is your hike. 
From the start of the trail, you'll instantly have incredible views of the Crooked River as it winds around and through rock formations. After crossing a small footbridge over the river you'll start climbing up to the back of Misery Ridge. This climb will be difficult for most hikers and there are steep drop-offs at times, so this route is not good for children or dogs off-leash. 
There are incredible views the whole way up and once at the top, there is a large rocky area to rest. You have plenty of opportunities to go off trail and explore the ridge area! Take along some binoculars to have a good view of the surrounding areas.
Take along some binoculars with you to enjoy those wonderful mountain views!
The return trail from the top includes some steep drop-offs so be careful and watch your step. And keep your eyes peeled for Monkey Face, an unusual rock column that resembles a giant monkey! 
After the challenging ascent up the face, you'll need to climb back down via some switchbacks. Then you'll enjoy a mostly flat walk along the river back to the starting point. 
Counter-clockwise is probably your best bet for this route, so you can get the big climb out of the way first. 
Difficulty: Hard 
Length: 5.6 km  
Dog friendly  
10. Netarts Spit Trail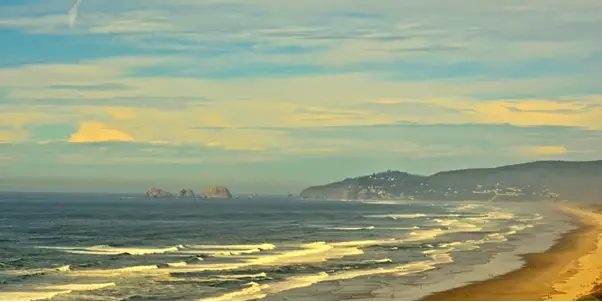 Netarts Spit Trail is a beautiful, quiet coastal trail that takes an average of 3 h 3 min to complete. It's another of the best trails on the Oregon coast and offers some of the best views of the area. 
This trail is great for those looking to enjoy the Oregon coast with very few people. You can expect to see beautiful coastal forests, ocean views, and views from Cape Lookout to Maxwell Point, including the massive offshore stacks of Three Arch Rocks. 
Previous visitors of the trail have reported seeing no footprints for the last mile of the hike; it's so secluded and peaceful! 
Come here between fall and spring and you may see seals hauled out on the flats. Scaups, loons, grebes and black brants are popular sights too! 
This trail has a popular campground area—so plan ahead if you'd like to set up camp here.  
Difficulty: Easy 
Length: 16.9 km  
Dog friendly  
Final Thoughts on the 10 Most Beautiful Hikes and Trails in Oregon
We've reached the end of the 10 most beautiful hikes and trails in Oregon. Whether you want to experience the crash of a waterfall or the soothing ocean waves there are hikes for you. One glaring omission that we recognize is that we did not include anything about Crater Lake! Don't worry, that goodness is coming soon so stay tuned!
We hope you've found some other trails to add to your bucket list too! While they range from easy to hard there is something for everyone. Remember that Oregon is more than just Portland! There are mountains, waterfalls, and wildlife galore. It is time to make your reservation to explore all that Oregon has to offer.
Now that you've read about these hikes, we want to know: Which is YOUR favorite? Are there any on this list that we missed? Let us know by commenting below, on our Facebook, or on Reddit!
We hope you enjoyed our list of The 10 Best & Most Beautiful Hikes and Trails in Oregon! And maybe even got a little bit inspired! So, what are you waiting for? Get out there and start exploring!