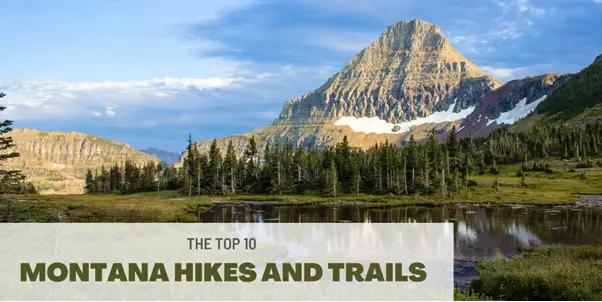 If you're looking for a truly wild place to hike, Montana's got you covered. Looking for the 10 absolute best Montana hikes and Trails, well, we have you covered!
Montana is one of the best states for hiking because it offers something for everyone: treks through the woods, hikes with waterfalls, and even some of the best backpacking in America. 
Whether you're looking to walk through a forest or climb up a mountain with your friends, Montana's got a trail that will satisfy your wanderlust. Not to mention more views than you can see in a single lifetime.
We've put together a list of the top 10 absolute best hikes and trails in Montana that showcase all that it has to offer: 
---
Getting a little cool in Montana for you? Check out these great hiking trails in Arizona!
---
1. Grinnell Glacier Trail 
For a breathtaking up-close look at glaciers, waterfalls, lakes, forests, and wildlife, be sure to check out Grinnell Glacier in Glacier National Park. This highly rated trail is the first to make our list of the absolute best hikes and trails in Montana and for good reason! 
The views from Grinnell Lake are nothing short of spectacular. The iridescent turquoise of the lake itself is awe-inspiring. It's the perfect trail for hikers who want to see phenomenal mountain vistas, as well as the colorful wildflowers that adorn the mountainsides. 
Hikers have two options for reaching Grinnell Glacier. From the Grinnell Glacier Trailhead, you can hike six miles to the glacier or take a boat across Swiftcurrent Lake and then another boat across Lake Josephine. This option shortens your hike by 3.5 miles.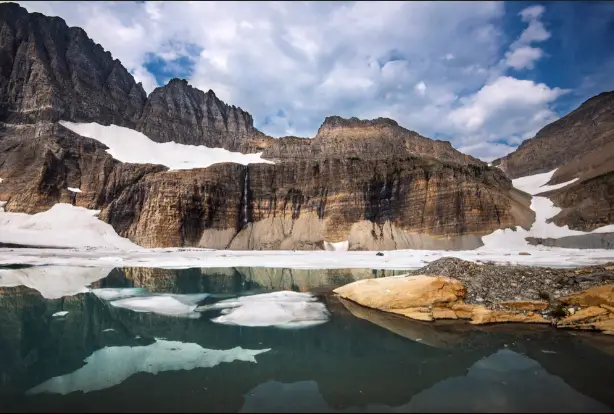 You'll have plenty of opportunities for wildlife spotting along the trail too, previous visitors have reported seeing bull moose, deer, elk, marmots, and even bears! So be sure to pack your bear spray and know how to use it. 
Be warned, that this trail can often have total or partial closures due to weather and hazards, such as snow and wildlife activity.  
Difficulty: Hard 
Length: 18 km  
No Dogs Allowed 
2. Electric Peak Trail  
Second on our list, is the popular backpacking trail, Electric Peak. 
It takes an average of 11 h 23 min to complete and is the tallest peak in the northwestern corner of Yellowstone National Park. Yes, part of Yellowstone is actually in Montana!
For most hikers, Electric Peak is best enjoyed as part of a 2 or 3-day backpacking trip. 
This trail has a lot to offer, including fields of wildflowers, views of the surrounding peaks, and lots of wildlife. The trail takes you up the valley, through the forest, and along creeks up to the base of Electric Peak and eventually to the summit. 
---
Here is a Yellowstone National Park Quick Guide to help plan you trip!
---
Previous visitors have warned that it can be challenging to reach the summit and that you must be committed to getting there, but the effort is very worth it. 
On a clear day, the summit of Electric Peak offers views for miles across Yellowstone National Park. 
Wildlife sightings are more common in the plains of Yellowstone National Park, including mule deer and bison. Bears have also been spotted here. 
If you like backpacking trips, you'll want to take a look at this one. 
Difficulty: Hard  
Length: 32.7 km 
Best for: Backpacking 
3. Iceberg Lake Trail  
The Iceberg Lake Trail is a must-hike for anyone visiting Glacier National Park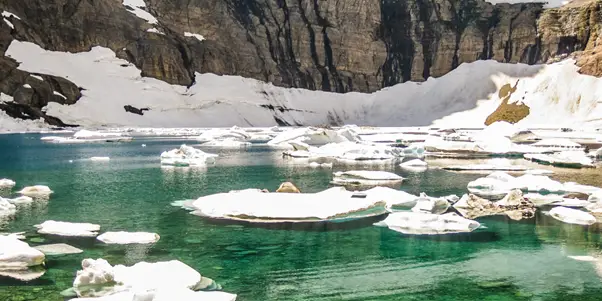 The out and back trail takes around 4 hours to complete, and you'll be rewarded with panoramic views for most of the hike! Most of the trail passes through open terrain, with some forested spots in the middle parts. 
When you get to Ptarmigan Falls, make sure to take a break! The views are beautiful and well worth the rest stop. 
The trail ends at a lake called Iceberg Lake—named for the icebergs that float in it all year round. Some of the icebergs are even big enough to stand on, and despite the water being cold it is bearable for brief dips. 
Although grizzly bears are often spotted on the trail, their presence cannot be guaranteed. The trail and/or adjacent areas may be closed for short periods of time due to bear activity, and carrying bear spray is recommended. 
Even if you don't see any bears on your trip, previous visitors say you're almost certain to spot some moose and deer 
Difficulty: Moderate  
Length: 15 km 
No Dogs Allowed 
4. Ousel Falls Park  
We thought it was about time to include an easier family-friendly hike on our list. This trail is one of the absolute best hikes Montana hikes and trails for all ages and experience levels. It is sure to please with its beautiful waterfall! 
Ousel Falls Park Trail takes about 44 minutes to complete, depending on your speed, and there are plenty of benches and a few picnic tables along the route for resting when needed or for having a nice picnic lunch before heading home.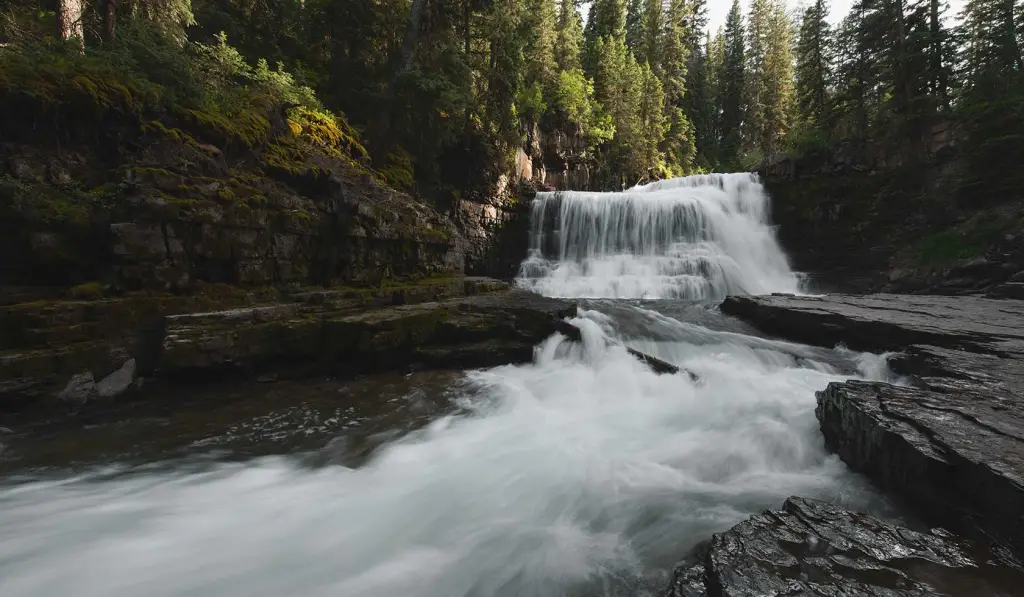 The running water along the trail and some low spots where you can stand in the river make this an ideal, fun destination for families with young children or dogs who might not be up for a longer hike. 
It has been hailed for being very well maintained and for not getting too busy and is bound to be a hit with your whole crew!  
Difficulty: Easy  
Length: 2.7 km  
Family Friendly 
Dogs Allowed  
5. Highline Trail: Logan Pass to Granite Park Chalet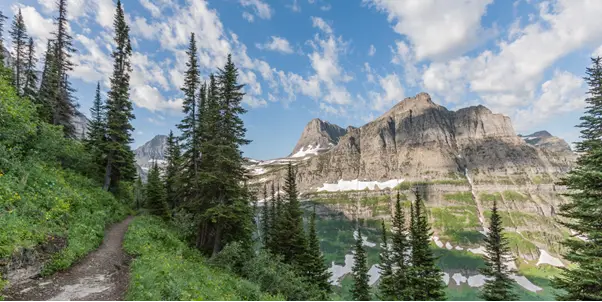 This out-and-back trail offers spectacular views and takes seven hours to complete, making it possible to do as a day hike. 
The Highline Trail is known as the pedestrian version of Going-to-the-Sun Road. 
It offers sweeping views, multiple small waterfalls, mini-stream crossings, lots of wildflowers, and incredible wildlife. Many visitors report seeing bears, bighorn sheep, and mountain goats. 
This trail does not require a shuttle back to the starting point, you can hike in and out at your own pace, so if you get tired you can turn around whenever you like. 
Previous visitors highly recommend this hike, but only for people with sure footing; it is a narrow trail with a steep drop-off on one side. 
The sun gets hot on this one so pack lots of water! 
Difficulty: Hard  
Length: 24 km  
Best for: Backpacking 
---
Finding the best hiking trail and season to hike for you is key for Montana.
---
6. Mount Aeneas Summit Trail  
Mount Aeneas Summit Trail is our number 6 pick for the absolute best Montana hikes and trails and it is a must-do for every outdoor enthusiast. 
It takes an average of 3 hours and 39 minutes to complete and provides beautiful expansive views of Glacier and Flathead Lakes. It doesn't get too crowded, and because of this visitors describe it as a local's hidden treasure. 
The first mile or so in the forest is accompanied by the amazing smell of pine, and a cooler part of the hike because it's shaded by trees. Described as a very peaceful hike on the way up, the summit then offers breathtaking views in every direction, where visitors also regularly report seeing at least a dozen mountain goats.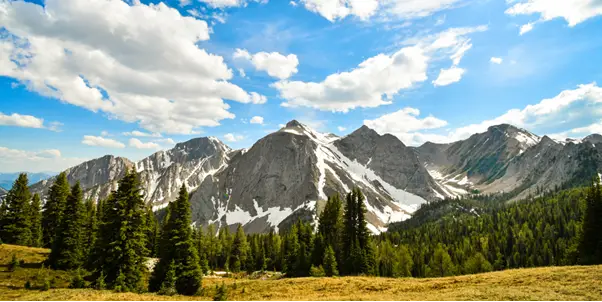 If you choose to skip over Mount Aeneas at just over 7,500 feet and head for more popular peaks with higher elevations, you may miss out on one of the most beautiful mountains in North America! 
Difficulty: Hard  
Length: 10 km  
Dog friendly 
7. The Beehive Basin  
The Beehive Basin Trail, provides one hour of adrenaline-pumping excitement. It is considered one of the best in Montana. This hike has some of the most awe inspiring mountain views that are sure to be why you come back to Montana.  
This challenging hike provides incredible views of surrounding mountains and lakes, including the famous Beehive Basin. The overall trail is 6.6 miles long with only about 1,500 feet in elevation gain.
It is best to go slow on this hike. Especially if you challenge yourself to boulder a bit to get a better view. Make this an all day hike and bring some delicious lunch with you. Taking it slow will allow you to view the wildflowers which are in abundance. Not to mention all of the wildlife viewing!
It is important to note that in the wintertime avalanche hazards are common in this area. Always check conditions before heading out on a hike.
For this adventurous trail, it's a good idea to pack your hiking poles so that they don't become a nuisance during climbs. 
Difficulty: Hard  
Length: 2.4 km  
No Dogs or Small Children Allowed  
8. Dawson Pass and Pitamakin Loop 
Dawson Pass and Pitamakan Pass Loop is one of the best hiking spots in Montana for backpacking trips. It takes about 9 and a half hours to complete, and most experienced hikers recommend hiking counterclockwise. 
The trail starts out relatively flat, with a mix of open and enclosed areas. It's not until Old Man Lake that the ascent begins, where previous visitors advise stopping for lunch or camping due to the beautiful views. There are only 4 spots available here, though, so get your permit as soon as you can! 
The ascent is challenging with views that are absolutely unreal, you will see gigantic mountain peaks as far as the eye can see as well as spectacular glaciers and lakes. Plenty of flora and fauna are likely to be spotted. Bull moose, big-horned sheep, and bears have been reported in the area, along with acres of red huckleberry bushes that many hikers snack on along the way. 
You can save at least four miles either way by taking the ferry to and from the head of the lake.  
Difficulty: Hard 
Length: 30.3 km  
Best for: Camping & Backpacking  
No Dogs allowed  
---
Learn about this backpacking gear you must have with you on the trail without breaking the bank.
---
9. Lava Lake (Cascade Creek) Loop Trail 
This family-friendly hike takes about three hours and climbs 1600 feet to a beautiful lake setting, surrounded by the Spanish Peaks. 
The trail is straightforward and easy to follow, allowing you to enjoy nature without being worried about getting lost. 
The trail has somewhat limited views for about the first half of the hike. However walkers will be able to enjoy the sights and sounds of a waterfall and lake runoff. 
The views from Cascade Lake are stunning, with 10,412-foot Jumbo Mountain dominating the view and several other 10,000-foot peaks in the distance. There are many places to eat, walk, climb, and swim around the lake. 
If you're looking for a weekend getaway, there are many great camping sites near the foot of the lake, 
The region is also teeming with wildlife with reports of mountain goats all along the trail! Make sure to bring those binoculars! 
Difficulty: Moderate 
Length: 9.7 km  
Family Friendly 
Dogs Allowed  
Take along some binoculars with you to enjoy those wonderful mountain views!
10. Kootenai Falls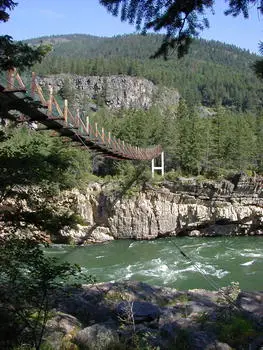 Our last trail to make the list is another family-friendly hike, this time to the beautiful Kootenai Falls. 
This short, easy trail is perfect for those who want to bring along their furry friends, and it's located on the edge of Kootenai National Forest in Montana. It only takes about 20 minutes to complete, but the views are worth it! 
Once you reach this stunning stretch of the Kootenai river, you can get close to beautiful falls and even go out on the river across the rocks if water levels are low enough. The selling point of this trail is definitely its swinging bridge loved by kids (and adults). 
Difficulty: Easy  
Length: 1.3 km  
Family friendly  
Dogs Allowed  
Final Thoughts on the 10 Absolute Best Montana Hikes and Trails
And there you have it the Top 10 Absolute Best Montana Hikes and Trails You Need to Experience! 
We've reached the end of the 10 absolute best Montana hikes and trails. We hope you've found some to add to your bucket list! While they range from easy to hard there is something for everyone. From stunning glaciers to alpine lakes you will connect with nature and stand in the majestic Rocky Mountains. There are mountains, waterfalls, and wildlife galore. For goodness sakes the mountains alone will be enough to draw you in every single time.
So, don't feel like you have to do all 10 trails in one trip. Instead, plan a few trips to truly take in all Montana has to offer. Whatever you do don't miss out on Montana huckleberry season!
Now that you've read about these hikes, we want to know: Which is YOUR favorite? Are there any on this list that we missed? Let us know by commenting below, on our Facebook, or on Reddit!
So, what are you waiting for? Get out there and start exploring!