Arizona's Grand Canyon is one of the most spectacular sights in the world, with its red-rock cliffs and breathtaking vistas. If you think that Arizona is just a desert and the Grand Canyon then you would be wrong! That's only the beginning! Arizona has plenty of amazing hikes that are just as awe-inspiring in the mountains. Here are our picks for the top 10 can't-miss best hikes and trails in Arizona. 
Whether you're a native or just visiting, there are some trails that every Arizona visit should include for you to experience at least once in your life. 
We've compiled a list of 10 of our favorites in Arizona, so pack your bags and get ready to go! 
---
Learn how to pick the right hiking trail for you now.
---
1. Rim-to-rim North Kaibab to Grand Canyon Village 
We kick off our list with an incredible multi-day hike. Some arrive in the early hours of the morning and do it in a day, but we recommend doing it over three to four days. Take your time to enjoy the great outdoors! 
While hiking this trail, there are many highlights worth stopping for, including a picnic or swim at Ribbon Falls. Spend some time at Phantom Ranch. Here guests can enjoy a steak dinner cooked with local meat! Next stop at Cottonwood Camp, where there is a cooling breeze during hot desert nights.; Finally, you most certainly want a sunset viewing at Plateau Point. 
If done over four days, each trek will cover roughly six miles. Users will have time to stop and explore the Canyon at their leisure. 
Some top tips from previous avid hikers include: 
Dunk yourself in every water source you can find to try and keep your body temperature down 
Wear long sleeve UV shirts and soak them in water at every opportunity possible 
Stay on top of your hydration AND electrolytes. 
Salty snacks are essential 
Stop and cool off in the shade 
Save weight and don't carry more than 3L's of water. Fill your water up at the water stations instead 
Lastly, pack some postcards for some mule post fun! 
Difficulty: Hard  
Length: 38.6 km  
Best for: Backpacking and Camping  
2. South Kaibab Trail to Ooh Aah Point 
If you're looking for a hike that will get you away from the crowds at the top of the rim but still give you a great view of the canyon, this is it. 
It's also a great option if you're traveling with children or don't have all day to commit. 
The trail is well-maintained and beautiful, and there are lots of mules along the way. 
Hiking to Cedar Ridge later in the day is highly recommended, as it tends to be cooler and more shaded than earlier in the day. 
Difficulty: Moderate 
Length: 2.9 km  
No Dogs Allowed 
3. Camelback Mountain via Echo Canyon Trail 
If you're looking to push your limits and get an awe-inspiring view of the city, look no further than this Camelback Mountain trail. 
Camelback Mountain, named for its likeness to a camel reclining, is the tallest in the Phoenix area, so you'll have incredible views of mountains and valleys alike. 
If the skies are clear, you can see the many mountain ridges enclosing what is known as the Valley of the Sun. While close to the city of Phoenix this is one of the Top 10 best hikes and trails in Arizona because of its challenge and popularity.
The trail itself isn't easy, it's short but not beginner-friendly or suitable for children. But if you're up for the challenge, Echo Canyon will reward you with an unforgettable experience! 
Always use caution and know your physical limitations 
Difficulty: Hard 
Length: 4 km  
No Dogs Allowed  
---
Don't want to hike around Phoenix? Well, spend more time at the Grand Canyon with our Quick Guide!
---
4. Piestewa Peak and Freedom Loop Trail 
Another of the best hikes and trails in Arizona is Piestewa Peak. This challenging climb is the second highest peak in Phoenix Mountains after our previous entry Camelback Mountain. 
This Arizona Trail is popular for hiking, rock climbing, and bird watching and gets a lot of traffic due to its proximity to the city of Phoenix. 
The trail to Piestewa Peak is not for beginners. It's a rocky scramble-type trail with steep rock steps up. The summit is a big elevation gain in a short distance, 
The summit of Piestewa Peak offers the best views of the Valley of the Sun, with its chain of mountains running north to south. The sight of the distant White Mountains bathed in golden light makes for one of the most spectacular sunsets. 
Previous visitors recommend taking the trail counterclockwise and say that an amazing sunrise hike awaits those who make it in time, with a drummer playing as the sun comes up. They also note that you should bring plenty of water with you while on this Phoenix hike, as it will expose you to the elements. 
Difficulty: Hard 
Length: 7.2 km  
No Dogs Allowed  
5. Horseshoe Bend Trail 
We're halfway through our list, and after some challenging and rewarding trails, it's time to include one of the best Arizona trails for beginners. 
This trail is a family favorite and one that is finally dog-friendly so long as they are kept on a leash. 
Expect a lot of company on this trail, which is short and easy but leads to one of the most popular destinations in Glen Canyon National Recreation Area. 
The overlook at Horseshoe Bend Trail is one of the most beautiful spots to view the Colorado River and Glen Canyon. The best time to visit is during Spring or Fall because the Summer heat can be intense. 
The entire trail is estimated to be in the gentle grade category, as well as being broad and paved, making it accessible for wheelchair users or strollers. 
Previous visitors warn that it is necessary to put booties on dogs because the rocks can become insanely hot from the sun. 
Difficulty: Easy  
Length: 2.4 km  
Wheelchair & Stroller Friendly  
Dogs Friendly  
---
Need a place to stay with all this hiking? Well, check out these family campgrounds in Arizona.
---
6. Fay Canyon Trail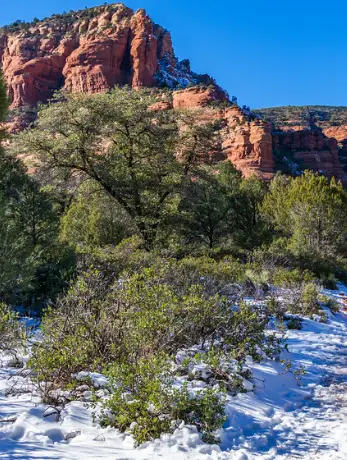 For number 6 we bring you another one of the best easy hikes and trails in Arizona. This out-and-back trail takes an average of 51 minutes to complete and is perfect for the entire family. 
The Fay Canyon Trail offers some of the best Sedona hiking. Rock formations, red rock, and canyon walls create a beautiful backdrop for this trail. 
The Fay Canyon Arch is the highlight of the trail, a natural arch that stands halfway through the trail. From here there are amazing views of the surrounding cliffs. 
You can also see both the Chalice rock formation and the Train rock formation when hiking. Overall, this is a hike you should not pass up if you're in the area. 
Visitors are advised to climb up the rock face at the 'end of trail' sign. The view looking back down the canyon is spectacular! 
Difficulty: Easy  
Length: 3.7 km  
Family Friendly  
Dog Friendly  
7. Ellison Creek Cascades  
Hikers in search of water will be delighted by this trail near Payson, Arizona. It's an out-and-back route that takes about 36 minutes to complete. 
This short hike with panoramic views of the forest leads to a beautiful waterfall with little pools scattered all around. A fun trip, if you are looking to find some water in Arizona. 
It's the perfect place for swimming in nature, with steps leading up to a platform and then a rock slide to get back down into the water. 
The foot of the waterfall is a great spot for a picnic or a play break for kids. Just be sure to practice safety around the water! Overall an adventure that's sure to please hikers of all ages! 
Difficulty: Easy  
Length: 2.4 km  
Family Friendly  
Dog Friendly  
8. Bright Angel Trail  
The Bright Angel Trail is the Grand Canyon's most popular trail. 
From its iconic views of the canyon to the various rock formations you encounter along your descent, a trip into this breathtaking chasm is an unforgettable experience. 
The trail is an out-and-back, so you can turn around whenever you want. But for those up to the challenge, the trail takes you all the way to the Colorado River. 
The general consensus from previous visitors is; You haven't experienced the Grand Canyon unless you've hiked to the river and back! 
The hike takes an average of 9 hours to complete and has many rest houses along the way, including the Indian Garden and Plateau Point. 
Hiking down the Grand Canyon is considered a dangerous endeavor. It is especially dangerous if done in the summertime due to extreme heat. Nevertheless, climbers who are well-prepared and knowledgeable about the trail can reap the rewards of this daunting hike! 
Definitely one of the most stunningly beautiful backpacking trails in Arizona, The Bright Angel Trail is well worth a spot in our list of the best hiking trails in the state. 
Difficulty: Hard  
Length: 24.6 km  
Best for: Camping & Backpacking 
---
Learn about this backpacking gear you must have with you on the trail without breaking the bank.
---
9. Tom's Thumb Trail  
Hikers who love beautiful scenery will appreciate a trip on Tom's Thumb Trail, which is open year-round. 
It offers spectacular views of the southern McDowell Mountains, Phoenix, and its surrounding landscape. 
This trail starts off hard with switchbacks about a quarter mile in, as well as about 1.5 miles of steep incline, but the views along the whole trail are worth the climb. 
The trail is well maintained and there are fun rock climbing points as well as a great spot to picnic when you reach the peak. Hikers say sunrise and sunset are the best times to experience this hike. 
The wildlife you might see on this trail varies from rattlesnakes to hawks, hummingbirds, and lizards. Keep your eyes and ears open and enjoy the adventure! Don't forget to take along some binoculars in order to see some of the soaring birds up close.
Difficulty: Hard 
Length: 6.4 km  
Dog Friendly  
Take along some binoculars with you to enjoy those wonderful mountain views!
10. The Wave, Paria Canyon  
The Wave, Paria Canyon is the last hike to make it onto our list of the best hikes and trails in Arizona and it's a once-in-a-lifetime experience. Remember it isn't just a computer screen picture! It is a real place.
Literally! To hike this trail, you MUST win a permit in the permit lottery. Getting caught in the trail's permit area without a valid permit could result in a fine of $100,000 and/or jail time. So if you are interested, make sure to put yourself into the lottery often. Register Here.
It's one of the world's most famous sandstone formations, and it's impossible to do justice to the beauty of this place in words. 
Previous lottery winners describe 'The Wave' as; truly unbelievable, once-in-a-lifetime, and just out of this world! 
Hiking permits are limited to 40 per day, so if you enter the lottery we wish you the best of luck and hope you get the chance to experience this highly sought-after trail! 
Difficulty: Moderate 
Length: 10.8 km  
Dog Friendly 
Final Thoughts on the 10 Best Hikes and Trails in Arizona
We've reached the end of the 10 best hikes and trails in Arizona. We hope you've found some to add to your bucket list! While they range from easy to hard there is something for everyone. Remember that Arizona is more than just a desert. There are mountains, waterfalls, and wildlife galore. It is time to make your reservation to explore the great wilds of Arizona.
Now that you've read about these hikes, we want to know: Which is YOUR favorite? Are there any on this list that we missed? Let us know by commenting below, on our Facebook, or on Reddit!
So, what are you waiting for? Get out there and start exploring!